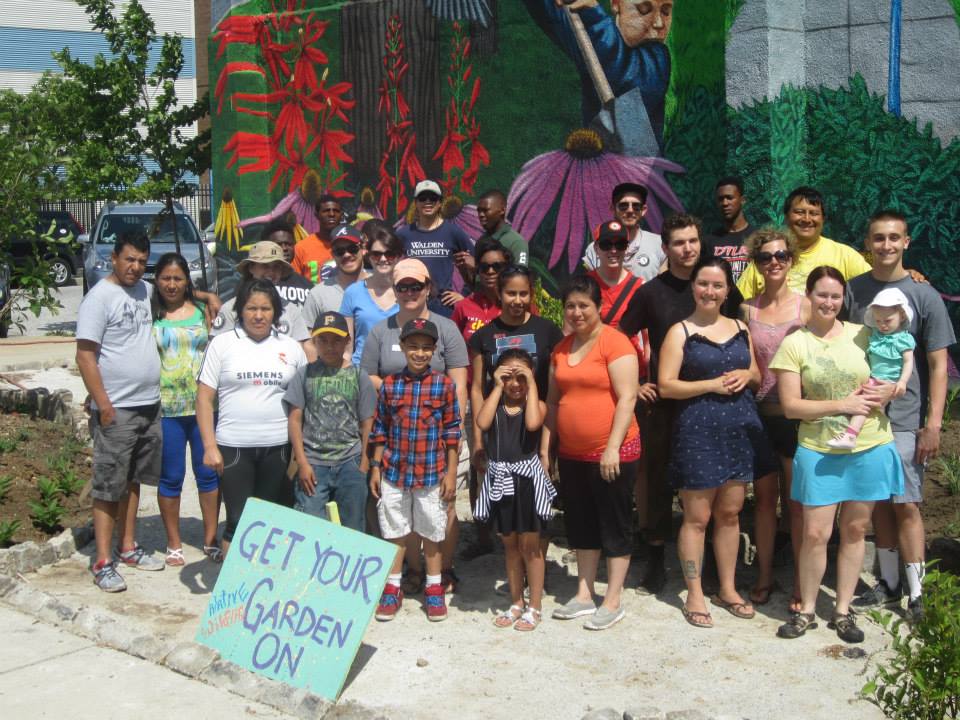 I've always had a passion for volunteering, but living in Charm City has completely challenged my previous concept of volunteerism. Serving a community is not equal to being a member of a community. There is no motivation like realizing your well-being relies on positive change and that you are going to have to play a leading role to make it happen.
Exposition: I bought my first home in a neighborhood that had hundreds of boarded up houses, five on my block alone. To give you a clear image, HBO's The Wire filmed location shots in my community. I've also had a front-row ticket to more than a few crime scene investigations. I bought what I could afford. In 2005 the price tag was steep to live amidst crime and grime, but much more expensive even just a block south so the potential return on investment made the short-term discomfort seem worth it. Many other new homeowners had the same thought; crime and grime were on the decline and development, quality of life, and property values were on a steady and dramatic upswing.
Then the unthinkable happened, all progress stopped dead during the 2008 economic bust and our up-and-coming community was on dangerous footing. Things got bad again, worse even, and morale began to fail. To add insult to injury, those that bought into the dream were stuck in a nightmare of negative equity. Most wanted out, myself included, but couldn't leave and this turned out to be a blessing in disguise. You know, the saying, "bloom where you are planted?" Cliché as it may be, it is one-hundred percent true. I and other community members became leaders, dedicated to making our streets more clean, green, safe and vibrant. Amid countless meetings, collaborations, clean-ups, 311 calls, tree plantings, and activities to engage neighbors, there is undeniable improvement.
Because I live adjacent to a public square and focus much of my effort on its revitalizations, I unintentionally have become a citizen placemaker. Rooted in community-based participation, "placemaking  is an innovative approach to transforming communities by creating and revitalizing open, public spaces around the needs and desires of the community." My academic background in community studies certainly provided a solid foundation (thank you, UB), but nothing can prepare one for the complexity of trying to transform a physical place with the long-term goal of connecting a somewhat fragmented community. It's a unique challenge and there is no singular solution. It has to be an integrative approach that offers meaningful opportunities for people to deliberate, disagree, cooperate and execute along the way.
Just as we strive for cross-disciplinary collaborations in higher education, those dedicated to community development strive for the same. It is the process of ongoing engagement and inclusion, a grass roots approach that "builds connections, creates civic engagement, and empowers citizens—in short, it builds social capital." Social capital builds community and community builds place. Obviously, we need to involve professionals, but the narrow fields of expertise often lack the awareness of context and consequence on a broad scale. Not to mention that comprehensive and sustainable success requires community support. To gain backing, the public needs to be meaningfully engaged in the "making" process.
I cannot be more thrilled that the importance of the "making" process in benefiting relationships and place was recognized in a recent white paper, Places in the Making by the Department of Urban Studies and Planning at the Massachusetts Institute of Technology (MIT). The white paper challenges the idea of the expert and argues for the significance of mutual stewardship between community and place –named the "virtuous cycle of placemaking" – as a vital component, rather than a fuzzy extra. As the University of Baltimore continues to define its role as an anchor institution committed to being a regional steward, let's strive to continually keep one theory front and center.
It takes place to create community and community to create place.