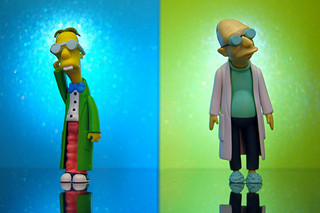 A number of years back when I left academia to return to industry, I had one condition for my soon-to-be partners: under no circumstances would I manage other people. I'd be willing to do just about anything for the new company – in a startup, that's the very definition of "employment"—but when it came to management, in the immortal words of Meatloaf, "I won't do that." (http://youtu.be/iOikQWAL8qc )
I'd spent 12 years running a digital agency and almost 3 years as serving as the founding Dean of a school of design and media at a small university in Philadelphia, I knew that while I could muddle through reasonably well, "manager" wasn't in the top 5 (maybe not even the top 10!) of my "things I do well" list. I'd grown to understand that while I was pretty good at coming up with creative ideas, interacting with clients, and selling the company's services to prospective clients I just didn't have the detail-oriented temperament and organizational skills it took to really excel at managing people. And I was OK with that as were my partners who were more than willing to take me on so that I could contribute using the skills where I did excel.
In the end, it worked out pretty well. One of the founders, it turned out, was pretty good at managing people and he and I worked out a mutually-beneficial symbiotic relationship that accentuated our individual strengths and compensated for our individual weaknesses. He did what he was good at, I did what I was good at, and everyone was happy (and successful).
I thought about all this recently when I read this article (http://goo.gl/n1sqUC) on Inside Higher Education about a new report (http://goo.gl/AvpGia) (PDF download) from The Delphi Project at the University of Southern California Earl and Pauline Pullias Center for Higher Education. The report, entitled "Adapting by Design" looks at the current state of faculty roles and faculty work in higher education in America and how those roles and work will play out in the future of higher ed.
While the report examines a number of issues beyond the "adjunct/non-tenure-track faculty vs. tenure track faculty" debate, much of its focus is on this issue. But rather than delve into ground that's already been covered in many other places (e.g. the value of tenure or the exploitation of adjuncts), Delphi's effort is focused on the problems of where we are today in order to offer potential solutions for where higher education needs to go tomorrow.
The core of their argument is that the notion of what faculty should do – while once fairly well defined and respected—has devolved into a conflicting mish-mash of roles and responsibilities that serve no one – students, institutions, and the faculty members themselves—well. The result is the current situation of inequitable compensation, over-reliance on poorly paid itinerant adjuncts, financial mismanagement, organizational malaise, teaching that often doesn't meet the needs of today's students, and increasing difficulties in producing high-quality scholarship.
The end-game, the report asserts, is that by having to meet an ever-widening sphere or institutional demands, faculty " will either sustain the gradual decline of [their] profession, or [they] will invite frustrated policymakers and outsiders, who lack the appropriate perspective to effectively direct change, to recreate faculty careers and roles." In other words, things are going to change one way or another, and faculty either need to take charge of the situation or risk having the situation take charge of their futures.
While the report doesn't offer a singular answer, it does suggest a number of intriguing models for reforming the system that seems to be broken (or in the process of breaking) in Chapter 7 of the report. But rather than go into detail on each one here, I do think it's important to draw out the one element that they all have in common: we (and by "we" I mean the "collective we" of faculty, administrators, and other stakeholders) need to be willing to take a hard look at the University model in the light of today's economic, societal, educational, and professional realities and be willing to ask one very hard question: what should faculty really be doing…and is there a single answer to that question?
Ernest Boyer identified four key aspects of faculty roles: discovery, integration, application, and teaching. Right now, faculty are expected to engage in all four. But what if the definition of "faculty" didn't involve integrating all these activities into one job? What if faculty could move back and forth between these four roles every few years? What if some faculty were able to engage in one (or some) of these four roles every few years but were considered equal to other faculty? What if teaching involved a combination of faculty from different disciplines who combined forces to bring one or more aspects of the faculty role together to teach a single subject? What if it were OK to turn to others (in particular non-faculty "paraprofessional" specialists) to assist with one or more of these aspects in the course of doing one's job? What if faculty weren't expected to be good at everything at once?
I think that few would argue that today's faculty are under an enormous amount of pressure from the pile of mounting responsibilities they're asked to tackle. And few would argue, I believe, that it doesn't seem that the pace of change – and the need to respond to that change—isn't slowing down. Shifting demographics, economic pressures, technological developments, and the challenges of educating students with a variety of developmental needs are all combining to make the job faculty members face harder every day. It seems that unless we're willing to take a hard look at ourselves and our professions, we're not going to be able to face the challenges of today or the unknown challenges facing us in the future. The answer may not reside in this new report from Delphi, but it's definitely worth the read for anyone who's interested in asking the hard questions as we continue the conversation about the future of higher education.