Since the Uprising of 2015, I've delivered customized versions of my lecture "Decline by Design: A History of Structural Racism in Baltimore " to numerous groups including:
Center for Urban Families, Baltimore City Police Academy, Baltimore Fire Chief Staff, Baltimore City Schools Police, Strong City Baltimore, AmeriCorps , Baltimore Corps Racial Equity Group, Outward Bound, Maryland VISTA, Teach for America, Collegetown Network, Transportation 101, Clinical Neuropsychologist and Medical Students  at UMB, Johns Hopkins Medical School, Concerned Student Group at Notre Dame of Maryland, Department of Veterans Affairs Social Workers, The LEADERship, Greater Baltimore Church, Minority Caucuses of State Legislatures,  The Emerson Collective from San Francisco, The Minneapolis Civic League, California Agricultural Leadership Foundation, GIVE: Business Volunteer Baltimore,   T. Rowe Price Foundation,  Empower Philanthropy, Baltimore Community Foundation, Annie E. Casey Foundation, Council on Foundations, Open Society Institute.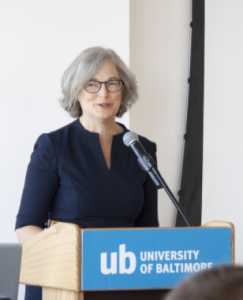 Other Presentations
"Bridging the Divide: A Community Conversation on the Path Forward for Integration in Maryland's Schools, " Maryland Humanities, Loyola University, Baltimore. (March 29, 2017).
Maryland Equity and Inclusion Leadership Program, "Civil Rights in Baltimore," Schaefer Center for Public Policy and the Maryland Commission on Civil Rights, Baltimore. (March 24, 2017).
Home/Not Home: Centering American Studies Where We Are, "Place and Positionality in Studying the Baltimore Uprisings," American Studies Association, Denver, Colorado. (November 18, 2016).
Beyond the Campus: AASHE, "Know Your Bay," The Association for the Advancement of Sustainability in Higher Education, Baltimore. (October 11, 2016).
Nix, E. M., Badejo, D., Cohen, S., Willis, J., From Rights to Rhetoric: Why Voting Matters, "History of Voting Rights," B-More, UB Center for Student Involvement, University of Baltimore Town Hall. (March 31, 2016).
Moderator of  "Uprising in Focus: The Image, Experience and History of Inequality in Baltimore," Challenging the Exclusive Past, National Council on Public History, Ebenezer AME Church, Baltimore. (March 18, 2016).
"Baltimore's Public Confederate Monuments," Baltimore City Historical Society, Village Learning Place, Baltimore. (February 18, 2016).
"Making Equality Work: Radical Women in 1970s Baltimore"," Baltimore City Historical Society, The Village Learning Place. (April 16, 2015).
""Digging into the Recent Past: Retooling Discipline Specific Instruction"," Maryland Library Association./Delaware Library Association, Ocean City, MD. (May 9, 2014). With Librarian Natalie Burclaff.
"Collaborative Student-Centered Pedagogies for Cross-Disciplinary Mobile Apps.", Mobility Shifts: An International Future of Learning Summit, The New School, New York, NY. (October 2011).
"Community Retrospective, 1968 Riots."National Council on Public History, April 2009 National Conference, Providence, RI. (April 2009).