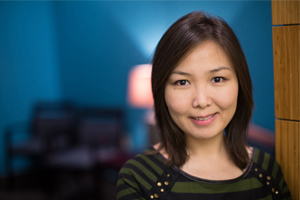 As the nation's population ages, will its reliance on entrepreneurship as an important component of the overall economy age with it? Will the baby boomer generation—millions strong, and still actively involved in entrepreneurship—continue to value economic independence into their retirement years?
Ting Zhang, assistant professor in the Department of Finance and Economics in the University of Baltimore's Merrick School of Business, has received a grant from the Ewing Marion Kaufmann Foundation to answer these and related questions. While the boomers have been studied as a discrete population for decades now, little is known about older individuals' entrepreneurship in the shared economy. Zhang will explore various hypotheses in the one-year study, using a spread of data from 2005-14 gleaned from the Current Population Survey, the Bureau of Labor Statistics, and the Bureau of Economic Analysis.
"Entrepreneurship is important for economic performance," Ting says. "The merits of this research are that aging has not been studied rigorously in the context of the labor force and entrepreneurship. This study will bridge existing literature gaps to better understand the heterogeneity of boomer entrepreneurship and generate timely policy insights for the country's shared economy, an aging population, and a better educated older generation."
Zhang notes that in spite of the recent large-scale economic downturn and the arrival of the first baby boomers into wage-and-salary retirement ages, entrepreneurship continues to be an important part of the economic life of this generation. Many boomers have returned to work in the face of economic uncertainties, while others have entered or re-entered the entrepreneurship sector as a way to earn a supplemental income and maintain their economic independence.
On the one hand, baby boomers are vulnerable to trends in the labor market, not the least of which involves age discrimination and their own health issues. On the other hand, many of them continue to be economically active and entrepreneurial.
"Although older workers are generally perceived to be more vulnerable to skill obsolescence, and they tend to be at odds with technological innovations that are associated with increased training needs, their human capital is often what our knowledge-based and shared economy needs," Zhang said.
Zhang's previous research explored the importance, possibility and necessity of older workers' entrepreneurship in the knowledge-based economy, and the factors driving older people's entrepreneurial propensity. Building on this work, her new project focuses on the heterogeneity of boomer entrepreneurship.
Through her research, it is expected that a clearer picture of what the near future holds for this self-starting, independently-minded generation. As the body of literature on the topic grows, Zhang added, it may begin to drive policies regarding older workers, especially those who are or intend to be entrepreneurs, which could largely help with society's overall social and economic well-being.
Learn more about Prof. Ting Zhang.
This post was adapted from a October 29, 2015 University of Baltimore news release.