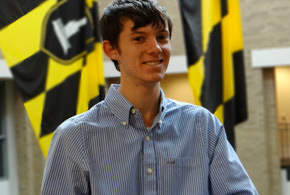 In the February 2015 issue of the UB Post, University of Baltimore's student newspaper, published an article about UB  student Alex Greif, CEO of Ark Trades. Greif and his team developed a new marketplace app. The development team headed by Greif, a senior in UB's Entrepreneurship Fellows program, developed an iOS and Android app called Echo Trades.
Echo Trades is a marketplace app built for college students as quicker, safer and cheaper way for students to complete buying and selling transactions with ease. Currently students from the University of Baltimore, Towson University, UMBC and the University of Maryland College Park  are the beta testing schools for the app.
The app's purpose is to allow student-to-student transactions. Some of the things you can do include buying and selling your furniture, books, electronics, video games, clothing and more.  You can even use the "Roommate Connector" to find a roommate.
The article written by UB student Andrew Koch is now posted on the UB Post's website.