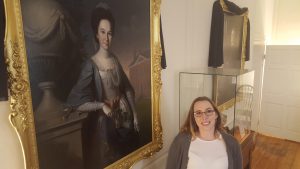 Ashley Tippie introduces visitors to Mt. Clare's parlor where portraits are draped for the mourning period.
University of Baltimore history major Ashley Tippie has created a new exhibit at Mt. Clare Museum House  in Southwest Baltimore City. "Mt. Clare in Mourning" explores the ways that English colonists and enslaved African Americans marked the deaths of their loved ones in the 18th century. In the course of her research, Ashley and museum director Rose Gallenberger found  a mourning ring that had been hidden in a ring box for generations.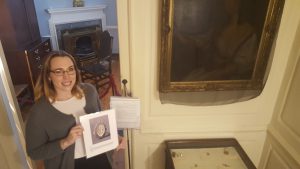 In preparing the house-wide exhibit, Ashley researched the mourning jewelry in Mt. Clare's collection.
On October 7 Ashley led a tour she had developed  that focussed on the material culture of death and dying in the colonial period. The exhibit runs from October 9 to October 29.
Ashley is pursuing an undergraduate history degree with a specialization in public history. She is currently enrolled in Professor Josh Davis' course, Introduction to Public History. The Baltimore area provides many opportunities for internships at museums, historic houses, and archives.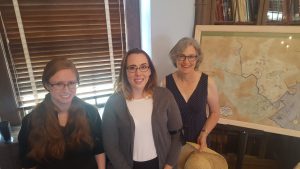 Professor Elizabeth Nix went on Ashley's specialized tour on Saturday, October 7. Museum director Rose Gallenberger added to the interpretation.