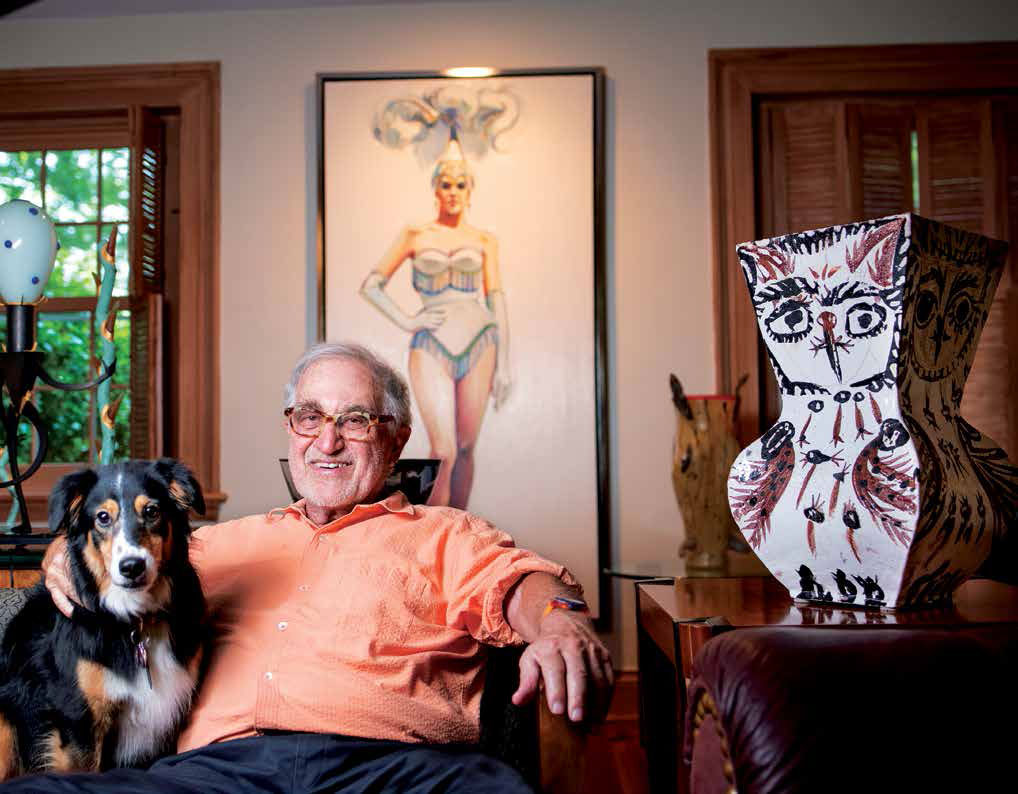 BIO


Dickinson College alumnus
LL.B., University of Baltimore
Founding partner, Greenebaum & Rose Associates
Philanthropist, activist, art collector
Sam Rose, LL.B. '62, real estate developer, attorney, philanthropist and activist, enjoys a good story. A rare Picasso ceramic is more fun to live with, he says, when you know that the artist found and adopted the little owl portrayed on the vessel. "Every piece has a story behind it – that's my favorite part of having art," he says.
His and his wife Julie Walters' extensive collection includes works by modern masters Pollack, Miró, O'Keeffe, Calder, Hopper and Rose's favorite American artist, Richard Diebenkorn. But the art is just one small part of Rose's story, which weaves together themes of persistence, achievement and giving back, all of it leavened by a robust enjoyment of life.
"I've been pretty lucky generally—so many opportunities and interesting experiences," he says.
Rose grew up in the Mount Washington area of Baltimore and worked his way through Dickinson College (a celebrated lacrosse player, he set up the winning goal for Dickinson only national championship in 1958). Waiting tables and participating in the ROTC filled in the gaps in his college costs, and after graduation he attended UB law classes at night while briefly teaching middle school.
"I liked to read and liked history, so being a lawyer seemed like a good fit," Rose says. But he quickly realized that real estate interested him more. He passed the Maryland bar but continued to work for his mentor James Rouse, the Baltimore-based developer and urban planner. After a decade with Rouse he took a leap, accepting a job at a company that quickly folded.
"That experience derailed my climb up the corporate ladder, but helped me decide that I didn't want to work for anyone else," Rose says.
While contemplating his next move, Rose rented a Volkswagen camper and spent a few months touring Europe with his young son and daughter. Upon returning to the States, he tried several ventures before finding the winner: his successful partnership with Stewart Greenebaum, B.S. '59. In the four decades since, Greenebaum & Rose Associates has developed hundreds of real estate projects, including residential communities and government and office buildings.
His success has allowed Rose to provide financial assistance to hundreds of economically disadvantaged students, including many at UB. "Giving kids opportunities to go to school is one of the best ways to make a difference," he says. He delights in sharing stories such as the achievements of the Jolleys, twin-brother jazz musicians from Baltimore who are now international performers.
Rose and Walters are passionate supporters of causes involving the environment and animals. They have endowed a prize for environmental activism at Dickinson and recently returned from a trip to see endangered mountain gorillas in Rwanda. And they currently share their home with three adored rescue pups.
"Julie's favorite program may be the most selfless," says Rose. He's referring to Warrior Canine Connection (WCC), a nationwide initiative that provides service dogs for veterans struggling with challenging conditions such as depression and Post-traumatic stress disorder. The local program is a special partnership, because some of the dogs' trainers are themselves veterans who have received community service sentences for minor offenses through the Maryland District Court's Veterans Treatment Court. (WCC also has a partnership with The Bob Parsons Veterans Center at UB.)
"Seeing the veterans do the training for their fellow soldiers is something. There isn't a dry eye in the house when those pups graduate," says Rose.
Rose is also former board chairman of the Smithsonian American Art museum, one of the many locations where his and Walters' art has been exhibited. And how does he choose what he wants to add to his collection? The reason is consistent with Rose's philosophy: "I don't consider art an investment," he says. "I only buy what I like."
Paula Novash is managing editor of the magazine.
View more pieces from Sam Rose and Julie Waters' collection.