BATSTATS!

1939: first appears in Detective Comics
1940: "Dynamic Duo" debut of sidekick Robin
1952: first collaboration with Superman
1966: TV series with Adam West
1989: Tim Burton's film Batman
2008: Christopher Nolan's Dark Knight
Professor Steven Leyva, M.F.A. '12, turned heads in academic circles when UB announced his new Media Studies class, "The Evolution of Batman." Why devote an entire course to a character from comic books and popcorn movies?
"Batman is just cool!" exclaims Leyva, assistant professor in the Klein Family School of Communications Design. "But seriously. Who would say it's not worthy of study if it's been around for 80 years? People have done so many takes that you'd be hard-pressed not to call Batman literary, and its longevity suggests that something about it fascinates our culture."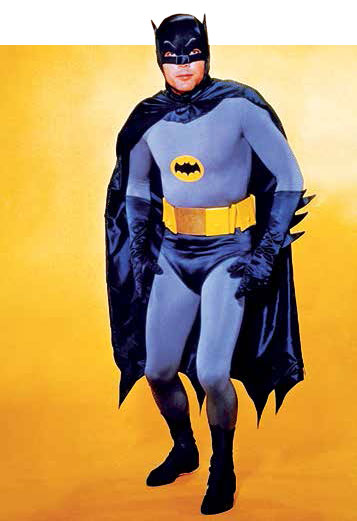 He adds, "The Bat Symbol is one of the most recognized symbols globally. It's ubiquitous. It might be more recognized than McDonald's arches."
After the course was "unmasked," Leyva was interviewed by notable pop culture and media blogs Gizmodo and Nerdist, and received an invitation to participate in a panel at the 2019 "Batman and Pop Culture" conference at Bowling Green University in Ohio.
"My hope is that students see how a pop-culture artifact can be used to learn about society."-STEVEN LEYVA
He's eager to discuss the particulars of Batman's history with his students—to, say, compare differences between director Christopher Nolan's gloomy 2008 hit "The Dark Knight" and Adam West's eponymous campy 60's television romp. However, to Leyva, the study of Batman provides a gateway to professional opportunities through focused and fun critical analysis.
"My hope is that students see how a pop-culture artifact can be used to learn about society—to turn a hobby or obsession not just into something you do on the weekends, but something that is academic study and potentially something you can get a job out of," he says. "So many websites and outlets in the modern economy need content. In order to do that, you have to know how to analyze."
Leyva is also a poet and editor of the literary journal Little Patuxent Review. He is currently putting the finishing touches on his next poetry manuscript; he published his first collection, Low Parish, in 2012.
But for now, he is focused on Batman—and he finds the unique qualities of this superhero particularly interesting. "Batman at his core is a twelve-year-old boy saying 'I'm going to do something about crime.' That's something we can relate to. People believe deeply, in an uncynical way, that they can do something about what is wrong in the world—that they can take up the mission and the mission might save them."
Tim Paggi, M.F.A. '15, is a writer based in Baltimore.
Tune into watch Steven Leyva talk about his inspiration for the course.