UB's COLLEGE READINESS PROGRAMS GIVE STUDENTS A BOOST AND STRENGTHEN THE CITY'S SCHOOL SYSTEMS
__________
Over the summer, visitors to campus might notice that some students in the classrooms look a bit younger than the typical UB undergrad or graduate student. That's because they're still in high school; some are even middle schoolers. For the past four years, students have come from all over Baltimore City to participate in UB's Early College Initiatives (ECI) program's five-week Summer Academy.>>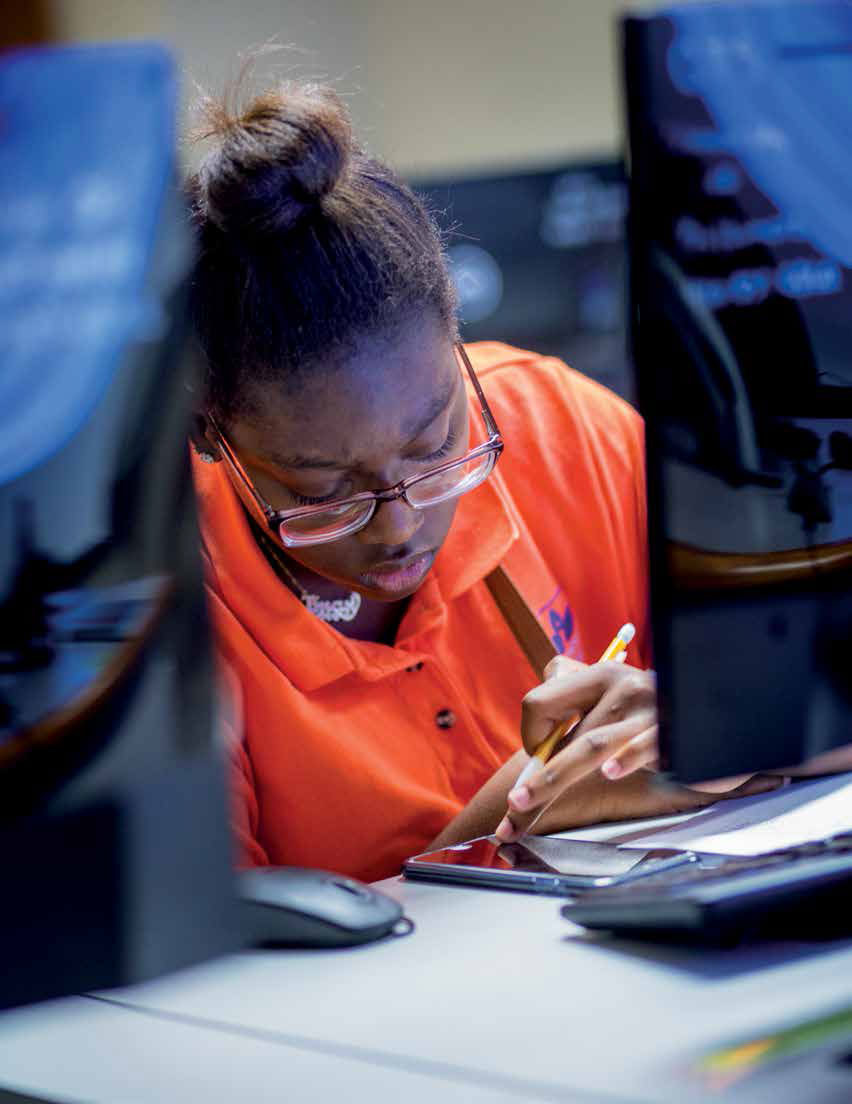 "We had close to 400 students on campus in summer 2018," says John Brenner, B.A. '01, MBA '16, director of the ECI program. "It makes for a lively atmosphere."
These students are attending classes taught by UB professors. High school students follow the same curriculum as UB freshmen. They can earn one college credit for completing a UB course, with a choice of Introduction to Video Game Design or Racial and Social Justice. Seventh- and eighth-graders take a non-credit version of these classes, and additional course offerings are planned for summer 2019.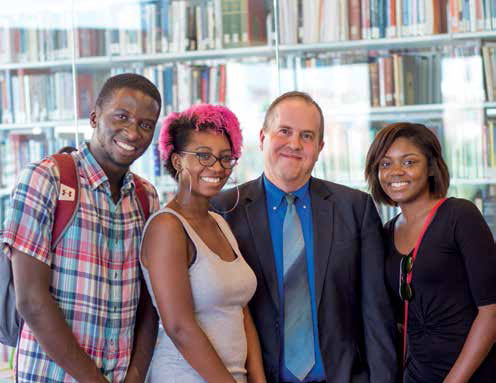 The ECI program also runs a 10-week College Readiness Academy throughout the school year that prepares students in city high schools to be better equipped to enter college by introducing them to college-level math and writing. Students who do well may be eligible for the Dual Enrollment program, which allows them to take college courses while still in high school—and earn college credits in the process. "Earning credit adds value to the offerings. It's more motivation for the students," says Brenner.
What started as an underfunded after-school program in a single high school has exploded into an ever-expanding initiative with nearly a dozen nonprofit partners that now serves more than 400 middle and high school students throughout Baltimore. In a city with a high school dropout rate of more than 13 percent, the expansion of UB's programs is important and encouraging.
AN UNLIKELY CHAMPION
Brenner joined the program in 2015 and his dedication and leadership are motivated by personal experience. He was born and raised in Baltimore City and came from a blue-collar family that did not prioritize education. "No male in my family had a high school diploma," he says. "Attending college was an alien concept."
So when Brenner decided to drop out of school at age 16, no one objected. He expected to get a good factory job like his father's. But times had changed; Brenner soon discovered that without a high school diploma, he couldn't get any job at all. Like many people he grew up with, he says, he was headed down a bad path. He describes himself at that time as "a different person."
"When I saw, this is going to end really fast, really badly, I decided to get my GED," says Brenner. "I went to the library, got books, studied on my own." When he received his excellent test scores, he recalls, "I was blown away. I really didn't know what my potential was." That was all the motivation he needed to continue his education. He remembers thinking, "I must be meant to do something more."
Brenner went on to earn his associate's degree in fine arts from Baltimore City Community College—maintaining a 4.0 GPA throughout—followed by a bachelor's degree in interdisciplinary studies from UB, a master of liberal arts from St. John's College in Annapolis, and an MBA from UB. With a laugh he says, "I just kept going, following my passions, and never stopped."
That's not to say it was easy. Brenner worked his way through school mostly as a part-time student, first working in gas stations at night and later tutoring and teaching at any college that would hire him, including UB. "I put myself through St. John's teaching as an adjunct at five different colleges," he says. The sacrifices were worth it. From the first time he stepped onto a college campus, he recalls, "Everything changed—I was around people like me."
Brenner was working as an assistant in the ECI program when his supervisor left in 2015. He seized the opportunity to grow the program by reaching out to people and forging new relationships. Now ECI has a network of nonprofit partners including local initiatives KIPP Through College, Sisters Circle, THREAD, SquashWise, Urban Alliance, Code in the Schools and Building STEPS. These partners help identify the students who participate in ECI, as well as provide funding. As the network continued to grow, so did enrollment.
High schoolers who attend the Summer Academy are also supported in other ways; they are registered for YouthWorks, a summer employment program for Baltimore students offered through the Mayor's Office of Employment Development. Through YouthWorks' support, attending classes is, in part,
a summer job for them.
A "UB FAMILY" ENDEAVOR
Brenner prefers to hire UB adjunct professors and UB graduates to teach ECI's courses. This past summer, he had 12 instructors working for him. "For me, hiring UB grads is part of the vision," he says.
One of those instructors is Olusegun Aje, a 2017 graduate of UB's M.S. in Nonprofit Management and Social Entrepreneurship program. Aje, whose goal is to become a college professor one day, taught middle schoolers in the 2018 Summer Academy.
"When I see the students who are totally engaged, who get it, that's an opportunity for me to say 'UB, this is somebody right here you should put a lot of time and attention into.'" – OLUSEGUN AJE
"The program is really important because a lot of these students have the capacity to be successful college students, but they already struggle with self-esteem issues," says Aje. "So for some of them, the idea of going to college may not seem attainable and it may not necessarily be something they push hard for after graduation."
Aje has already seen what exposure to a college campus, course and professors can do for students. "When I see the students who are totally engaged, who get it, that's an opportunity for me to say, 'UB, this is somebody right here you should put a lot of time and attention into.' I know once they get into college they're going to be great."
A HEAD START ON COLLEGE CREDIT
Brenner considers ECI's Dual Enrollment program, now in its ninth year, to be its core offering. The program sends UB adjunct professors into high schools in Baltimore City to teach courses in writing and math. Students can earn three college credits by taking the same courses as UB freshmen.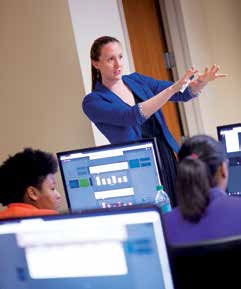 In 2017, 370 students took part in the Dual Enrollment program. By Spring 2019, Brenner anticipates ECI will be in 18 of the 39 public high schools in Baltimore City, and he has no intention of stopping there. "I think we can make a bigger impact," he says. "My vision is to offer college credit options to every high school student in the city."
A huge financial catalyst for ECI occurred in August 2016, says Brenner, when the University System of Maryland (USM) Chancellor's office launched an initiative called B-Power that provided funding to UB and Coppin State. This kicked off a chain reaction in which ECI began attracting private sector funding and philanthropy, doubling the USM investment. The program receives significant support from private and foundation donations to UB, including from Robert Meyerhoff and Rheda Becker, Legg Mason, the Shelter Foundation and the SunTrust Foundation. (Students, parents and schools pay nothing to participate in ECI.)
It's become clear that ECI directly benefits UB, too, as students begin to graduate from high school and enroll there. And Brenner notes that if they don't come to UB, ECI graduates tend to go to another USM school. Many of them are first-generation college students, just as he was, although he says these students are already way ahead of him: "They're entering college with half their freshmen credits and two graduate requirements that they've already knocked off. And they do well in the courses."
This is especially significant given the city's low college enrollment statistics. According to Baltimore City Public Schools' most recent data, less than half of high school students continue their education immediately after graduation: only 43.6 percent of the Class of 2015 enrolled in college by the following fall.
Whether ECI graduates go on to earn several more degrees like he did or go straight into the work force doesn't matter to Brenner. "I just don't want them to disappear. One in four students in the city don't show up in college rolls or in work force rolls after they graduate high school," he says, noting that he was one of those students in danger of slipping through the cracks. "I'm hoping that we can show them you don't have to be the one in four. You can
be among the three in four."
Abigail Green, M.A. '01, is a writer based in Baltimore.
Photography by Chris Hartlove.