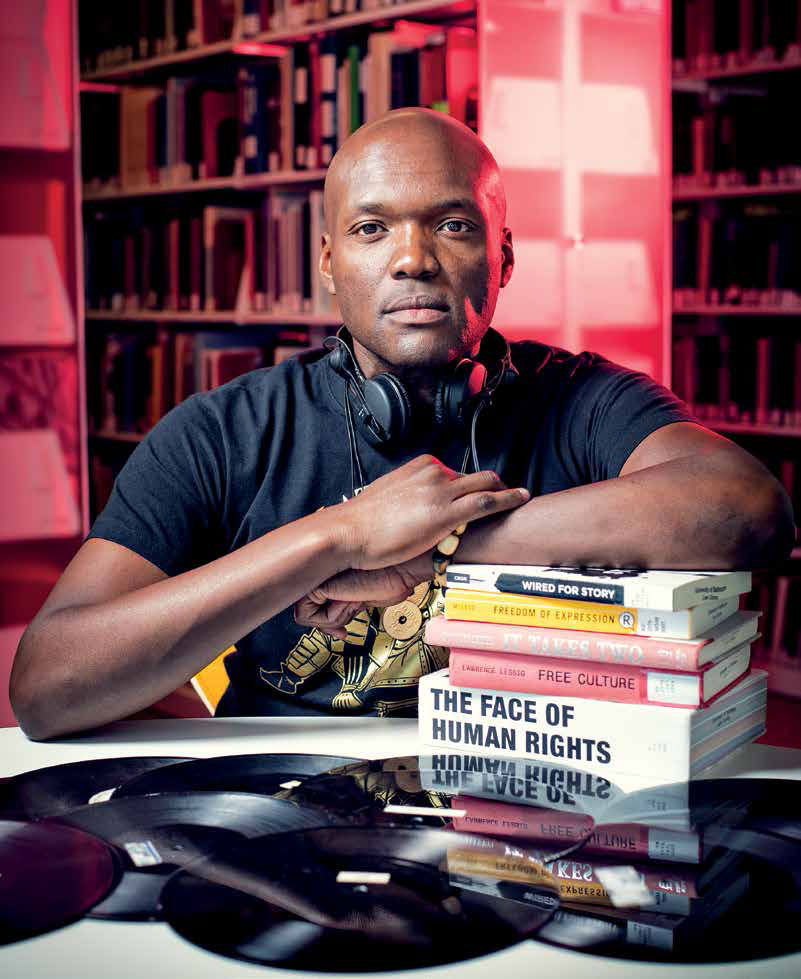 BIO

M.S., University of Baltimore
M.A., Wake Forest University
Disc jockey "Joe Nice"
Works with refugees and victims of human trafficking
In audio recording, the mastered recording is used to reproduce and distribute music. Joe Knights, M.S. '17, a.k.a. disc jockey Joe Nice, is incredibly familiar with mixing and blending various instrumentals and songs to create a vibrant listening experience.
Knights is widely regarded as the first North American to bring dubstep, a London-based genre of music, to this side of the Atlantic Ocean. He also owns a digital and vinyl record label, GourmetBeats, and for the past seventeen years he has circled the world for performances.
"When I began to play shows in Baltimore, I never imagined that I would work internationally," he says. "Now I have traveled to 46 countries and to every continent except Antarctica."
But between his roughly half a year on the road, Knights has also finely balanced activities that are launching him on a new trajectory. In 2017, he completed a Master of Science degree in Nonprofit Management and Social Entrepreneurship from UB. In 2018, he was awarded a Master of Arts degree in Intercultural Services in Healthcare from Wake Forest University.
Knights says the opportunities he has had in his musical career are a catalyst for humanitarian work. He recalls being in Sousse, Tunisia, for a performance and learning about the Arab Spring movement. "Tunisia is a wonderful place but similar to many other countries—
a growing disparity of wealth and poverty exists," he says. "Being there and having life experiences in other countries and in the United States made me want to understand inequality issues more on a personal level."
Knights began his next act in his hometown of Baltimore (he was born in Southampton, Great Britain, and moved here with his family at the age of two). As one of the first cadre of Community Development Fellows in UB's School of Public Policy, he was assigned to Bon Secours Hospital in West Baltimore.
"Having life experiences in other countries and in the United States made me want to understand inequality issues more on a personal level."
"The hospital is in an impoverished area with numerous socioeconomic challenges," he explains. "At the same time, the community leaders and residents are dedicated to revitalizing their neighborhoods. While interacting with the staff and residents, I realized how crucial it is to know and understand the people you're serving, while listening, learning and working together on solutions."
At Wake Forest, Knights helped develop a healthcare needs assessment tool for a Burmese refugee community. "Western medicine is unfamiliar to those from other cultures, and we can be paralyzed by what we know," he says. "We must create more communication channels that facilitate the transfer and understanding of meaning to achieve the best outcomes."
Now Knights' professional goals include advocacy, community development and improving healthcare access for indigent and immigrant populations. He looks forward to when his young daughter Parker will be able to travel with him and share his experiences.
"Having friends all over the world and hearing their stories is transformative," he says. "It's been a magical journey so far, and I want to keep doing the greatest amount of good for the greatest number of people."
Paula Novash is managing editor of the magazine.