STUDENT TEAM WINS A PRESTIGIOUS SPOT AT NATIONAL AERONAUTICS AND SPACE ADMINISTRATION (NASA) TO HELP DESIGN THE SPACE-SUITS OF TOMORROW
__________
The classic 1970 call from the Apollo 13 astronauts, "Houston, we've had a problem," alerted NASA staff at the Johnson Space Center (JSC) in Texas to an issue with a spacecraft. But the NASA call that came to UB in March was, in contrast, an exciting surprise. The UB Poegrammers, a team of seven students who were working on a design challenge for a new type of spacesuit, had earned a coveted spot to compete on-site at the JSC in Houston.
"We were very excited, we were shocked, and we knew we had to devote all of our free time and resources to creating a prototype and programming everything," says Larysa Paliashchuk, a member of the Poegrammers team. It was the chance of a lifetime, and the team had less than a month to make their ideas a reality.
UB's Poegrammers were among 12 university teams who would be traveling to NASA, alongside schools including Harvard University, the University of Michigan and Virginia Polytechnic Institute. Many of the other teams were comprised of graduate students, including Ph.D. candidates in engineering, and the Poegrammers were all still in their undergraduate programs. There was no way to know what solutions the other teams had prepared and how UB would shape up against their peers.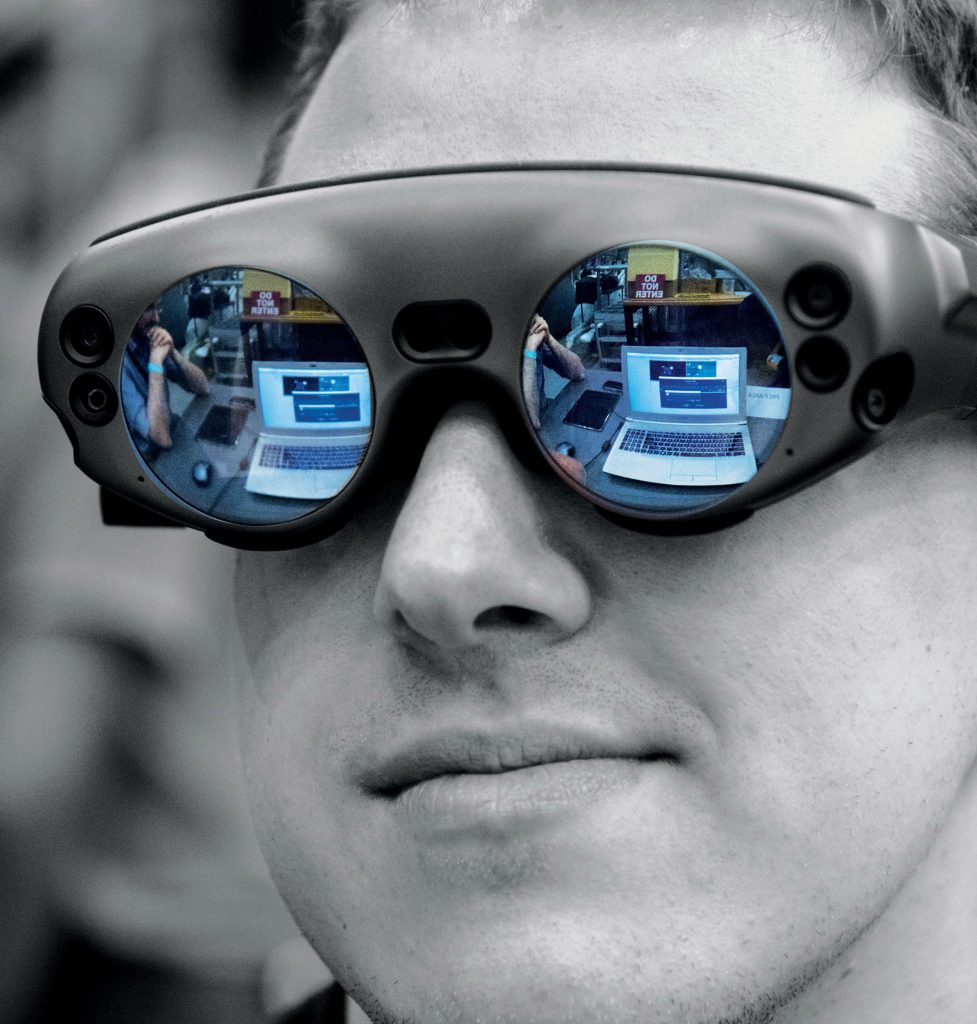 WHY NOT?
The Poegrammer's mentor and advisor Giovanni Vincenti is an associate professor and the director of UB's Applied Information Technology program. Vincenti is always on the lookout for contests, internships and other opportunities that allow his students to apply their classroom knowledge. When the NASA competition popped up in his inbox, it stood out from the rest.
"NASA can't explore all possible technologies so they put out this call to crowd source ideas for future spacesuits," says Vincenti. "They want many ideas and not necessarily from people who are trained
in the field."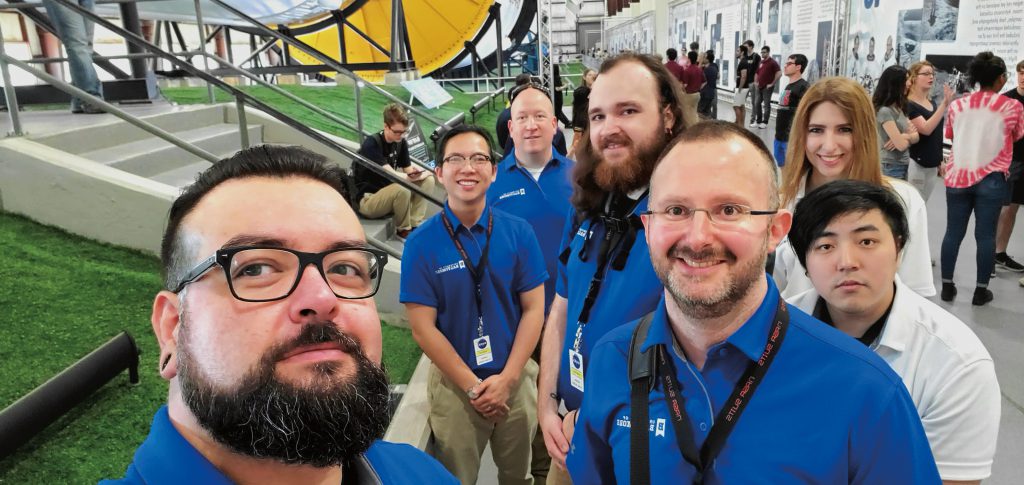 Called Spacesuit User Interface Technologies for Students (SUITS), the challenge asked students to create an augmented reality (AR) system that would help an astronaut conduct a task while on a spacewalk. Simply put, AR overlays computer-generated technology onto real-world environments. Familiar examples include video games such as Pokémon Go and navigation systems like Google Glass.
The Poegrammers' task was anything but simple. But when Vincenti sent the opportunity to his students he gained an enthusiastic team.
"When I saw it was NASA I thought, of course this is something we're going to do," says Juan Pablo (JP) Soto, B.S. '19, then a student in the Applied Information Technology program. "This is something that doesn't happen to people like me, like us, but I thought, why not try? 'Why not?' became like a mantra for us."
Soto took on the role of project manager and pulled together a team of undergraduates from the Applied Information Technology and Simulation and Game Design programs. The team included Karl-Heinz Gilbert-Wason, B.S. '19, William Hyland, John Manlucu, Osman Martinez, Paliashchuk and Eric Ra, B.S. '19. The group called themselves the "Poegrammers" as a nod to author Edgar Allen Poe's statue in Gordon Plaza.
In addition to Vincenti, Sujan Shrestha, associate professor in the Division of Science, Information Arts and Technologies and director of the Simulation and Game Design program, provided essential mentorship and support to the team. Greg Walsh, associate professor in the Division of Science, Information Arts and Technologies and director of the Information and Interaction Design program did as well.
In addition to Vincenti, Sujan Shrestha, associate professor in the Division of Science, Information Arts and Technologies and director of the Simulation and Game Design program, provided essential mentorship and support to the team. Greg Walsh, associate professor in the Division of Science, Information Arts and Technologies and director of the Information and Interaction Design program did as well.
The team's "mission control" at UB was the Digital Whimsy Lab, where Walsh is director; the lab provided a large, secure room where the Poegrammers could hash out their ideas, secure their technological equipment and bring their concept to fruition.
---
THE DIGITAL WHIMSY LAB

Poegrammers William Hyland and Osman Martinez in the Digital Whimsy Lab at UB.

Walsh explains that while there are a few computers and 3D printers in the lab, it's mainly a room with a massive, 32-foot-long white board and "low-fidelity prototyping tools." (Think cardboard and sticky notes.)

"The background story is super important when we design things," says Walsh. "We want to make sure that when we are teaching our students about technology design, we are focusing on all the things to consider before we start applying any technology solutions. That's what ensures success in the end."

Walsh explains that if you just throw on the AR goggles and start programming you miss the important questions like: Who is my user? Why would they need this specific solution? Scrap paper and a big white board provide the space to do the essential design thinking before going straight to the technology.

"The Poegrammers really thought those questions through and I think, in the end, being user-centered was their greatest strength," says Walsh.
---
MEETING THE CHALLENGE
The SUITS challenge involved creating a way for an astronaut who does not routinely work on a specific activity to be able to efficiently complete that task. For example, if an engineer is sick, how could a medic fulfill a repair on a spacecraft that would normally be completed by that engineer? The solution could be built into a newly-designed spacesuit.
"The genesis of this activity came from a technical need for solutions within what's known as the spacewalk or Extravehicular Activity office," explains Brandon Hargis, NASA STEM activity manager and the manager of the SUITS program. "The need arises when we look at the future of spacesuit design for deep space exploration."
Hargis explains that currently, astronauts rely on task cards and verbal communication with the ground and mission control to provide them with information as they work through a spacewalk task. As NASA looks toward the future of deep space exploration, where communications could be delayed, astronauts will need to be more autonomous and less earth-dependent.
"What we've asked students to do is design user interfaces (UI) that can be incorporated into the spacesuit's helmet in a way that the astronaut could view information in an AR platform," Hargis explains.
Soto says the easiest way to think of the challenge is to recall the movie Ironman. From his suit, Ironman is able to see an interactive hologram screen overlaid on the actual environment he's viewing. The helmet of the spacesuit would similarly have an overlay of data that would efficiently transfer information to astronauts without overwhelming or distracting them.
The Poegrammers' first step was to complete a proposal to submit to NASA. Team member Paliashchuk, a student in the Applied Information Technology program, says the task was large but each member brought specific expertise. Her job was to help design the UI.
"We were fortunate to have a great team that was capable of dealing with such a diverse set of challenges," says Paliashchuk. "We started the project with a clear directive and each member uniquely contributed to the design of the project."
A SURPRISING DEVELOPMENT
The Poegrammers developed a SUITS entry they named the Augmented Reality Guidance and Operations System, or project A.R.G.O.S. The A.R.G.O.S. prototype utilizes a system called Magic Leap, which can superimpose three-dimensional images over real world objects using a digital light field.
A.R.G.O.S.' interface includes the capacity to provide data on oxygen levels and other important measurements astronauts might need through an automatic wireless connection. It also allows for voice assistance to guide an astronaut through a task, and offline support in case online communication is interrupted, among other features.
The A.R.G.O.S. prototype used off-the-shelf hardware, as did all the SUITS entries. But the programming and design of the UI would be unique to each team. The Poegrammers submitted their proposal
and were initially selected to participate in the
project virtually.
"We were fine with that, especially since this was our first time trying this," says Soto. The team continued to work on A.R.G.O.S. as they waited for their presentation date. "Every day we were discovering new things and trying to put things together in a new way," Soto continues. "People were always stopping by the lab to see how things were going and to offer help."
NASA SUITS

SUITS is one of several
design challenges NASA has available for students in K-12 and in higher education. "SUITS is highly regarded by the NASA Headquarters Office of STEM engagement as a flagship national design challenge," says Brandon Hargis, SUITS manager.

Hargis explains that it's impossible for NASA to fund everything it wants to explore, thus the idea was born to give students at the collegiate level the opportunity to provide technical solutions to the mission directorate. The students get priceless mentoring and training
in exchange.

"We've been wowed by the ideas that the students bring forth," says Hargis. "And all the work they do is being compiled in an open-source environment and will be available when there's funding for new, future spacesuits."
DEEP IN THE HEART OF TEXAS
But after the call came from NASA, the team's mission entered a new phase. Paliashchuk explains that the Poegrammers' biggest challenge was dealing with the massive amount of data that astronauts are required to monitor. They needed a UI that was straightforward and intuitive and didn't overload the astronaut. She explains that the UB team's design was distinct in that it had an online and offline mode to ensure completion of the task if communications were interrupted, and also a "remote assistant" application that made it possible for an astronaut to communicate directly with crew members inside the spacecraft.
Soto adds that the Poegrammers from the game design program added an element to their prototype that some teams may not have focused on. "They sometimes forget about how beautiful the UI is going to look, the functionality, the experience," he says.
The design challenge at the JSC took place over a week in April. On-site, the teams needed to demonstrate that their technology was nimble enough to adapt to different uses. Hargis says the teams were asked to reenact an actual spacewalk that took place on the International Space Station (ISS) to replace a piece of equipment called the Bearing, Motor and Ring Roll Module (BMRRM), also known as "the broom." The broom is part of a system that allows the use of solar power for the electrical systems aboard the ISS.
Each team received the data and the telemetry stream (telemetry refers to the communications process by which data is collected remotely, then transmitted to receiving equipment for monitoring) that they could use to adapt their graphic interface to the challenge scenario. After a day of design review, teams took their prototypes to the Space Vehicle Mock-Up facility at JSC, a building most space enthusiasts could only dream of entering. It's the same facility where actual NASA astronauts train on simulators.
Each team in the competition was assigned a NASA design evaluator to work with them on their SUITS solution. The Poegrammers' evaluator put on the mock "helmet" headset that was linked to their A.R.G.O.S. prototype, received training from the team and then conducted the task test. Afterward the evaluator provided essential feedback that the Poegrammers were encouraged to use to fine-tune their design before testing again at the end of the week. On the final day of the challenge, each team presented their prototype solution to NASA management, as well as to administrators from Microsoft.
Paliashchuk says that along with the excitement of joining the other competitors in Texas, the Poegrammers were a little nervous. "But when we got there it was more of a collaboration with collective feedback," she says. "We tried each other's projects and got a lot of inspiration from the other schools, and it was very helpful to see how each university came up with such different solutions."
Hargis says that collaborative environment is no accident.
"There's no losing team because everyone is getting a unique NASA experience they can't get anywhere else," he continues. "We encourage them to do peer review and to change their design based on what they see that works with other designs." And the collaborative environment continues: after the SUITS challenge is completed, all of the teams upload their code to the cloud so it can be open-sourced for future students and engineers.
Hargis notes that some of the most elegant solutions have been those from teams that not only know the technology but also understand human nature. "The biggest thing that will determine whether a team can produce the quality of design we're looking for will be their use of 21st century skills—critical thinking and problem solving; communication, collaboration and teamwork; creativity and innovation," he says.
UB FOR THE WIN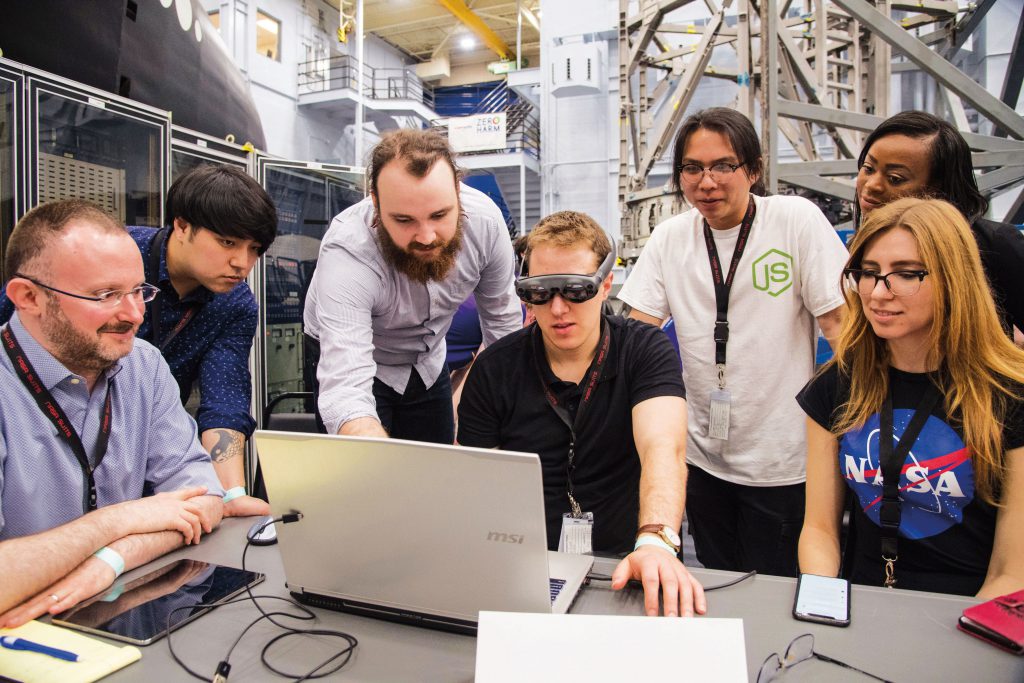 Although no prize is awarded at the challenge, there's no doubt in Vincenti's mind that all the Poegrammers are winners.
"It was beautiful to see the team gain confidence throughout the week and to see how strong their solution was, and how in line it was with what NASA requested," he says.
He sees this experience as a win for UB as an institution, as well.
"Higher education has gone under fire for being detached from the job world or the skills relevant to the workforce," he says. "But here you have a clear demonstration that students could apply what they studied and were able to secure a spot in the design challenge and the in-person test week. And while they were there, they were able to work collaboratively with engineers who are at the very top of their field."
Both Paliashchuk and Soto say the experience was a great career booster. Not only will it be a boon to a resume, but the experience of speaking at presentations and tours to staff at both NASA and Microsoft was, according to Soto, "like a constant interview!" It made him feel more confident going into a job search, he says, and the experience of managing a large project and taking a group of undergraduates to a design challenge featuring some of the nation's most prestigious schools was also great practice for workplace life.
One small step for UB students really could translate into a great leap for NASA. Perhaps one day, a piece of the technology the Poegrammers placed into the NASA repository will be refined and applied to a spacesuit that will travel to the moon—or even into the deepest reaches of space. Says Hargis of NASA, "It's always been the plan to take these student designs and incorporate them into the actual spacesuits of the future."
THE POEGRAMMERS' ROLES 

Each of the Poegrammers had specific responsibilities as they collaborated to create Project A.R.G.O.S.
for NASA SUITS.

Karl-Heinz
Gilbert-Wason, B.S. '19
UI designer/
programmer

William Hyland
programmer/
interaction designer

John Manlucu
programmer/
systems manager

Osman Martinez
systems and communications

Larysa Paliashchuk
UI designer/
programmer

Eric Ra, B.S. '19
UI designer/
3D animator/modeler

Juan Pablo Soto, B.S. '19
programmer/
project manager
Christianna McCausland is a writer based in Baltimore.
Watch videos about the Poegrammers and their NASA adventures.