In archives and libraries "the stacks" refers to the many resources held by a repository for students and researchers to use. Librarians, archivists, tutors, and others work hard to preserve and make these resources and collections accessible and to create a welcoming environment for students and researchers. As the school year progresses, A Look Behind the Stacks continues highlighting the people and work behind the UB RLB Library and the Special Collections & Archives. Follow our blog to Meet the Library and to learn more about what we all do behind the stacks!
We're excited to introduce Denisha Hobbs who works in Academic Success in the RLB Library!
We hope you enjoy learning about Denisha in her own words: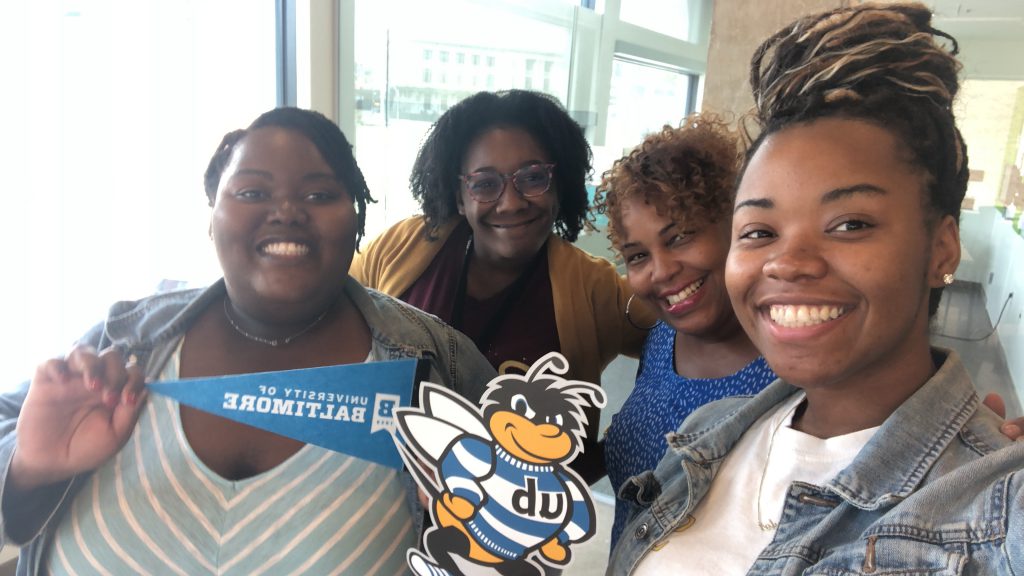 Name: Denisha Hobbs
Role: Hi everyone! I'm an Academic Coach in the RLB Library. My goal as an Academic Coach is to ensure that the students at UB are academically successful. Collaborative coaching is a huge part of my role as an Academic Coach. This approach allows the student to create plans that best fits their lifestyle. One of my favorite things about being an Academic Coach is meeting students from different cultural backgrounds and ages. When I see a student come to me with an issue and leave feeling like they can conquer the world, I know that I'm doing something right.
Educational Background: I graduated with an A.A. from Anne Arundel Community college in 2015. I also received my B.S. in Gerontology (minor in Health Science) from Towson University in 2017. I am currently an MPA candidate at UB studying Healthcare Policy and Administration.
Previous Experience: I was a Peer Educator at Bowie State University and Towson University. I have also worked as an Academic Coach in my personal life.
Favorite Textbook: The CQ Press Writing Guide for Public Policy by Andrew Pennock is awesome! In my Public Policy class with Dr. Larry Thomas, we had to use this textbook to write policy briefs. It is so easy to navigate and gives plenty of examples depending on what type of policy brief you will write. This book was so helpful for me that it landed me job in D.C. where I assist in writing policy briefs for Capitol Hill.
What have you learned while working with Academic Success: I have gotten better at adapting to different situations as an Academic Coach. My first session was with a student who was having a language barrier in his class. Through patience and collaborative coaching, the student and I successfully finished the session. This was a rewarding experience! Though some students only come to one session, I try to make sure to follow-up with them via email. I want students to know that their Academic Coach(es) are here for them and are a good support system to lean on. Even as an Academic Coach I have my good and bad days. Students see Academic Coaches at UB as their peers, so it makes the sessions feel a lot more relaxed and enjoyable. My background in Gerontology and working with the older adult population has helped me when working with older students.
If you're interested in tutoring, workshops, or academic coaching, check out Academic Success in the RLB Library and learn how they can support you! Make an appointment with a tutor, writing consultant, or coach!