Michael Bealefeld (YGCAS '13) is the new recipient of the James Madison Memorial Fellowship award for new graduate students aiming to teach history at the secondary school level.  The founders of the Fellowship hoped to strengthen the American Republic by encouraging the study and teaching of U.S. Constitutional history.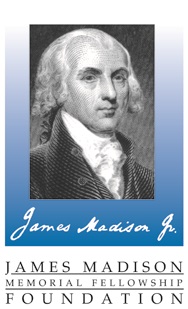 The winner received $24,000 dollars to use for the history graduate program of his choice, and will attend a special seminar at Georgetown University to get him started.  Michael told us he'd like to "thank all of the great professors I had at the University of Baltimore who truly helped me achieve this award."  Thanks, Michael, and good luck!
** Update**
Michael was hired by the Cambridge School in Pikesville in 2016 and is teaching history and humanities to the sixth graders.  We think the kids at Cambridge are fortunate to have such a passionate historian.  The UB History faculty also congratulate Michael on his upcoming wedding!