BIO

J.D., University of Baltimore
Partner, Hermina Law Group
Serves on UB's President's Council and the School of Law's Dean's Development Circle
Volunteer mediator and adjunct
college professor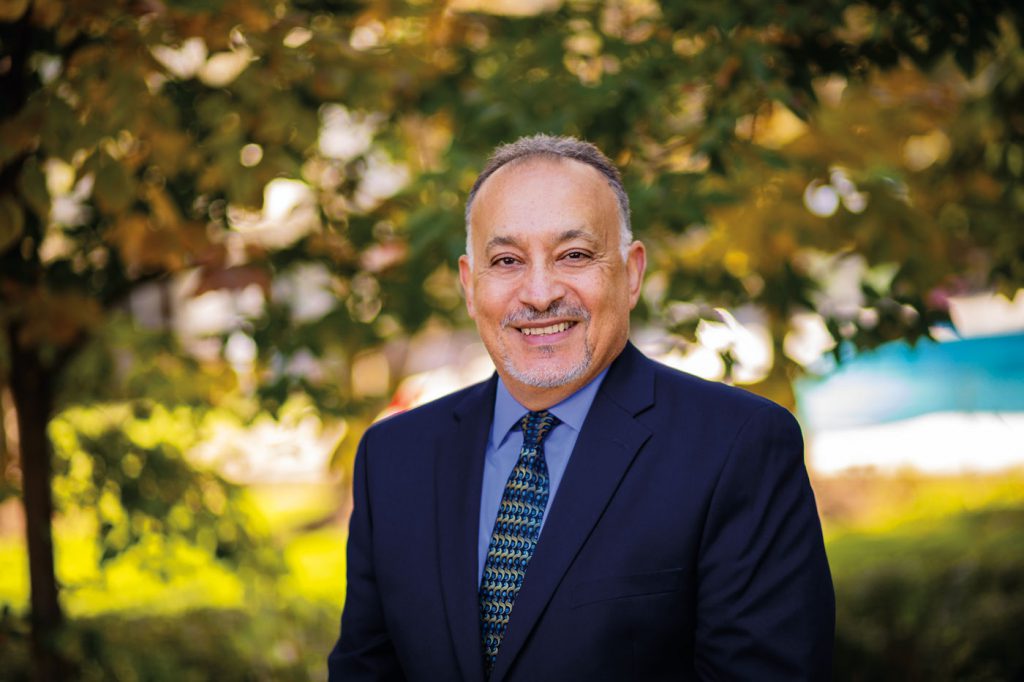 As an undergraduate in the early 1980s, George Hermina, J.D. '90, studied the nascent field of computer science. Finding programming too solitary he obtained an MBA. Eventually his brother John, already an attorney, convinced
him to become a lawyer.
"I've always liked to learn," Hermina says. "If I'd had someone to cover my expenses I would have been in school my entire life."
What Hermina's resume does not tell is the story of how inextricably bonded the Hermina brothers are by more than their law firm. They grew up in Egypt, where their father was an attorney, and moved to the United States together when they were young men. "John and I have depended on each other for a long time," Hermina recalls. "That closeness has made us work well together."
After working at a series of jobs to fund his MBA studies, Hermina became a financial analyst at the Maryland Public Service Commission. His brother went directly into law, eventually opening his own firm. Hermina jokes that his brother was "a great attorney but a lousy business manager," so George agreed to join the firm and handle most of its administration. It was John who pushed Hermina to apply to the University of Baltimore School of Law.
"My experience at UB was fantastic," Hermina states. "The professors were so caring, so kind, so knowledgeable. My own brother  John supports UB over his own alma mater. Even after graduation, when we ran into questions, we'd call a UB professor."
The Hermina Law Group's work naturally bent in an international direction given the brothers' ability to speak Arabic and understand cultural context. Their breakthrough case was helping Egyptian authorities get compensation for port cranes damaged by an American vessel.
Today the practice is split between consumer protection class action litigation and work for foreign missions and embassies. The foreign mission work deals with issues related to immunity as well as helping embassies manage myriad administrative woes, like employee disputes. Hermina also assists students from overseas who find themselves on the wrong side of the law. It's work that's changed recently.
"I think that if you have a good heart, things will work out. It's amazing how things worked out for me against tremendous odds."
"Our work has been limited both by the pandemic and by the current administration," Hermina explains. "There are fewer students coming to the United States. With COVID-19, there's not a lot of trade going on and embassies are closed." He adds that many civil cases have been sidelined while pandemic-embattled courts focus on other priorities.
Hermina has plenty to keep him busy. He's a volunteer mediator, an adjunct professor at Thomas Jefferson and Stevenson universities, and serves on both Kurt Schmoke's President's Council and the law school's Dean's Development Circle. "I truly love UB and it has given me so much. I feel I should give at least some of my time and money to the school," he says.
Despite the volatility in the United States today, Hermina says that, "Even with the problems we have, this is the kindest place on earth as far as I'm concerned." His own story is sprinkled with tales of people helping him out when he needed it most.
"I think that if you have a good heart, things will work out," he states. "It's amazing how things worked out for me against tremendous odds."
Christianna McCausland is a writer based in Baltimore.