BY Christianna McCausland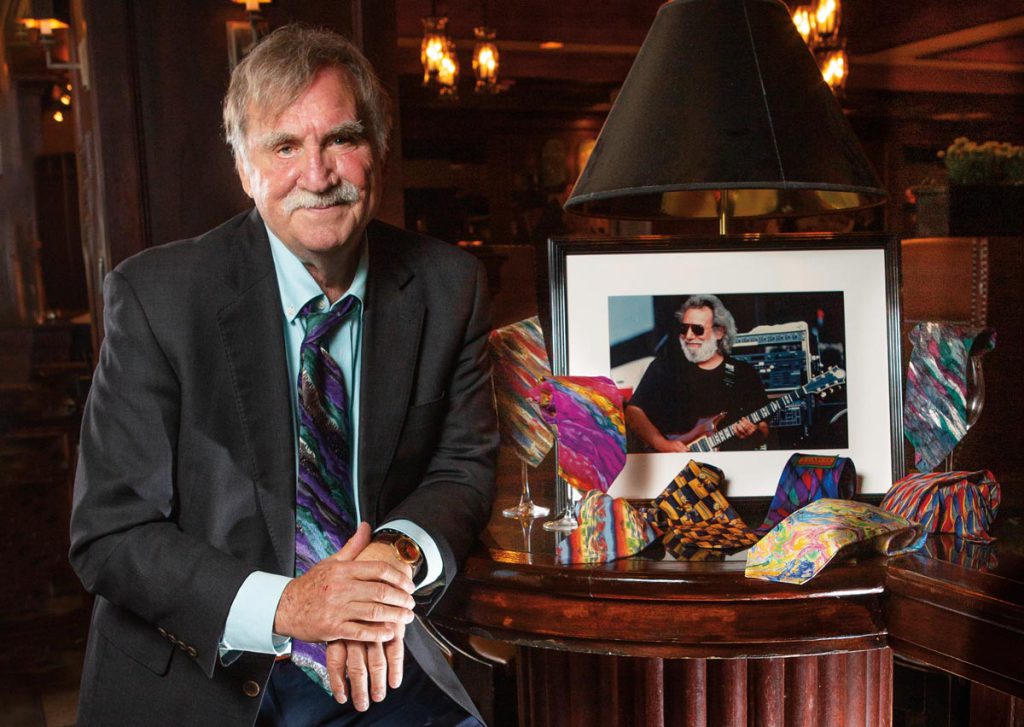 BIO

B.S. '68, The University of Baltimore
Founded Stonehenge, Ltd.
Designed neckwear collections for Jerry Garcia, Ben & Jerry's, and several charitable causes
Board member, Strax Networks

 
As a kid, Irwin Sternberg, B.S. '68, was often unwell due to asthma. Eventually, he was held back a grade. "I was really ashamed about that, so I became more of a class clown," he recalls. As a result, when it came time for college, he had no clear plans. But his mother did.
"No college was going to take me, but my mother went to The University of Baltimore and spoke to them on my behalf until they accepted me," he says. "UBalt got me on the right path; I've always been thankful for that."
Sternberg went on to found Stonehenge, Ltd., a neckwear company that became synonymous with some of the most sought-after ties in the world, but his career began in Baltimore. After college, he cut his teeth in menswear at Jos. A. Bank Clothiers, which was then still owned by the Bank family. 
"They were one of the most respected clothiers in the industry," Sternberg recalls. "They had hundreds of tailors hand-making their clothes and clients came from all over the world. The retail industry was so exciting then." 
Irwin Sternberg created a neckwear company known for its unique designs in support of charity. "Every one of them was unique and so different from what other designers were doing."
Sternberg was sent to Washington, D.C. to open their 18th Street store, which is where he met his mentor, Dan Caplan, who Sternberg says "made me believe I could do anything." At the same time the Bank family was deciding to sell the company, Sternberg was given an opportunity to work for a neckwear company in New York. He was nervous about leaving Baltimore with his young family, but Bob Bank encouraged him to take the job that would ultimately change his life. Two years later, Sternberg and the nephew of the owner of that company went out on their own as Stonehenge, creating private-label neckwear for national retailers. 
Serendipitously, Stenberg's assistant at Stonehenge loved the Grateful Dead, and asked him if he could help her get tickets to Jerry Garcia's first art exhibit in New York City. Sternberg managed to score tickets for a group of them and as soon as he walked in, it struck him that Garcia's visuals would be just the makeover that the industry's stuffy, traditional ties needed. He immediately called Garcia's agent. 
"Garcia wearing a tie was unlikely, but he was passionate about getting his art out to people so it could be appreciated," Sternberg says. Garcia agreed to license his artwork for reproduction onto limited edition ties; in turn, Stonehenge offered up a portion of the proceeds to the San Francisco Art Institute where Garcia studied art. In 1992, the national launch of the first collection at Bloomingdale's was so popular, it interrupted the phone system with orders coming in from around the world. According to The New York Times, Garcia's massive following ensured the ties would become "one of the best-selling lines in the history of neckwear." 
Stonehenge became the first company to transfer artwork onto ties and designate proceeds from collections to benefit a specific philanthropic cause. They created lines with Frank Sinatra, and the Jimmy V and Christopher Reeve Foundations, among others; sales benefited everything from the Johns Hopkins Children's Center to Mothers Against Drunk Driving. 
In 1994, to commemorate the 25th anniversary of the first Apollo landing, astronauts Buzz Aldrin and Alan Shepard joined Stonehenge in New York City and Washington, D.C. to help launch the "Moon Rock Collection," a line of ties featuring art depicting microscopic images of lunar rock samples collected during six Apollo missions. Three hundred school children joined Aldrin at Macy's Herald Square for a press event, which former CEO Myron Ullman proclaimed "the highest honor Macy's ever had, to have such a great American hero as our guest."
That same year, their "Ties for Tibet" collection culminated in Sternberg meeting the Dalai Lama. "That was such a powerful statement," Sternberg remembers. "We realized successful programs could be created with beautiful fashion to benefit great causes." The Dalai Lama presented 100 of the ties to world leaders during his American visit, and presented Sternberg with a Tibetan Prayer Scarf for his generosity. 
Since receiving the Merrick School of Business' Distinguished Entrepreneur Award in 2004 for his achievements blending fashion with philanthropy, Sternberg says he's been working harder than ever. He's currently president and chief marketing officer at Stonehenge Licensing Consultants, and a board member at the Jerry Garcia Foundation. 
Earlier this year, he was named to the board of directors at groundbreaking augmented reality company, Strax Networks, which allows the physical worlds of art, music, education and more, to blend with virtual realms by digitally linking content to real physical objects, like Jerry Garcia's artwork.
It's a full-circle moment for Sternberg, who still holds fast that new creative business ideas and concepts, paired with inspiring causes, will always be a winning combination for a "Why to Buy." 
Christianna McCausland, a longtime contributor to the magazine, writes from Baltimore.