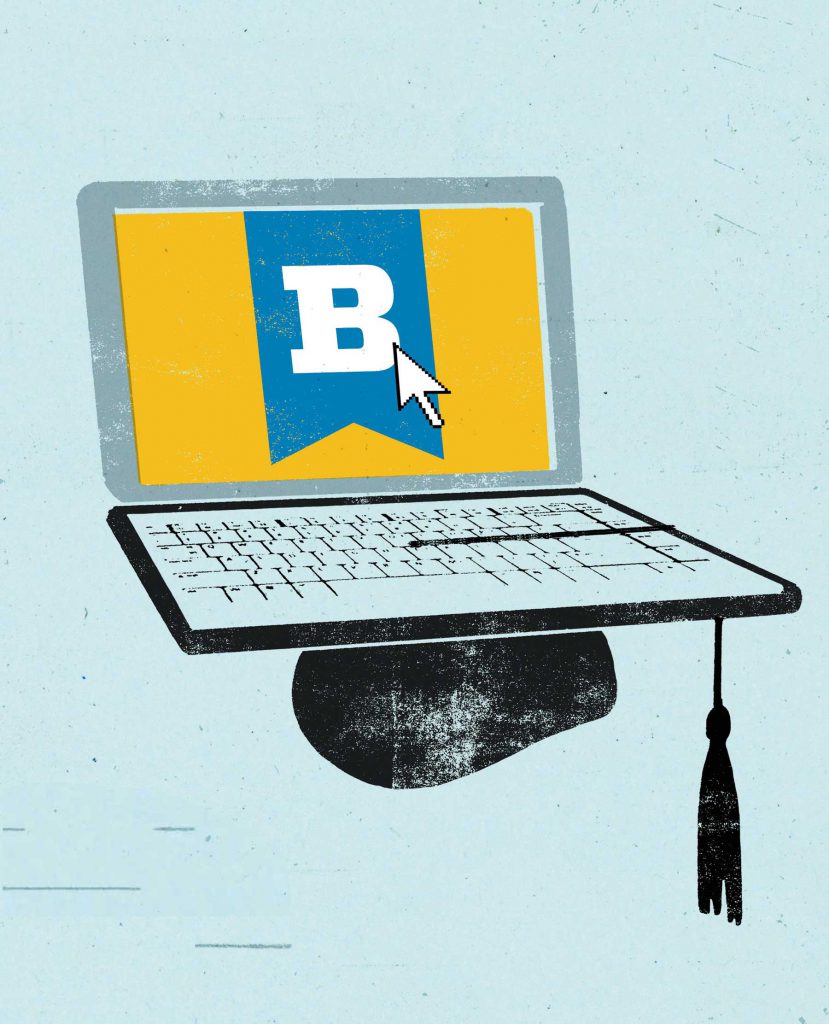 ONLINE LEARNING IN A TIME OF CHANGE
To say the coronavirus pandemic has upended higher education is an understatement. Last spring, colleges and universities across the United States scrambled to move classes online as campuses were shut down to prevent the spread of the virus. Then, with fall rapidly approaching and the pandemic nowhere near under control, schools were faced with difficult decisions. 
According to data compiled by the Chronicle of Higher Education and Davidson College's College Crisis Initiative on the reopening plans for nearly 3,000 institutions, 30 percent planned to resume classes primarily or fully online. Just under 24 percent planned to go back primarily or fully in person, and 26 percent were still undecided as of mid-August.
UB is among those institutions holding classes entirely online for the Fall 2020 semester. UB's classes are a mix of synchronous instruction—i.e., real-time, live teaching—and asynchronous instruction, pre-recorded classes that students can access any time.
"I like being able to read my audience as I am going. I don't deliver the same approach for all audiences. I want to see, are they tired, are they engaged, are they confused? And so I prefer the synchronous approach."
The university was an early adopter of online learning. UB's Merrick School of Business launched the first Association to Advance Collegiate Schools of Business International (AACSB)-accredited, open-enrollment online MBA in 1999. (AACSB accreditation signifies that a business school has passed rigorous quality standards for education; fewer than 5 percent of business schools worldwide achieve the designation.) In 2020, for the ninth consecutive year, U.S. News and World Report ranked UB's online MBA as a top program of its kind nationally. University-wide, UB offers five fully online degree programs in addition to several online courses across its 70+ undergraduate, graduate, law and doctoral programs and certificates. 
THE SCHOOL OF LAW GOES ONLINE FOR THE FIRST TIME
Even with its history of being ahead of the curve when it comes to online learning, UB faced some challenges this fall. In particular, the School of Law was entering uncharted territory. "It's really hard to know where the curve is," says law professor William Hubbard. Hubbard, who is also director of UB's Center for the Law of Intellectual Property and Technology, had not taught any online classes prior to the pandemic. He says that law schools in general have been slow to embrace online learning. 
Much of that is because the practice of law has not had a big presence online. For example, "doing a Zoom deposition would have been shocking a year ago. And now it's commonplace," Hubbard says. Given the reduction in travel expenditures and the ease of deposing witnesses located anywhere, he thinks that going forward more of the practice of law will be done remotely. 
The field of law has been reluctant to embrace some aspects of technology for good reason, he adds. Both lawyers in the courtroom and professors in the classroom, says Hubbard, "generally believe that we're more persuasive in person." And for Hubbard, asynchronous teaching presents some challenges. "Because I was a litigator, I like the give and take," he says. "I like being able to read my audience as I am going. I don't deliver the same approach for all audiences. I want to see, are they tired, are they engaged, are they confused? And so I prefer the synchronous approach."
Already, Hubbard has learned ways of using technology to engage his students. First, he requests that they turn on their cameras in Zoom sessions. "The students have responded pretty well to that," he says.
For 20-person classes, it's been "a fairly seamless transition" to online learning, he says. In 80-person classes, it's a little more challenging. But again, technology can be a boon: students who are reluctant to talk in class will sometimes send him private messages through Zoom's chat feature, giving him an opportunity to encourage a student who may not have spoken up in person. 
ENGAGING BUSINESS STUDENTS IN ASYNCHRONOUS CLASSES
Despite having taught online for more than 20 years, economics professor Daniel Gerlowski says, "What we're doing now we haven't done before." Specifically, he and his colleagues have had to very quickly figure out how to offer all classes entirely online. Prior to the pandemic, Gerlowski estimates he taught more than half his classes asynchronously online. During the pandemic, the asynchronous online instruction remains but there are a lot of synchronous online classes as well.
"All of us in the School of Business know how to teach online asynchronously, so the learning gap to teaching synchronously is much smaller for us," says Gerlowski. Tech-savvy and an early adopter of many online teaching tools, he is already accustomed to using Zoom, narrated PowerPoints and VoiceThread, an online discussion board that allows users to post audio responses. 
"The really amazing thing about the School of Business is the faculty are always encouraged to innovate," he says. "We are free to do things we think work best for what we're teaching and for our students." 
Gerlowski acknowledges that teaching effectively online takes some trial and error. It might involve breaking up a large group Zoom session into smaller groups, adding polls to a Zoom session, adding in-class activities and using a narrated PowerPoint format, all to engage students. "It's not just a video version of a lecture, it's a lot better," he says. He and his colleagues regularly share tips and tools, and he says UB's Bank of America Center for Excellence in Learning, Teaching and Technology is also a helpful resource for faculty and students. 
UB's Robert L. Bogomolny Library is another robust resource, offering research help, tutoring services, access to online and physical publications and more, says Allison Jennings-Roche, reference and instruction librarian. "In a lot of ways, we were very well prepared for the shift to online services because we were already doing this," she explains. The chat feature on the library's website offers instant access to a UB librarian, and other options are available as well. "We're always happy to help, through live chat, email and one-on-one virtual consultation," says Jennings-Roche.
OVERCOMING STUDENTS' CHALLENGES
Making sure students have the necessary tools to succeed with remote learning is a challenge the university recognizes and is working to address. "The problem that UB faces right now is that some students are not ready to learn virtually. And we have to help them do that," says Gerlowski. Last spring, many of his students did not have their own computers or broadband access at home. He continues, "You cannot learn on a smartphone." 
Through funding from the University of Baltimore Foundation and other sources, students were provided with the equipment they needed for virtual learning. "The university and the foundation really stepped up. All the students in my class who requested computers got them," says Gerlowski.
"The problem that UB faces right now is that some students are not ready to learn virtually. And we have to help them do that. You cannot learn on a smartphone."
Hubbard has concerns about some of his students as well, such as the single mother of a toddler who used to study on campus, but now lacks childcare and a reliable Internet connection at home. Yet he believes online learning creates new opportunities, too, such as eliminating weather cancellations and giving professors the ability to reach more students outside of Baltimore.
Gerlowski believes UB will use this time as an opportunity to fulfill the school's longtime social mission to make education accessible for working adults. "We work with people who are trying to advance themselves," he says. "COVID-19 changed everything, and it's going to change the way people learn. From now on, online education is going to be the norm."
STUDENT ORIENTATION GOES VIRTUAL
For Jasmine Brown, a senior information technology major at UB,
this is her second year as an orientation leader—but her first doing
it virtually.
Normally, she would be in charge of two groups of freshmen, transfer and graduate students, guiding them through campus tours, financial aid information sessions and opportunities to get involved at UB. This year looks different: She and her fellow virtual orientation leaders will discuss Zoom etiquette, how students can contact offices virtually and how to use the UB portal.
As treasurer for the student events board, Brown helped plan the first event of Fall 2020, karaoke night on September 1, which took place on Zoom. "We want students to still feel like they're getting that warm welcome to campus."
Brown advises incoming UB students to keep an open mind. "We can still do the same things we'd normally do on campus," she says. "We're just in a different setting."
SUPPORTING STUDENT SUCCESS
Several UB organizations provided our students with critical assistance that allowed them to continue to thrive academically during the pandemic.
The Student Emergency Assistance Fund was initiated by the Office of Student Services and is managed by the University of Baltimore Foundation. More than $239,000 has been contributed by the UB community to provide for needs such as housing and utilities, food and medications, and internet services. The fund also helped students bridge financial gaps caused by loss of employment.
The University of Baltimore Foundation created a $100,000 fund for technology assistance as UB moved to online learning in March. The fund provided essential tools such as laptops and webcams, and also helped to design a virtual lab for students in the simulation and design program.
And the Philip E. & Carole R. Ratcliffe Foundation authorized $25,000 in emergency funding to help UB's Ratcliffe Fellows continue their education in the Entrepreneurship program.
Abigail Green, M.A. '01, is a writer based in Baltimore.