STATS

Eight Real Estate Venture Fellows

Ten weeks of study

Five plans for new development in Baltimore

Nearly $2 million in funding for proposed real estate projects
Imagine conceiving a plan to revitalize a Baltimore neighborhood and provide access to modern, affordable housing—and then getting the resources, support and potential financial backing to make your project a reality. That was the experience of the inaugural class of UB's Real Estate Venture Fellows, a program that addresses critical development needs in Baltimore's middle market neighborhoods.
Seema Iyer, director of UB's Real Estate and Economic Development program, says providing training to people who are interested in building their own entrepreneurial real estate businesses serves the community in several ways.
"We have students and alumni at UB who have bought one or two homes to renovate and flip, but haven't made the successful transition into making that a viable development company," Iyer explains. "Giving students the expertise to develop a plan, as well as connecting them with possible sources of capital, benefits them because they have the potential to start a business. It benefits investors who are looking for projects, and it helps Baltimore and the neighborhoods we're serving."
The first cadre of Fellows included students and alumni Olusegun Aje, M.S. '17; William Casey; Joao David Garcia Ferraz; Tiffany Green; Janna Holmes, M.P.A. '13; Nikolay Ratajczak, B.S. '14; Haydon Wyatt and Leslie Wynn. The intensive 10-week program took them through all aspects of developing a project.
"Among other topics, we covered concept and design, choosing a site, typical pitfalls and problems developers encounter, and how to complete applications for financing," explains Iyer. "Our board of advisors for the Real Estate program served as mentors to the students, as did other volunteers from the Baltimore real estate industry."
The Fellows also toured neighborhoods to learn about community-specific goals and needs. "It's very important that these projects be community-oriented, instead of the residents feeling like someone is coming in from the outside and projecting a vision onto them," Iyer explains.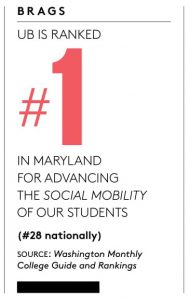 The capstone of the Fellows' experience was the "Pitch for a Million" competition. Individually or as teams, Fellows presented their development plans at a public event in June. Judges, including representatives from M&T Bank and the Cordish Company, among others, decided which teams would be awarded up to $1 million in a Guidance Line of Credit from Baltimore Community Lending (BCL). BCL is a community development financial institution that invests in underserved neighborhoods in the city.
Iyer and William Ariano, President of BCL, conceived of the competition over several years to connect would-be developers with the kind of alternative financing that BCL provides. Three of the Fellows' five proposals were selected to
move forward to a vetting process, for a total pledge of nearly $2 million in potential funding.
Fellow Tiffany Green, who is a candidate in UB's Master of Public Administration program, had her $350,000 plan to rehabilitate three homes in Forest Park approved. During her training, she was particularly struck by the impact that becoming embedded in a community has on a project's success: "We worked with residents to get their perspective on how best to invest in their neighborhoods. I learned so much from members of the Forest Park Neighborhood Alliance."
When Green learned about the opportunity to become a Fellow, she says she was determined to participate. "I've been aided by affordable housing, and members of my family have too," she explains. "Having that access changes people's lives."
---
Thank You

Sponsors of Pitch for a Million and the Fellows program include Baltimore Community Lending, M&T Bank, The Cordish Companies, Seawall Development and the UB Real Estate and Economic Development Advisory Board
---
​
A supervisor in Frederick County public schools who works with disadvantaged youth, Green says her friends and her young daughter can see how passionate she is about development. "My supervisor said to me, 'Tiff, you just light up when you talk about this,'" she recalls.
Fellow Nikolay Ratajczak, B.S. '14, has been developing real estate since he graduated and also owns a small mortgage company and a title company. Ratajczak's $1 million proposal to rehabilitate 10 townhomes in the Upton neighborhood, based on an award-winning white paper he wrote during his time at UB, was another plan that was approved to move forward.
"My idea is to create a development system for townhouse clusters, one-block areas that use scalable strategies and provide different solutions for mixed-income housing options," he explains. "Ideally this model can be applied to dozens, if not hundreds, of clusters in multiple locations."
Ratajczak says he has always been interested in what he calls "areas of opportunity" in Baltimore, blighted neighborhoods that are located next to more successful ones. "As someone who has been involved in development work, I know the various silos of legal, financial and neighborhood considerations can be daunting," he says. "The Fellows program provides a great prototype to tackle these real-world challenges."
Iyer is also associate director of UB's Jacob France Institute and oversees the Baltimore Neighborhood Indicators Alliance, which conducts and shares comprehensive research on the health of Baltimore's neighborhoods through its Vital Signs report. Vital Signs evaluates more than 150 quality-of-life indicators, describes economic and social issues, and supports positive policy change.
"The Real Estate Fellows program is the perfect way to connect our students' passion about Baltimore into meaningful change and a long-term business," Iyer said. "I can't wait to see the transformation over time in both their businesses and in our neighborhoods."
It is with great sadness that we acknowledge the passing of Fellow Joao David Garcia Ferraz. David was pursuing his B.S. in Real Estate and Economic Development. His professors and fellow students knew him as smart, driven, hopeful and someone who always had a smile. We offer our sincere condolences to David's family and friends.
Paula Novash is managing editor of the magazine.
Tune into learn more about the Real Estate Venture Fellows and the Pitch for  a Million competition.