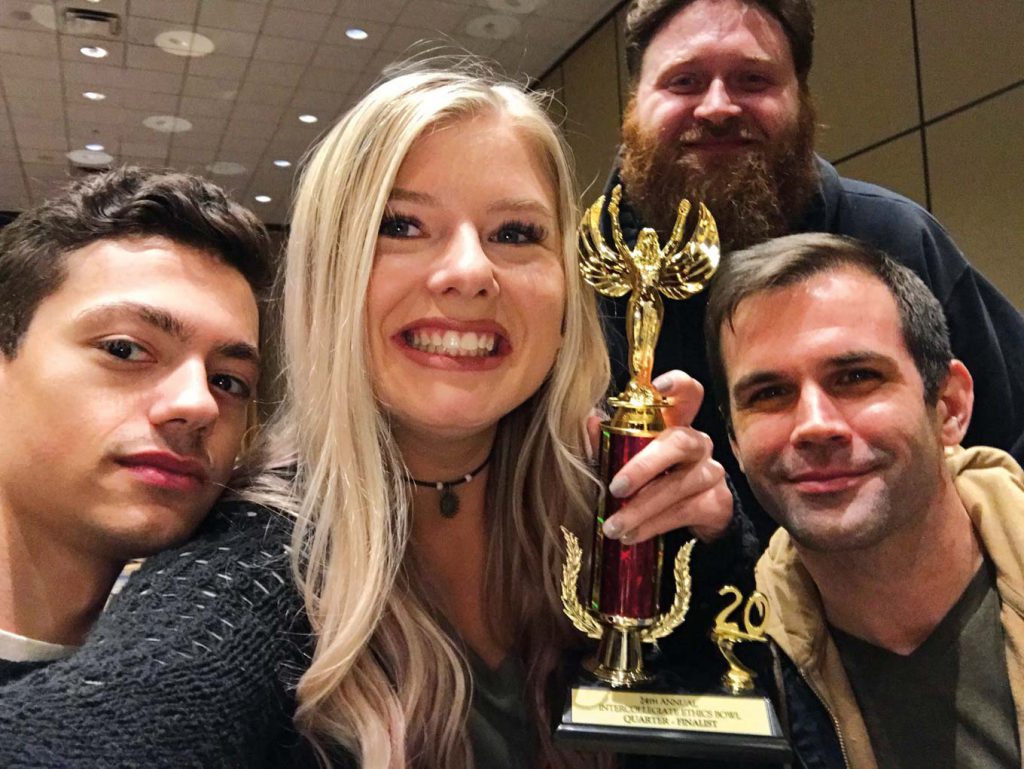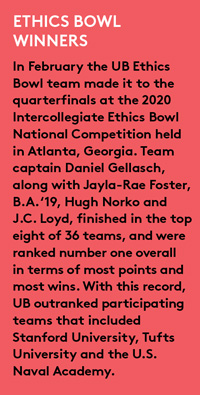 In a time when public discourse can be contentious and divisive, UB's Hoffberger Center for Professional Ethics is a shining monument to vibrant discussion that moves our society forward. Since 1987, the Center has created a wide range of programs and activities that encourage us to think responsibly about the dilemmas and choices we face as professionals and global citizens.
Fred Guy, who retired in June after more than 25 years as executive director of the Center, says honest interactions that represent diverse views are crucial to our society.
"We should be promoting free, vibrant disagreement—that's how we learn to think, and how we grow," says Guy, who is an associate professor in the College of Arts and Sciences' Division of Legal, Ethical and Historical Studies. "Reasonable and thoughtful people can have different opinions about issues, and both opinions can be valid."
The Center provides a wide range of resources and activities, including seminars, teaching models and research sponsorships for faculty, student internships and public programs. Topics span professions and disciplines, from business and the law to art, digital media and literature. Other Center activities include sponsoring UB's Philosophy Club, as well as themed Ethics Weeks in the spring and fall semesters.
"We try to reach a broad audience, using concrete examples to promote reflection," says Guy. "When the one facing a dilemma is a fictional protagonist in a book such as Camus' The Stranger, or a board member in a business case, it gives people a context. Then questions such as when do the ends justify the means? or what would happen if everyone behaved this way? become something we can relate to as we formulate our ideas."
The Center was co-founded by then-Provost of UB Catherine Gira and Baltimore businessman and philanthropist LeRoy Hoffberger. Grants from the Hoffberger Foundation (now Hoffberger Family Philanthropies) were employed to establish ethical studies across curriculum and disciplines.
In addition to many UB partnerships within the university and its alumni network, the Center also involves those in the broader community, says Guy. "It's been invaluable to collaborate with other schools, and with Baltimore's business and professional communities, to learn about the issues and challenges that arise for them," he explains.
Monthly seminars, which are open to the public, feature speakers from UB and other universities as well as leaders from business, government, law, health care and nonprofits, among other arenas. Robust discussion is encouraged, as are opportunities to practice listening skills.
"We found that students are reluctant to talk openly about their views on racial issues and other controversial topics, so we started a program called, 'Just Listen,'" Guy says. "This allowed students to share with others what their everyday lives are like given the race, ethnicity, religion or gender they are. Arguments were not allowed, only listening and comments. It was one of the more effective programs we created and at a time when it was most needed."
"Learning to take a position and support it forces us to think long and hard about an issue, and allows us to practice civility and consensus-building."
The Ethics Bowl is a signature activity of the Center. In these contests, four-person teams are given cases covering a broad range of issues. The teams develop a position and argument, and then compete in head-to-head rounds against teams from other schools. Each team has multiple opportunities to respond to competitors' presentations, and the sudden-death rounds are arbitrated by qualified judges. Over the years the Center has hosted and sponsored ethics bowls at the university, community college and high school levels.
Ethics bowls help participants understand and appreciate opposing points of view, says Guy. "Learning to take a position and support it forces us to think long and hard about an issue, and allows us to practice civility and consensus-building. The students develop critical thinking skills and confidence—the activity benefits them tremendously."
Guy, who now teaches one course a semester as an emeritus professor, calls being director of the Hoffberger Center "the highlight of my career. A lot of people can be lazy thinkers, substituting empty phrases for deep, well-considered opinions," he continues. "UB has, and will continue to have, the ideal atmosphere for the type of discussion the Center facilitates."
Paula Novash is managing editor of the magazine.