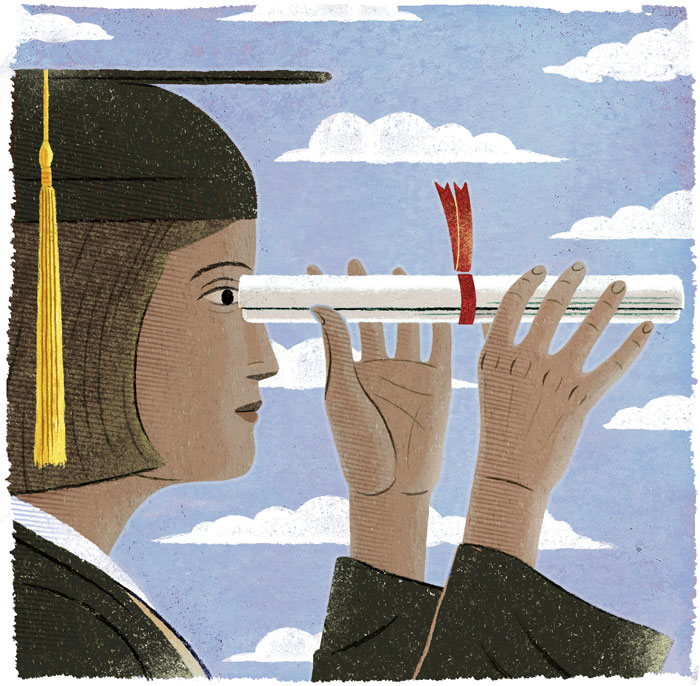 Thriving in an evolving job market
UBalt's Career and Internship Center contributes to employment success.
The past year and a half brought unprecedented changes to nearly every aspect of our lives, and work is no exception. Brick-and-mortar office locations closed during the COVID-19 pandemic, causing a seismic shift to remote work and a variety of changes in employment opportunities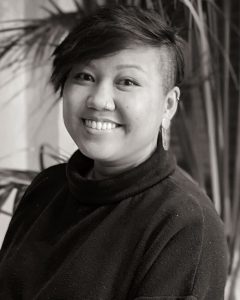 Among those whose career searches prospered is Bianca Tablada, M.S. '20, who graduated with a degree in applied psychology and was recently hired as the recruitment and human resources (HR) coordinator for KIPP Columbus, a network of public charter schools in Ohio. Her job search mirrored the times: "I did the interview process virtually from Baltimore," says Tablada. "It opened up so many more opportunities for me than just locally in Maryland."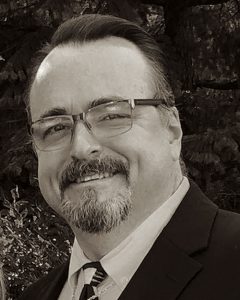 Troy Pritt, B.S. '15, MBA '20, is a career changer who worked at Sparrow's Point Steel Mill for 15 years before getting his undergraduate degree and completing his MBA. In March 2021, Pritt started a new job as HR director at Maryland Vascular Specialists. "The position opened up during COVID. I love it. It's an amazing organization," he says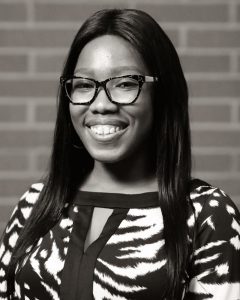 In November 2020, Crystal (Santiful) Wamalwa, B.A. '19, was hired as the outreach success advisor at Pittsburgh Technical College, where she focuses on helping to diversify the school, as well as assisting with the enrollment process for students that are or were in foster care under a program called STRIVE, a federally funded opportunity that covers tuition and fees. She says the position leverages her passion for making education accessible to all
All of these alumni credit The University of Baltimore Career and Internship Center with helping them get to where they are today.
MEETING THE NEEDS OF NONTRADITIONAL STUDENTS
Hearing success stories like these is music to Career Center director Lakeisha Mathews' ears: "I just get so excited when I hear students talking about it, and knowing that when they leave our office they got what they needed. That's so important to me."
The Center serves undergraduate and graduate students, and prides itself on understanding that the needs of advanced degree seekers and experienced professionals are different from those of entry-level, traditional students.
"Nontraditional students— basically anyone who's not a typical 18 year-old coming straight from high school— are UBalt's bread and butter. In fact, nontraditional are the new traditional."
LAKEISHA MATHEWS 
"Nontraditional students—basically anyone who's not a typical 18-year-old coming straight from high school—are UBalt's bread and butter," says Mathews, who is also president-elect of the National Career Development Association. "In fact, nontraditional are the new traditional." Mathews has seen more institutions over the last few years moving toward accommodating the needs of these adult learners. However, she adds, enrolling adult learners is one thing, but knowing how to properly serve them requires different resources, such as helping them make connections within the University and beyond.
AN INTEGRATED APPROACH TO CAREER DEVELOPMENT
A defining aspect of the Career Center is its active engagement with the entire campus community and integration into academic curricula. "We call that the 'all hands on deck' approach," explains Mathews. "It involves heavily partnering with faculty." The partnership includes introducing the Center and its services in first-year undergraduate seminars, having junior-level writing students complete a resume, and in capstone courses, having students practice interviewing and other job-related activities
One of the Center's signature tools is the UBalt Career Cycle, which asks students to consider what phase of a career search they are in and helps them take the appropriate steps to reach their desired outcomes.
"It requires what we call active engagement in your career, or career management, so that you're not being a passive bystander in your own development," says Mathews. She adds that these skills are not typically taught in our culture or in our classrooms, so for many college students, "it's a new process to have to engage in their own career planning and exploration."
Parts of the Career Cycle, such as defining professional goals, can be tricky for students, Mathews says. "Most of our students know what industry they want to be in, but they haven't explored the industry, so they don't have a job target." That means learning about the entry-level positions in your preferred field, what the qualifications are, what the average compensation is and what is trending in that field. This is important "particularly at a time like this, where you have some industries that did very well through COVID, and other industries that didn't do very well," she says
Schools across the nation and even around the world have reached out to the University to model the UBalt Career Cycle, which is broken down into four phases: Discover Your Direction, Explore the World of Work, Communicate Your Brand and Create Your Opportunities. For more information about the UBalt Career Cycle, visit ubalt.edu/careercenter
HOW STUDENTS AND ALUMNI TAP INTO THE 'HIDDEN JOB MARKET'
Another key part of the Career Center's mission is to "create synergy between the employment community and alumni," says Mathews. Through networking events, workshops and internships, alumni and students have many opportunities to forge connections. "It's about cultivating that career development in the student and connecting the entire campus in this career process, because career conversations can happen anywhere," she says
No one knows this better than Troy Pritt. At age 42, having only ever worked in a factory, he found himself at a crossroads when the Sparrow's Point Steel Mill closed its doors. The first person in his family to go to college, he enrolled at UBalt to get his B.S. in Business Administration. When he was finishing up his degree, he went on many interviews but couldn't find a position that felt like a good fit for "what I could bring to the table," he says
One of Pritt's marketing professors invited him to attend an alumni networking event called Dinner With 12 Strangers, coordinated by UBalt's Office of Alumni Relations and hosted by alum Phaedra Stewart, MBA '96. Pritt recalls that after listening to his story, Stewart told him, "With your experience, you should be doing human resources. I'm the VP of HR for LifeBridge Health. I'd like to bring you in for an interview."
Pritt says he'd never considered a career in HR before he was hired as an employee relations and labor relations consultant at LifeBridge. "I worked there for a number of years, and have stayed in HR and loved it," he says. He adds that Stewart has been a great friend and mentor who encouraged him to continue on and get his MBA, "and it all happened through the alumni network."
Mathews says this hidden job market is where most opportunities come from: "UBalt is such a rich environment for this, because most of the students already work, so you never know who's sitting right next to you."
COMMUNITY RESOURCES AND BROAD IMPACT
It was also through word-of-mouth from a fellow student that Bianca Tablada found out about the Career Center. While studying at UBalt, she became a graduate assistant for employer relations at the Center, and then the internship and recruitment coordinator. Reaching out to students and letting them know about the Center and its offerings was a big part of her duties. "Nowadays, it's pretty widely used. More and more students are finding out about it," she says
Tablada's passion project was overseeing the Career Closet, which provides students with professional clothing and accessories donated by alumni at no cost. "That's the service I'm the proudest of," she says. Students can also receive coaching about how to dress professionally for different industries.
For her own virtual job search, Tablada says her experience with the Center helped her think on a broader scale. For instance, she used techniques like keywords to find her current position via LinkedIn. "I actually wouldn't have thought to use LinkedIn if it weren't for the Center," she explains
The impact of the Center goes beyond networking and interview outfits, says Crystal Wamalwa. She worked as social media manager there while she was getting her degree, and created videos, among other projects. Wamalwa credits the Center with teaching her to value herself and her contributions. "I learned very early on that my work has worth," she says
Wamalwa believes that her experiences at the Center influenced her when she chose her field. "It is no surprise that I landed in higher education," she continues. "The Center's trainings and teachings helped me get to where I am today, and that fuels me to want to make the best path for my own students."
Baltimore-based writer Abigail Green, M.A. '01, is a regular
contributor to the magazine.
A FOCUS ON GOALS
Ever since he graduated from college and started using his first Franklin day planner, Greg Derwart, M.A. '96, has had a love of strategic planning and honing his focus on what's important at work and in life. "I've been developing my own personal goal-planning process for almost 30 years," he says.
Friends and colleagues who have benefited from his advice encouraged Derwart, a management expert who has served as an executive-level operations and administration professional in the public and private sectors, to share his knowledge. The result is his recently-published book The New You: Goal Mapping and Pivoting in a Changing World.
The book outlines Derwart's five-step process to clarify your purpose and goals and then create actionable steps to accomplish them. "It's for anyone looking to improve their situation at any stage of life," he says. Derwart also emphasizes mindset—he says visualizing one's ideal future scenario is just as powerful as any to-do list.
"The subconscious mind doesn't know the difference between reality and fantasy," he explains.
Another important part of the process is taking stock and celebrating wins: Derwart and his wife go on a "mini retreat" each year to recognize the things they have accomplished and to look ahead.
In 2020, Derwart had the chance to put his learning to the test. Like many people, he lost his job during the pandemic. "If I hadn't had my long-term goals and my personal mission statement already clarified, I might have reacted differently," he says. Instead, he realized he needed to pivot and keep moving forward. Today, he's a published author and has a new job.
"Everybody's going to have to face challenges; it's inevitable," he says. "If you have this type of plan in place, it makes it easier to lean in and persevere."
For more about Derwart and The New You, visit servantleadergoalmapping.com.