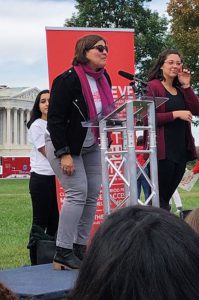 Margaret Johnson was shocked to realize that women in Maryland prisons did not have free access to menstrual products. She saw this as a social justice issue, one she learned about through Reproductive Justice Inside Coalition (RJIC), an organization where one of Johnson's law students was an intern working on reproductive health policy.
"The prison came to RJIC and asked if we could do a menstrual product drive for inmates," says Johnson, a professor of law at UB and co-director of UB's Center on Applied Feminism. "That opened my eyes to this issue of access and to areas where menstrual injustice was happening."
Without access to menstrual products, inmates would deal with the indignity of bleeding through their clothing. In addition, guards and prisoners who could afford to purchase products from the commissary could use them as currency for coercion. Johnson calls these unfair practices "ridiculous. Society takes people who menstruate and targets them as 'other,' as people to be controlled and oppressed in ways they would not for other people."
This lack of justice in the prison system was shockingly obvious, but other examples Johnson cites are more insidious. Take, for example, the case of a 911 operator experiencing heavy, irregular bleeding due to perimenopause. Unable to leave her post, she bled onto her chair and was fired. And according to a lawsuit filed in 2019 by 19 states on behalf of migrant detainees at the U.S. border, access to menstrual products at Homeland Security-run facilities is often extremely limited or nonexistent.
Most recently, Johnson's efforts involve working to end discrimination at state bar exams. In many states, menstruators (Johnson uses the gender-neutral term to include transgender and non-binary people) are not allowed to bring products to the days-long exam. One justification is that someone might try to cheat by writing answers on a menstrual product.
"They permit people to bring in laptops and people wear clothes. It's possible someone stuffed the Rule Against Perpetuities into their underwear, too, but the bar doesn't tell people they have to come naked to the exam," Johnson says.
"A world with menstrual justice is one that includes education about menstruation and normalizing menstruation."
Johnson explains that taboos against menstruation go back millennia. From ancient philosophers to early religious texts, many cultures are rife with myths that menstruators are dangerous or bring bad luck. Even today, she says sex education can provide woefully inadequate information about menstruation. Rather than seeing menstruation as something natural that happens to a huge portion of the population every month, society has built structures of secrecy and created an environment ripe for bullying, harassment and discrimination.
"A world with menstrual justice is one that includes education about menstruation and normalizing menstruation," says Johnson.
In 2018, UB's Bronfein Family Law Clinic, in collaboration with RJIC, helped pass a law mandating that prisons provide inmates with free menstrual products. Johnson was also part of a coalition to get free products in Maryland public schools. While that bill is currently tabled due to the COVID-19 pandemic, Johnson's law students did score another big win: after petitioning the dean, UB's law school now provides free products in all women's and gender-neutral bathrooms.
Last year Johnson traveled to Geneva, Switzerland, as one of two U.S. representatives to a United Nations-hosted advisory group evaluating the effectiveness of policies on menstrual health and hygiene worldwide. Here in the United States, Johnson would like to see access to free menstrual products improved until they are as available in restrooms as hand soap.
"Menstruation has been hidden for so long," she says. "And it has not been built into our public policy and legal structures for what we think of as a fair and equitable society."
Christianna McCausland is a writer based in Baltimore.