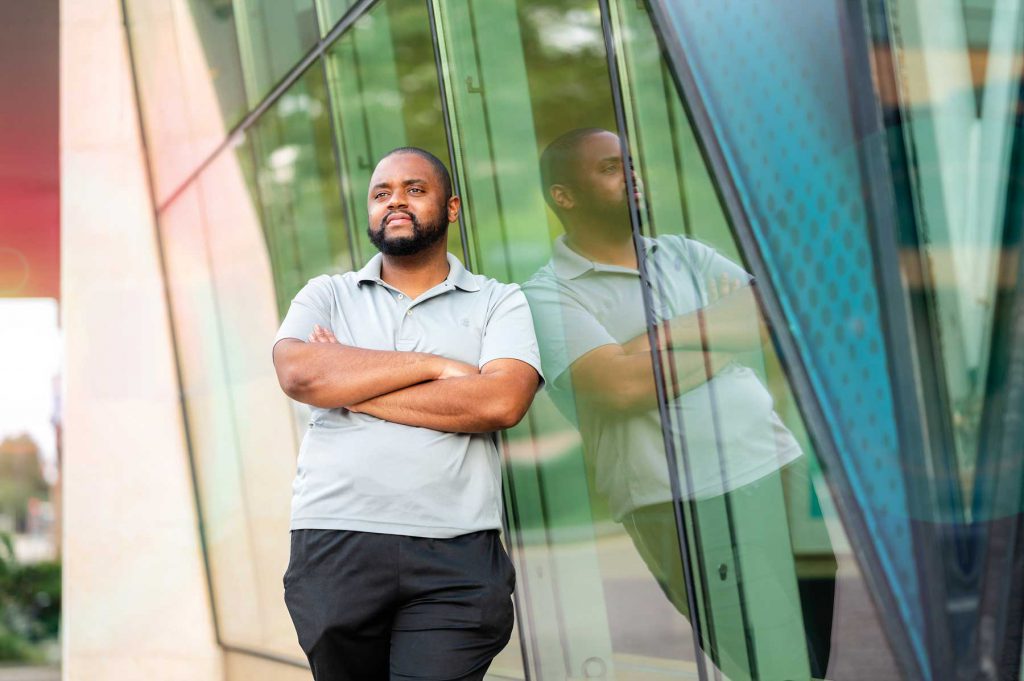 BIO

M.S., University of Baltimore
Operations Assistant at Baltimore Mayor's
Office of Children and Family Success
Founder of First-Gen Baltimore
Thought Partner, Michelle Obama's
Reach Higher Initiative
Sometimes all it takes is one person to encourage you to go for your goals. Verlando Brown, M.S. '15, had several people supporting him during key moments in his life, including a high school guidance counselor, a UB admissions director and former First Lady Michelle Obama. And now, he's become that encouraging person for other first-generation college students.
Growing up in West Baltimore in a single-parent household, Brown credits his mom for keeping him in school. "My mother was a big proponent for education," he says. "I was not out in the street, selling drugs or going to jail."
Brown attended Frederick Douglass High School. "It was rough," he says, but it was also where his guidance counselor sparked his interest in higher education. "She said, 'I believe in you, you are smart enough. I know for sure you can make it through college,'" he recalls. "Those were some really powerful words."
Brown was accepted to Towson University in 2006. It was his first time living on his own, and like many students in his situation, he struggled at first. Statistics show that one-third of first-generation college students drop out within three years. Common issues include "impostor syndrome," or feeling like you don't belong, and balancing work and school, since many of these students must work one or more jobs outside of class.
"The university really wants you to learn, and really wants you to make a difference in people's lives, in the city, the state and this country."
Brown advises first-generation college students to join at least one organization or club to get involved, even if they're shy. "Trust me, I know how it feels. But just try to introduce yourself. People will help you and be there for you," he says.
In fact, he adds, he came close to dropping out his first year at Towson. "What stopped me was the support system that I was able to find and create. Those people said, 'We're not going to let you give up on yourself.'" Brown would like to see better mental health support for first-generation college students, to help them avoid struggling as much as he did.
Seeking better job opportunities after attending Towson, Brown found himself on UB's website. "When I read about the Human Services Administration program,
I loved it. And UB as an institution, something grabbed me about how the school would help you apply what you learned in the classroom to the real world," he says. A meeting with the graduate admissions director, who encouraged him and even waived the application fee, sealed the deal. "At UB, I felt like I mattered," says Brown.
In an effort to support his peers, Brown created an event called First-Gen Baltimore. At First-Gen, Brown made another fateful connection: he enticed Eric Waldo, executive director of Michelle Obama's Reach Higher initiative, to be the evening's keynote speaker. "Eric said he was really impressed and he invited me to the White House to meet the First Lady," says Brown. Waldo also connected him with Forbes, and Brown has since written several articles for their website.
In Washington, D.C., Brown shared his story with students from around the country. When he was introduced to Mrs. Obama, "she gave me a big hug," says Brown. "It was absolutely amazing." And when he graduated from UB with his master's degree, he received a personalized letter of congratulations from then-President Barack Obama.
Brown has worked at several nonprofits including Thread, Inc., an organization that links Baltimore youth with volunteers to build supportive relationships. Now he is an operations assistant at the Baltimore City Mayor's Office of Children and Family Success. In this pandemic year, he fields more requests for assistance than ever. "We're doing the best we can to help people," says Brown.
Of UB, he says, "The university really wants you to learn, and really wants you to make a difference in people's lives, in the city, the state and this country." And Brown, by all measures, is doing just that.
Abigail Green, M.A. '01, is a writer based in Baltimore.