Third year law students Katelyn Kirk and Ryan Frace say they want to contribute to a more culturally informed and equitable society. Over the summer, they worked in non-traditional internships to learn more about the needs of underserved populations and how they could make a difference.
Kirk spent ten weeks in Window Rock, Arizona, helping to address legal issues facing residents of the Navajo Nation. Roughly the size of West Virginia, the Navajo reservation is rural and remote and has culture-specific challenges and its own system of law.
For example, says Kirk, in the 1950s and 1960s many Native children were assigned Anglicized names in population records. This means that the names on their birth certificates may not match those on later documents. Kirk worked to help revise these records to prepare wills for residents. "The Navajo are very tied to their land," Kirk says. "We want to make sure everything is in order for them to keep their land in their families."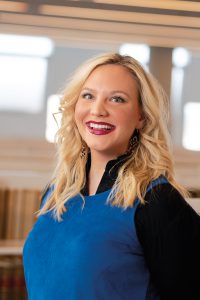 Kirk also immersed herself in Navajo culture, attending events like the annual Eastern Navajo Fair. "Every member of the Navajo Nation belongs to a chapter of those to whom they are related. Chapters can be 60-80 miles apart, so these families are huge and they get together for family reunion activities as well as to choose chapter representatives and celebrate the members who have passed on within the last year."
Equal Justice Works (EJW), an organization that connects new lawyers with communities that need them most, funded Kirk's work in Arizona. Through EJW, she hopes to continue to work with her mentor Kace Rodwell, a member of the Cherokee Nation, to help children stay with their custodial parents. (According to the National Indian Child Welfare Association, Native children are placed in foster care at a rate 2.7 times greater than that of other U.S. demographics.)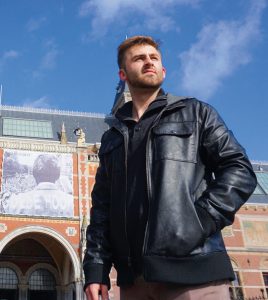 "It's important to me to work under a Native woman who defends parents using the Indian Child Welfare Act," says Kirk. "We hope to take our legal project to other Native areas in the country, and help to keep children in their homes."
Frace's work with Rising for Justice in Washington, D.C., focused in part on international human rights and immigration, issues about which Frace is particularly passionate.
"The first month I conducted intakes and consultation and provided legal resources and limited supervised representation for clients in the Civil Protection Order Project and Landlord-Tenant Court," he explains. "The latter half of the summer was focused more on representing immigrants detained in ICE custody."
"I represented two clients who fled from conflict and violence in Central America and sought refuge in the U.S.," he continues. "That required intensive fact investigation, submitting briefs and appearing in front of the Immigration Court judge to argue for reasonable bond." Frace was successful in securing bond for both clients.  "They have since been reunified with their families, returned to work and their local communities, and are again actively contributing members of society," he says.
This experience fuels Frace's goal to center his legal practice around social justice. Currently, he is on a semester abroad at Pepperdine University in London, taking classes in international law. He will also intern for the U.S. Department of Justice at the U.S. Embassy, which helps satisfy his international and comparative law concentration at UB.
"I have strong aspirations to serve the public, from addressing issues of humanitarian crises and forced migration to national security and the protection of domestic amity," he says. "I believe we must open our eyes and hearts as far as they will reach."
Tim Paggi, M.F.A. '15, is a writer based in Baltimore.