KELLY MADIGAN, J.D. '04
Inspector General, Baltimore County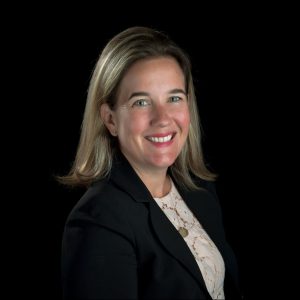 Tell us a bit about your career "origin story."
While I am not originally from Baltimore, I feel like a Baltimorean because I've lived here now for over 22 years. I got a lot out of my education from The University of Baltimore. I was the recipient of the Law Faculty Award in 2004, which I will say to this day—is one of the things I'm most proud of. It's not the valedictorian award, rather it's awarded to the student that best embodies the University of Baltimore —you have to be in the top 10% of your class and be involved in moot court and student activities. With the award comes the opportunity to speak to my class at graduation. It was a real honor and something that I have carried with me. In my current office, my law faculty award is hung in the middle of my diplomas because it reminds me where I came from and the opportunities I was given at the University of Baltimore School of Law.
Do you feel like you came into the University as someone who was pretty charged to be that student, or do you feel like there were parts of your experience at the University that shaped you into becoming the person who did receive that honor?
The University of Baltimore School of Law offers you an opportunity to shine. I mean, obviously, you're around a lot of people that have already done well in life and career. So how do you distinguish yourself? Some do it by working all the time and wanting to be a straight-A student; others find opportunities in other ways like service and public interest. I think UBalt gave that to me. I did well academically as a student, but I also had an opportunity, as a proverbial small fish in a small pond, to do other things that were important to me.
I created the first flag football tournament for the Student Bar Association. (There were actually a lot of logistics involved.) I thought that was an important aspect of the law school experience—you're a student but you're also part of the greater community. It's also why I always participated in that externship career fair. I always wanted to create internship opportunities for University of Baltimore students, because I've always been a mentor. Being a mentor is an integral part of my person, I am committed to creating an opportunity to learn and making someone a stronger lawyer.
I was an Assistant State's Attorney in Baltimore City for over 11 years. The last three years I was a supervisor of the Misdemeanor Trial Unit—which I believe is one of the greatest jobs in America; you're a camp counselor for junior lawyers. You're teaching them academic and procedural things—how do you try a jury trial for the first time? How do you introduce evidence? How do you address the court? What are the proper rules of evidence?—but there's also a side that nobody teaches you in a classroom; how to create a reputation, how to interact with people, how to be fair and gain respect from your peers and the bench. And I've always seen myself as a mentor, and I think the University of Baltimore was a jumping off ground for me professionally to do that.
It is with this background that I have the current job as the Inspector General for Baltimore County. It's been a hard job but is a natural fit for my background. I have a law enforcement background but I am also good at talking to people, communication, education, interviewing and asking questions and putting pieces together so that it can be explained and understood. I have also been a career public servant and have a passion for making things better around me and the Office of the Inspector General is a perfect fit.
Do you think there is an inherent quality in you, that you need to serve the public, or have there been things in your life that have influenced that career decision?
I have been someone that always tries to be fair. When I think of my work as a prosecutor, it mattered so much to me to do my best to ensure that the judicial system treats everybody fairly—witnesses, defendants, the state, even judges—because if government doesn't operate in the spirit of fairness, government can't be successful. I have a reputation for being a straight shooter and for being fair. If you ask a defense attorney about a prosecutor and they call you "fair," that is high praise.
It's important to me that everyone who interacts with the Office of the Inspector General is treated fairly and with respect. I think that's the only way to have confidence in the results. When you can say, "I'm accountable to myself, as well as our County citizens in this office; everyone has been treated with respect and fairness; and complaints have been handled without bias." That is how you can have confidence in the results.
Inevitably, when you get a complaint, one of the first things you hear is that someone is biased against someone else. Sometimes it's true, or partially true, but one of the most important qualities for this job, and any leadership role, is to look at things from all angles —you can't have tunnel vision.
Do you have other leadership traits that you take pride in yourself, and has anything been influential in shaping those traits in you?
I think good leaders are the ones who do the right thing, even when nobody's looking. Some people do the right thing in front of a podium giving a speech. But true leadership comes in those little moments you're still doing the right thing, when nobody's looking, even if you're not getting credit for it. Of course, the larger Inspector General reports that we issue might get some publicity—when there's a flashy report that gets media coverage—but good leadership is also leading on a regular old Tuesday afternoon and its business as usual.
Have you ever faced adversity in your job?
Something I always wrestle with in this job is that it is not necessarily popular with everyone, every day.
The agency was created to do what's best for Baltimore County, to ensure compliance and accountability in Baltimore County, for the taxpayers and the employees. We are the watchdog to ensure that everybody's doing the right thing—everybody's following the rules and there are no special deals. Sometimes that it not a popular job but it is an essential one. We need to both be an agency where employees can feel comfortable coming to us with their complaints, while also being an agency who has the respect of the employees and the citizens. This is a tall task.
How do you approach that?
It's something I think about every day. It's important for myself and the Office to be respected—which is not necessarily the same thing as being liked. Sometimes, as a leader, you are asked to do things in the interest of the Office that are not necessarily in the interest of the person.
For instance, last summer, the County Executive introduced a bill to restrict the powers of the Office, they were going to create an accountability board and I vehemently disagreed with every part of this bill. For Kelly Madigan the person, it would have been a lot easier to just say nothing and let the bill pass and then go on and get another job. But I knew that was not in the best interest of the Office that I was trying to grow for Baltimore County. And so, I spoke out against the bill, which was not a popular thing to do.
Considering how difficult that was, would you do that again?
I would. That was, frankly, an example of doing the right thing when nobody's looking. I didn't know that anybody was paying attention. I didn't know that the media would cover the story and that the bill was going to be withdrawn. I'm so isolated. I had just been discussing with the administration and voicing my concern. I didn't realize the public support that I had. It was like taking a leap of faith, stepping out to do the right thing, not knowing how it's going to be received. And the public response was so overwhelming. I got emails and telephone calls from citizens speaking out against the proposed bill and supporting the mission and purpose of the Office. It was surreal and an overwhelming experience. It was, without a doubt, a turning point for the Office. It was a massive risk, but it was the right thing to do for the Office, Baltimore County and its taxpayers. I would do it again if I had to go back in time.