---
---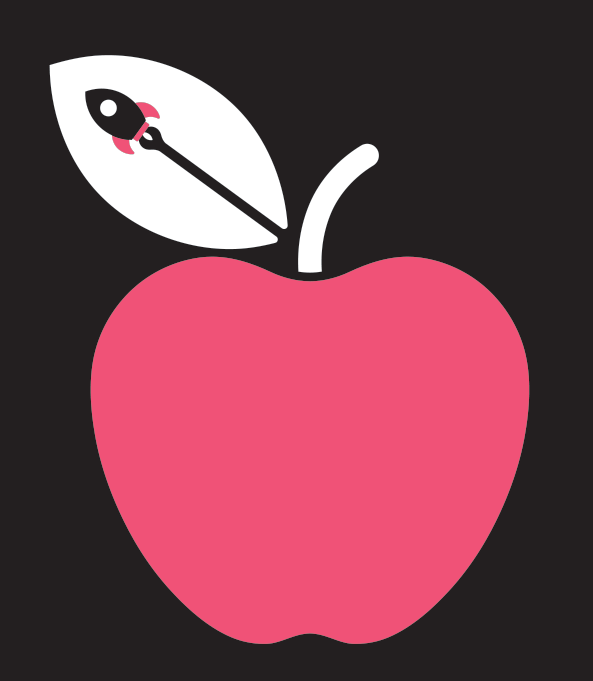 As the region's premier, career-focused university, The University of Baltimore is host to a vanguard of scholars and practitioners who serve the University's mission by cultivating resilient, resourceful professionals through experiential and applied learning. But these educators aren't just preparing UBalt students to be part of the workforce—they're forging leaders.
The University of Baltimore has spent almost 100 years providing educational opportunities to aspiring and current professionals. Whether students are looking to launch careers, advance them or make a complete change, UBalt has a reputation for honing the skills they need to excel in their chosen fields.
This distinction is especially impactful as the value of college education is increasingly weighed against its return on investment. Prospective students look for outcomes that reflect favorable earning potential and career placement to determine if admission is worth the expenditure. UBalt has consistently ranked high using those metrics, so it's no surprise the University continues to operate on the cutting edge of workforce development.
One way the University achieves this is by aligning its academic programs and co-curricular opportunities with high-demand career fields. Another is by recruiting faculty who aren't just known for their thought leadership, but who have spent time working—and leading—in the industries they now teach.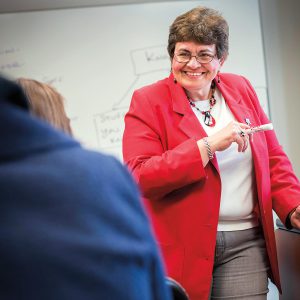 Prior to becoming professor of entrepreneurship in the Merrick School of Business, Dr. David Lingelbach (page 10) was an investment banker and venture capitalist. While his professional experience certainly informs his curriculum, he's mindful of this new modality in academia.
"I worry that in order to make the return on investment for college more compelling, higher education is moving toward training and skills that can be monetized quickly," he says. "As an old-fashioned academic, I believe we're here to create and diffuse knowledge. So, what I focus on is creating a mindset in students that enables them to be leaders and, in particular, entrepreneurs."
Intellectual curiosity has always been fundamental to the pursuit of higher education, but since ROI is now essential as well, it's important to acknowledge the UBalt learning experience does much more than satisfy those demands. While career advancement may drive the University of Baltimore's mission and vision, leadership development is the roadmap.
BUILDING A FOUNDATION
Their combination of wisdom and experience has shown University faculty to be extremely effective mentors and coaches, especially because they focus on nurturing the developable skills necessary for UBalt students to become leaders.
This success is evident by the demonstrable technical skills students acquire at the University of Baltimore, from practical game design to forensic drug analysis to corporate tax law. While building proficiency in specialized methods, tools and techniques, UBalt students simultaneously develop conceptual skills (e.g., critical analysis, holistic awareness and problem solving) that push them beyond the performance of basic job duties and allow them to think, work and plan strategically.
There is also a third "unsung" skillset that UBalt graduates possess that empowers them to grow as competent, accomplished leaders—and not just in title.
Researchers haven't pinpointed a single shared trait amongst effective leaders, but prevailing wisdom dictates common behaviors exist in the form of interpersonal skills. If developed properly, these human skills, such as integrity, empathy, communication and service, define effective leadership as much as technical and conceptual skills.
LESSONS IN LEADING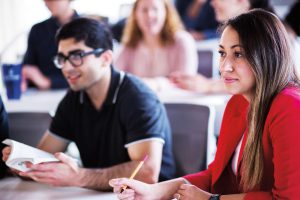 Students have many opportunities to study leadership through formal instruction at the University of Baltimore. Courses like Motivation, Satisfaction and Leadership; Leadership, Learning and Change; and Moral Leadership and the Pursuit of Excellence examine leadership using sociological, psychological and philosophical concepts.
Other dedicated courses use practical or theoretical analysis to explore leadership development. Leadership in Public Safety Organizations, Introduction to Nonprofit Leadership, and Human Services Leadership and Supervision are all offered through the College of Public Affairs, and focus on the application of leadership skills in specialized professional settings.
The Merrick School of Business offers several courses, including Leading and Managing Innovation, Leading with Integrity, and Leading Across Cultures, that were developed with the MBA in mind, but also provide relevant interdisciplinary instruction for students in other degree programs across campus. For targeted leadership learning, the business school offers an MBA specialization in Leadership and Management Development, as well as a post-baccalaureate certificate in Organizational Leadership.
While many of these offerings incorporate foundational concepts of management and supervision—which are often rooted in leadership theory—it should be noted that many designated management courses tend to focus on operational (rather than conceptual) approaches to organizational culture.
Dr. Lisa Stickney, professor of management and chair of the Department of Management and International Business, is extremely mindful of this distinction, as each requires different, but coinciding, methodologies. She explains, "Leaders answer the question 'Where are we going?' Management's job is to decide how we're getting there. You can be a leader and a manager; you can be a leader or a manager; or you can be neither. But it's not the title that determines if someone's a leader, it's their behavior."
It is through that behavioral lens that she, and many other UBalt faculty, approach leadership development in their teaching.
Ronald Weich, dean of the School of Law, says he designed his Lawyers as Leaders class to "identify the tangible and intangible skills law students should seek to develop as they prepare to assume leadership roles in the legal profession."
One might overlook the importance of such a course when weighed against fundamentals like civil procedure or rules of evidence, but Weich points out that many graduates of the School of Law go on to serve in appointed and elected leadership positions students such as judges, state's attorneys, and even lawmakers throughout Maryland.
But regardless of title, Weich believes leadership skills are crucial for every lawyer to develop because, he says, "every lawyer is a leader." He says they not only share responsibility for creating the laws (including common law) that govern society, but they are often called upon to serve as thought leaders in public discourse surrounding civic issues because of their comprehensive understanding of those rules.
MORE THAN A TITLE
By serving in leadership roles, whether while teaching or working, University faculty have amassed extensive practical and theoretical insight into the importance of interpersonal skills in leadership development. Understanding that behavior is as determinant a factor as wisdom and experience in personal and professional success is an important lesson for students to learn.
For some, there is a direct correlation with their area of study. "The field of industrial and organizational psychology focuses on human behavior in the workplace," explains Dr. Sharon Glazer, M.S. '95, professor in the division of Applied Behavioral Sciences. "It behooves students to understand characteristics and behaviors of both leaders and followers, so we can study how to create a good relationship between the two."
She also stresses the importance for students "to understand the difference between implicit and explicit leaders—those who are given the role, and those who take it on"—when analyzing organizations.
Glazer believes this kind of diagnosis is key for leadership development. "You can't just be a leader by saying 'I want to be a leader.' You can have a supervisor with no leadership ability, and you can have leaders who perform zero supervisory functions. It's important to be able to identify named supervisors, but also to spot the implied leaders who people actually follow."
In the School of Criminal Justice, Dr. Debra L. Stanley, professor and executive director, employs diagnostic tools to help aspiring professionals explore their capacity for leadership, at any level, in a field where many practitioners are recognized as authorities regardless of their title.
"By asking 'What do you bring to a leadership role? What natural skills do you have? What skills have you learned?' I try to get students to be introspective, because many assume they don't have the 'right' skills," she says. "We use diagnostics to discern what skills students already bring to the table. You can see their confidence build when they realize, 'Well, yeah, I do have good communication and interpersonal skills.'"
Fostering strong leadership traits, like responsibility and decisiveness, is critical for careers that can get mired in controversy. Stanley acknowledges, "Individuals create workplace culture, and in the 21st century, we need to create responsible individuals who can move into a system with a clear understanding of their discretionary power."
Many UBalt faculty use their own leadership connections when developing coursework. Dr. Bridal Pearson, B.A. '98, M.S. '00, spent 15 years providing counseling and outreach services. Now, as a lecturer and director of the M.S. in Human Services Administration program, he invites former colleagues—all human services leaders in the community—to engage with his classes as guest speakers. Students in the program can draw from this pool of expertise over the course of their master's program to profile individual leaders, interview employees for organizational case studies and even complete their field practicums.
This gives Pearson's students the opportunity to model behavior through experiential learning. He believes that, "effective leadership provides observable examples of qualities such as integrity, empathy, communication and decisiveness. Social learning is a powerful tool."
Stickney echoes this sentiment by saying, "Studies have shown that when people are asked to think back and identify a leader that stood out or influenced their life, they don't mention celebrities or athletes. They mention aunts, uncles, scout leaders, teachers…people they've had interpersonal experience with. And that's not about their title; it all comes down to behavior."
Anna Russell is the advancement communications administrator at The University of Baltimore, and serves as managing editor of the Magazine.