BIO

B.S., University of Baltimore

Entrepreneur in finance,




health care and technology

Chief executive officer, Curio Wellness

Established Bronfein Scholars Fund,




Merrick School of Business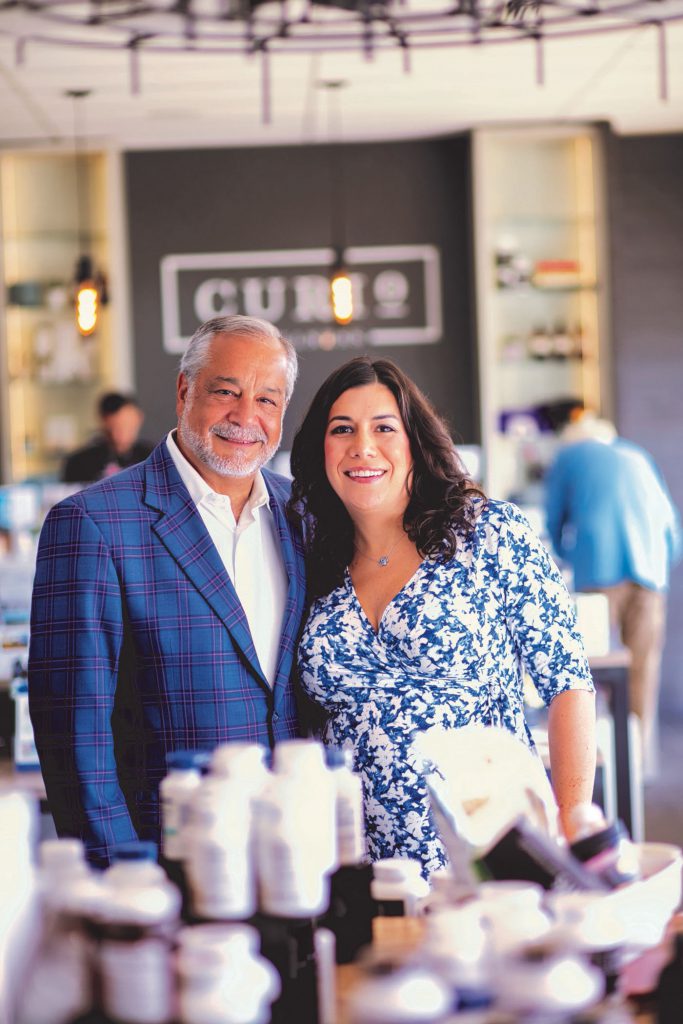 Michael Bronfein, B.S. '77, says he's always made up his own mind. "I had a strong will as a kid," he recalls with a laugh. "My mother would say to me, 'Don't you ever listen to anybody?' The answer to that is yes, now that I've gained some wisdom—I care a lot more about being effective than being correct."
His approach is clearly effective: over several decades Bronfein has spearheaded highly successful entrepreneurial ventures in industries that include health care and technology development. "I like being a decision-maker," he says. "Taking responsibility for success or failure is important to me."
Bronfein began his multifaceted career in finance, earning his UB degree in accounting while newly married and working full time. "I never intended to be a practicing accountant, but the degree and my CPA license proved valuable in commercial banking and gave me options for the future," he says.
While on track to become a bank president in the early 1990s, Bronfein and his wife Jessica (the couple have been married 44 years) decided he should embrace a new opportunity. Together with his brother-in-law, he founded Neighborcare, which pioneered the integrated model of pharmacy service for long-term and managed care patients. Within seven years the company grew from $12 million in revenue to $1.1 billion. Bronfein moved on to co-found the private equity fund Sterling Partners and Remedi Senior Care, among other ventures.
Bronfein was semi-retired and living in Florida in 2013 when his daughter Wendy, a television producer, suggested that he consider becoming a part of the fledgling medical cannabis industry in Maryland. "Initially I was reluctant, but then I thought, this is a hypergrowth industry that can improve peoples' lives, and it could be a lot of fun working with my daughters," he recalls.
After several years of due diligence, extensive international research and competing for licensing, Bronfein is now chief executive officer of Curio Wellness, the market-leading medical cannabis brand in Maryland. Curio cultivates, processes and dispenses medical cannabis from its 60,000-foot plus facility in Lutherville. Besides organically growing more than 24 varieties of cannabis plants and transforming the flowers into forms such as tinctures and tablets, the company sells its products to over 80 medicinal cannabis dispensaries across the state. Curio also dispenses directly to patients through its Wellness Center in Timonium, in addition to offering holistic treatments that include vitamins, supplements, acupuncture, yoga and therapeutic massage.
"We see the merits of both Eastern complementary medicine and the more research-based Western approach," says Bronfein. "Our credo is 'Leading the pursuit of wellness' and we want to make certain this product is used safely and responsibly to improve quality of life." Recent innovations from Curio's team include a line of medicated chews, and the list is growing rapidly.
Curio is a family business, with co-founder Wendy Bronfein serving as marketing director and her sister Rebecca Raphael director of sales. Bronfein's son David, J.D. '17, a lawyer in private practice, provides legal services to the company. But, says Bronfein, the culture at Curio is family oriented in another important way. "Our team is 80 percent millennials, and our stated goal is to develop people to their highest potential and promote from within," he explains. "We want our Curio family to grow and develop their careers so they can remain with the company and benefit from its success."
In 1999, the Bronfeins established the Arthur G. Bronfein Scholars Fund (renamed the Bronfein Scholars Fund in 2015) in the Merrick School of Business. "It's a tribute to my father's dedication to diversity and empowering economic success through accounting," he says.
The scholarships are also a way to give back, Bronfein continues. "UB was instrumental in giving me the raw material to become what I've become. When you look around Baltimore today, many of the most successful lawyers and business people are UB graduates. Perhaps there's a reason for that?"  
Paula Novash is managing editor of the magazine.