BY CHRISTIANNA McCAUSLAND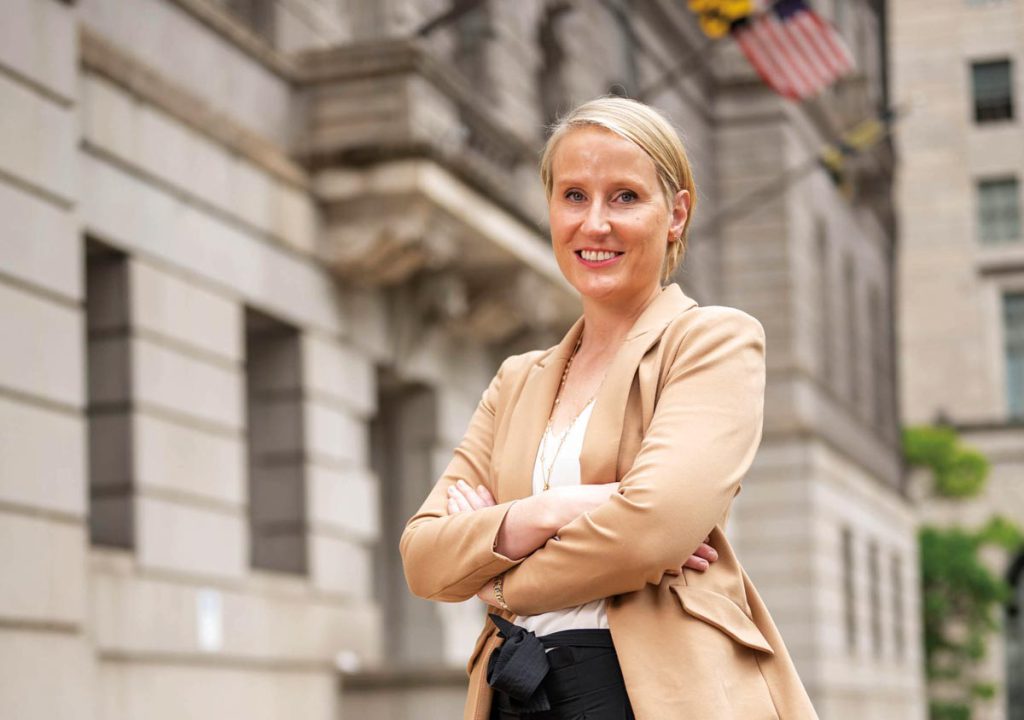 BIO

J.D. '02, The University of Baltimore
Chief of the Sentencing Review Unit, Office of the State's Attorney for Baltimore City
Led litigation efforts in Unger v. Maryland
SRU has overseen over 40 releases, including Adnan Sayed, after his conviction was overturned on Sept. 19
As a career-long defense attorney, Becky Kling Feldman, J.D. '02, didn't regularly engage with victims or their families. Now, as chief of the Sentencing Review Unit (SRU), she has the very delicate job of reaching out to those same individuals on behalf of people who were convicted of crimes against them or their loved ones.
What's more, the aim of her new unit in the Office of the State's Attorney for Baltimore City is to review decades-old convictions (after a minimum of 20 years has been served for juvenile offenders; 25 for other prisoners) to see if there are grounds for resentencing or release. So, when her office does reach out, that's usually the (sometimes uncomfortable) topic of discussion.
"People do terrible things and make terrible choices, but they are still human beings."
According to Feldman, responses run the gamut from anger to support. Some may have forgiven, but not forgotten, and feel the full sentence should be served. Many simply feel they've already moved on and want no involvement at all. But sometimes there are memorable exceptions.
"I had a case of a 15-year-old who shot and killed a man who was trying to intervene in a robbery," she recalls. "[The victim] was a dad in his 30s. I spoke to his daughter and she said, 'He was 15, he made a bad decision. I believe in second chances, and I'm rooting for him.'"
That reaction is rare. Feldman knows it can be difficult for people to understand why someone convicted of a major crime should be released from prison, but she explains that the work is essential to remedying Maryland's overcrowded prisons and decades of systemic racism. 
"Maryland incarcerates more Black people than any other state in the nation," says Feldman. "It's a shocking statistic. We recognize there is implicit, maybe even explicit, bias baked into our criminal justice system, and my unit also examines parity issues when deciding whether a sentence should be reduced."
Feldman's current work is informed by her previous job, where she represented hundreds of inmates at post-conviction proceedings. As the former deputy public defender for Maryland, Feldman brings both the "boots-on-the-ground" experience and the capacity for compassionate leadership that is necessary for the inaugural chief of this pioneering unit to possess. When the SRU launched in December 2020 it was one of only seven in the nation—alongside San Francisco, Los Angeles and Philadelphia—working to address significant problems caused by mass incarceration and an aging prison population.
Feldman explains that prior to the 1990s, inmates sentenced to life in prison often had access to pre-release services, work release and ultimately parole. Under Governor Paris Glendening's "Life means life" policies, those opportunities ended. The result lays bare systemic racism; the Justice Policy Institute states that Maryland has double the national average of Black people in its prisons, more so than Mississippi, Georgia or South Carolina. It's also led to a proliferation of geriatric prisoners. More than 3,000 prisoners in the Maryland system are over 50, costing taxpayers roughly $44,000 per inmate, per year, and more for the elderly requiring healthcare.
Notably, Feldman led litigation efforts in Unger v. Maryland, which ultimately saw the release of 200 inmates between 2013 and 2018, all who had served 30-50 years of their life sentences for violent crimes. Recidivism is less than 4 percent among Unger releasees, and for Feldman, it continues to serve as "an example of how people convicted of the most serious crimes can change and be safely released back into society." 
"People do terrible things and make terrible choices, but they are still human beings," she says. "When you meet someone in prison, especially after they have matured over the decades, you want to help them. You can see their humanity." 
Thus far, the SRU has overseen the release of more than 40 people under Feldman's leadership, most in their 50s, though the oldest was 85. They receive access to transitional housing, re-entry services, job training, and even tutelage in the necessities of life that have changed dramatically after decades in jail. Supports are in place because the SRU wants the returning citizens to succeed. Most do. Feldman stays connected with some of those she's helped release and isn't surprised by how well they're doing. To date, nearly every release who is physically capable of working, is working—at hospitals, re-entry programs, local businesses, in construction—and a number of them volunteer at churches or service programs with youth. 
"I understand how the public can perceive this with fear or with the question, 'What will they do?'" she states. "But we need people back in our communities who know what it's like to be in a gang, to be in jail, to live in poverty or with drug addictions, and to be Black in Baltimore. We need them back to help mentor our youth now." 
Christianna McCausland, a longtime contributor to the magazine, writes from Baltimore.