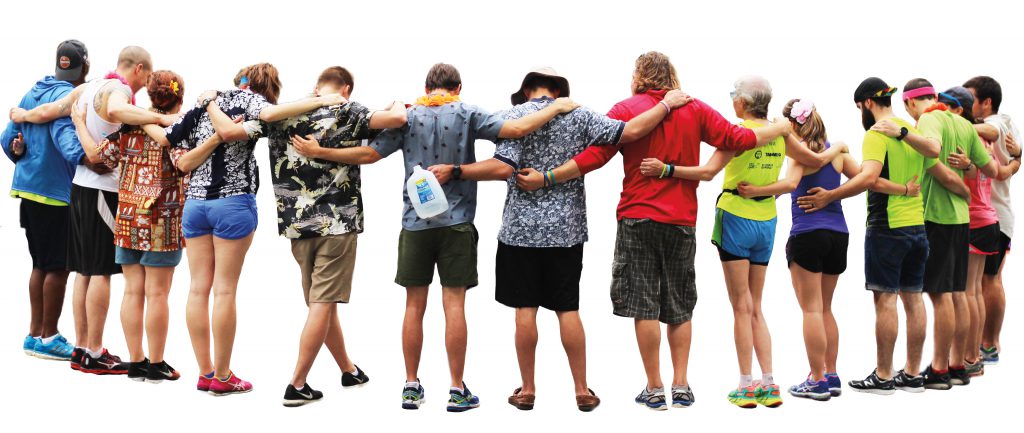 Kari Lindemann, M.A. '09, used to compete in triathlons. When she was UB's assistant director of annual giving, she would often arrive at the office on a bike or fresh off of a training run. Ten years ago her colleague Bill Cole, M.A. '96, then associate vice president of institutional advancement, told her about a new nonprofit called Back on My Feet (BoMF). The group, which organizes runs with residents in transitional homeless and addiction and treatment facilities, was encouraging him to become a volunteer.
"Bill had small children at the time, and it was hard for him to make a 5:30 a.m. run. He said, 'You should give it a try and let me know what you think,'" Lindemann recalls.
Lindemann signed up, attended orientation and joined a run with volunteers and members of BoMF at The Baltimore Station, a homeless shelter and residential treatment program in South Baltimore. Soon she was running four times a week and helping to plan events.
"I saw our members working hard, transforming their lives and breaking the cycle they had been in," says Lindemann, who now lives in Newark, Delaware. "I created personal bonds with a lot of members and volunteers—ultimately it was my central community in Baltimore." Now Lindemann is the national marketing director for BoMF, which has 13 chapters in U.S. cities that include Baltimore, Philadelphia, Los Angeles, Dallas and New York.
Here's how the program works: participants begin by joining groups for early morning runs (or walks) three times a week, perhaps initially covering just a few city blocks. Gradually they advance to longer distances (over 400 have run marathons), while making commitments to set personalized running and professional goals.
After participating on two morning runs, members get a free pair of new shoes and new running clothes. If they continue for a 30-day period with 90 percent attendance, they can join the group's "Next Steps" program, which gives them access to resources such as financial literacy training and resume building. They may also receive financial aid for transportation, housing costs, books for school, GED classes, etc.
Lauren Lake, B.A. '13, J.D. '16, has also seen how BoMF helps its members move forward. Lake is an associate in the litigation practice at Gordon Feinblatt in Baltimore. A cross-country runner, she began volunteering for BoMF during her senior year of high school. Lake planned to work in publishing until her experiences with the organization showed her how participants' lives could be improved by things like legal expungement clinics.
"Our executive director at the time was a lawyer, and she was able to help navigate many difficult situations for our members," Lake recalls. "That made me realize how valuable that skill set and knowledge is. Whether you're working in a nonprofit or on a nonprofit board—which is something that a lot of attorneys do—there are so many ways to give back."
Both Lindemann and Lake say that setting and achieving incremental goals in their running practices has led to improvements in other areas of their lives. BoMF staff and volunteers hope that participating in the program can similarly motivate members who may be struggling. It doesn't always work; people may relapse and try again. But at 5:30 a.m. as CEOs, college students and young and retired professionals run alongside members through the streets of Baltimore, they're all just focusing on putting one foot in front of the other.
"The organization is an amazing equalizer and provides a wonderful, supportive safety net," Lake says. "When times are tough, you're going to have people who are there to catch up with you and check in to make sure everything is okay. No matter where you are and what you're doing, if you run those miles side by side, you've accomplished something together."
To date, says Lindemann, BoMF members' achievements add up to more than 6,500 jobs and homes. "Our members have the capacity to achieve the extraordinary, but sometimes they just need a hand up to do it," she says. "Celebrating with them as they succeed in running a certain distance, getting a degree, getting promoted or starting their own business is incredibly rewarding. Seeing their self-confidence grow, to see them realize they can achieve, all while the volunteers are cheering them on, that's really magical."  
Jared Brey is a writer based in Philadelphia.