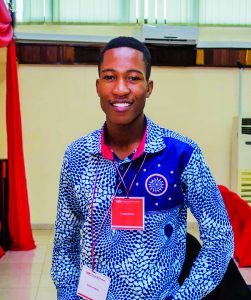 Michael Vandi, B.S. '20, describes himself as a problem solver. And while a quick look at the applied information technology major's resume confirms this, he also recalls an example from his childhood. "I grew up in Sierra Leone and we didn't always have electricity," he explains. "We used LED lamps that broke a lot." From the time he was six years old, Vandi says, "I would open them up, look at the motherboards inside, and try to fix them."
His focus shifted from hardware to software during high school, and after two years at the Limkokwing University of Creative Technology in Sierra Leone, he transferred to UB where his cousin, Bpaaki Vandi, M.S. '19, also studied. "There is a real value at UB," observes Vandi. "When I check my email, there's always opportunities to get involved or to join new groups."
Last year, one of those opportunities was joining a tight-knit group of students called the "Astrobees," who, with mentor professor Giovanni Vincenti, participated in NASA's annual Spacesuit User Interface Technologies for Students (SUITS) Challenge. Like their UB predecessors, the 2019 "Poegrammers" team, the Astrobees were challenged to design and create spacesuit information displays within an augmented reality environment.
"I joined the team because I wanted to show that contact tracing and protecting privacy can be done simultaneously"
Vandi, the team's front end software developer, explains how the Astrobees' software works with a glasses-like headset. "Words and images are projected onto what you're seeing," he says. "It shows the oxygen level in the top left corner, and in the middle there's a map. When it is too dark, it goes into light mode, or dark mode if too light." A challenge for Vandi was to display information without obscuring the user's view. The Astrobees' SUITS entry joins a repository of innovative technologies for NASA's Artemis mission, which aims to put the first women and the next men on the lunar south pole of the moon by 2024.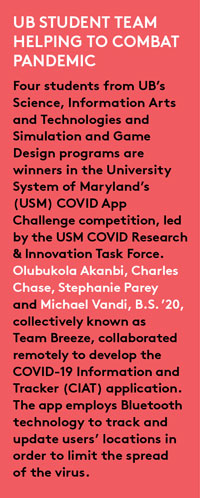 Although the team had to present their project to NASA remotely due to the pandemic, the restrictions of COVID-19 have not slowed Vandi down. He recently helped to develop an app to track coronavirus cases by zip code without exploiting user data. Called the COVID-19 Information and Tracker (CIAT) App, the project, created by four UB students, was awarded one of six innovation prizes by the University System of Maryland.
"When I heard current contact tracing apps developed by huge tech companies sacrifice users' privacy by tracking their locations, I knew there had to be a better way," says Vandi. "I joined the team because I wanted to show that contact tracing and protecting privacy can be done simultaneously." 
Vandi looks forward to publishing a report from an academic trip back to Sierra Leone, where he researched challenges to implementing e-learning there. Ideally, he says, his future path will lead him back to his home country. 
"Maybe I will be able to return to Sierra Leone, if everything works out," he says. Wherever Vandi lands, though, he'll be addressing bigger problems than the broken lamps of his childhood, and finding ways to make the world work better.
Tim Paggi, M.F.A. '15, is a Baltimore-based writer.