NASA Partners with UBalt for First Space Technology Camp
BY KRISTI MOORE, CERT '20
How do space missions affect astronauts' mental health? How can spacesuits be redesigned to better fit different people? Can technology be used to signal a spike in radiation levels for an astronaut exploring a new area?
Sitting in a college classroom on a summer day, a group of high school students are eagerly sharing the questions they hope to investigate as part of The University of Baltimore's first Space Technology Camp.
Dr. Giovanni Vincenti, an associate professor in UBalt's Applied Information Technology program, praises the ideas that the students will ultimately present at the culmination of the week. "That's going to drive what we share with NASA," he says, "and then, who knows?"
The possibilities—in what students can envision about space and their future careers, and in what UBalt can build from this collaboration—are limitless.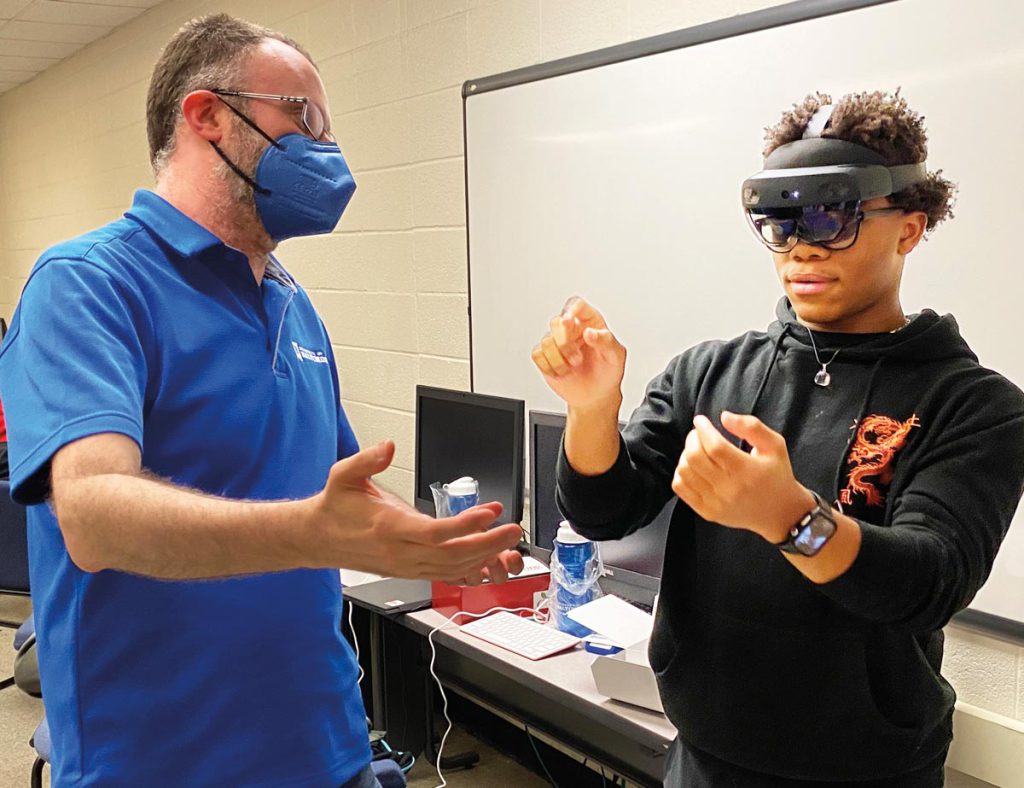 Years of work led to the one-week Space Tech Camp that welcomed 19 students—representing eight high schools in the Baltimore City Public School system—to the midtown campus. It was one of the first programs the University received federal funding for as a result of its recent designation as a Predominantly Black Institution
(
page 5
)
. This program also officially made UBalt a NASA partner.
Space Tech Camp was a natural extension of the University's involvement in the NASA Spacesuit User Interface Technologies for Students (S.U.I.T.S.) Challenge, which called on college-aged students to imagine augmented reality systems that could serve astronauts during space missions.
What lead Vincenti deep into the NASA S.U.I.T.S. Challenge with his students back in 2019 was a simple question—why not? He asked himself the same question earlier this year when the grant opportunity arose for the Space Tech Camp. "And we got selected! It's humbling and amazing."
"Everybody is so concerned about making it awesome… but eventually technology is about meeting a need."
GIOVANNI VINCENTI
Vincenti, the principal investigator, turned to Dr. Greg Walsh, the newly appointed Parsons Professor of Digital Innovation and a S.U.I.T.S. faculty mentor, to help. The two hoped to fill 10 seats for this new venture. To their surprise, they received 158 requests to join.
For Jace Townsend, a 16-year-old student at Baltimore Polytechnic Institute, the camp was a chance to see what college might be like. Tristan Walker, a 16-year-old Baltimore City College student, has long dreamed about going to space and wanted to soak in everything he could during the week.
An eye-opening moment for Tristan came when a NASA educator was speaking to the students about the Artemis program, a human spaceflight program aiming to land on the Moon's South Pole for further exploration by 2025.
"She was telling us that we're the next generation to do such things, and I kind of want to be part of that," Walker says.
Also among the camp's guest speakers were three UBalt and S.U.I.T.S. alumni: Chantil Hunt Estevez, B.S. '21, an intern with NASA's Goddard Space Flight Center; Larysa Paliashchuk, B.S. '19, a web developer at Goddard; and Michael Vandi, B.S. '20, a student on the master's-to-Ph.D. track at Carnegie Mellon University.
The camp was an opportunity to introduce the students to potential future careers in STEM fields and some of the basic lessons they needed to learn to get there, including an understanding of design thinking.
"To empathize is the first step of design thinking, so whenever you're trying to design a solution, the first thing is to put yourself in the shoes of somebody who's in that situation," Vincenti says. "Everybody is so concerned about making it awesome, making it high performance, but eventually technology is about meeting a need."
Vincenti would really drive that message home when helping one student test their hypothesis, which considered how astronauts grapple with anxiety in tense situations. The student gave his peers a difficult problem to solve. Halfway through, the student handed some of the test-takers a phone that included a pre-recorded message—a "love note" as Vincenti called it—from a family member that was obtained prior to the exercise. There were some tears and apparent relief for those that received a message. Vincenti named the exercise as one of his favorite moments from the week.
Vincenti and Walsh hope to build on this first camp in future years and establish more opportunities for community collaboration in Baltimore.
"It's really important that UBalt uses its resources to help the city in different ways," Walsh says, "either by partnering with nonprofits in some way, or through this kind of partnership with the school system where we're exposing these kids to different types of experiences that they might not have otherwise."
Kristi Moore is the assistant director of marketing and communications at The University of Baltimore.
Lift Off
Baltimore City Public Schools joins The University of Baltimore for Space Technology Camp