The University of Baltimore provides many opportunities for people with a wide range of talents and experiences to come together and create something new. One excellent example is the synergistic collaboration between students in the Master of Arts in Integrated Design program, part of the Yale Gordon College of Arts and Sciences, and students in the Center for Entrepreneurship and Innovation (CEI), part of the Merrick School of Business.
During their capstone course in Publications Design, a team of three or four master's students partners with a CEI student entrepreneur who has an existing business, or a business idea to develop. The design students are tasked with providing both a style guide with communications and marketing plans, and a process guide that encompasses a longer-term vision of how the entrepreneur's business can elevate its brand and be competitive.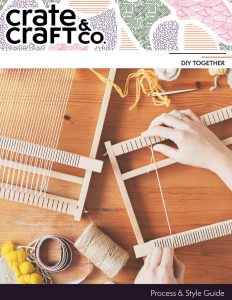 "I'm always looking for ways to bring practical experience to what I do in the classroom," says Megan Rhee, M.F.A. '08, director of the M.A. and M.F.A. in Integrated Design programs. "I was hoping to connect our students with an emerging business, and then I saw an item in UBalt's Daily Digest featuring the CEI." 
Rhee proposed the collaboration to CEI director Henry Mortimer, who was immediately enthusiastic. "Working with the Masters students gives our entrepreneurs access to innovative problem solving and illustrates the power of collaborating across disciplines," says Mortimer. "A strength of the CEI is that we provide connections to the business world, and this is a version of that—we're working with Baltimore's next generation of marketing and design professionals."
Rhee and Mortimer, along with professors J.C. Weiss and Stephanie Gibson, facilitate the collaboration process. "From the beginning we want all of the students to be invested, and to develop a relationship of trust," Rhee says. "Entrepreneurs are accustomed to making all of the decisions, and they need to know that we will respect their business."
This year the design team of Jasmine Loyal, M.A. '21, Richard Neal and Nett Smith, M.A. '21, worked with Entrepreneurship Fellow Rebecca Thompson. UBalt's Entrepreneurship Fellows program, thanks to the Philip E. and Carole R. Ratcliffe Foundation, helps student entrepreneurs with funding for their education and other expenses while also supporting their business venture.
Thompson's business, a doit- yourself craft subscription service, originally had a different name until the team proposed Crate Craft & Co.—a suggestion Thompson adopted. To prepare additional design and branding elements for the business, the team also researched target audiences and social marketing design and techniques, among other areas.
Notes Smith, "Our team also had a crash course in business development in order to create the process guide, which involved researching the competition and setting specific profit goals." They add that the semester-long project was an interesting test of the students' project management skills, as each juggled working on their final portfolios and collaborating remotely. "We dove into the project and managed the tasks and our time super well, despite never meeting in person," Smith says.
Four different design teams presented their projects at a virtual gathering in May. "The three of us spent many hours developing the slideshow and practicing the script," Smith recalls. "Presenting virtually had its own set of challenges, but it was a treat to see the other teams' pitches."
Ultimately the team of Loyal, Neal and Smith were named winners of the Erin Kvedar Memorial Seminar Award, established in honor of Kvedar by her family and given annually to a seminar project. The panel of judges, made up of outside experts, complimented the team on their branding, use of pattern, color and fonts, functionality and website.
The partnership was a win for the CEI's Thompson as well. "I enjoyed every part of this collaboration," she says. "As a startup, you never really know if your concept is clear. I was pleased to see they understood and absolutely nailed it." Thompson, also a 2021 winner in UBalt's Rise to the Challenge business pitch competition for Best Existing Business Venture, adds "I would encourage every UBalt entrepreneur to apply for this partnership. It's such an amazing opportunity."
"For our entrepreneurs, it's practice in hiring an agency, and for the design students, it's practice in pitching to a client."
CEI Director Mortimer says the competition gives students in both programs real-world experience. "For our entrepreneurs, it's practice in hiring an agency, and for the design students, it's practice in pitching to a client," he explains. "The judges are professionals who evaluate the presentations from both a business and design perspective. The quality of work the students produce is exemplary."
Smith agrees. "The opportunity to closely collaborate with other designers in the program was very valuable, because I was able to learn from their specialties. This project is great practice for working on a team with an external client."
For her, says Rhee, the collaboration is a passion project: "Every year I think, let's never not do this thing."
Paula Novash is managing editor of the magazine.