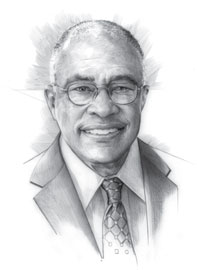 One thing I'm still learning about UB is just how multifaceted our university is. Our tagline is "You Know Us" and yet, the list of things we are known for is always expanding.
We continue to receive significant national recognition for the ways we serve our students, from working adults of all ages to under-graduates who come to us fresh out of high school. (Some of the many kudos we've received this year are highlighted in the "Brags" sections of the magazine.) But beyond our traditional areas of excellence, we're also delighted to be able to shine a spotlight on exciting new achievements.
In this issue we feature a team of seven undergraduates who took a leap to help develop the spacesuits of the future. The "Poegrammers," students from our Applied Information Technology and Simulation and Game Design programs, were selected to attend a competition at NASA in April. UB was part of an elite group of universities that included schools specializing in science and technology. The Poegrammers' accomplishments are a source of great pride for us, and we hope you enjoy learning more about how they translated their classroom education to tackle real-world technological challenges.
We also highlight talented UB professors and alumni who influence the world using the power of words. And true to our pledge to be the University for Baltimore, our students are making a difference in the community. Our Real Estate Venture Fellows are developing new housing options in middle market neighborhoods. Our alumni are also instrumental in providing services for those who are dealing with homelessness and addiction, as well as contributing to life-changing advances in organ donation via delivery drone.
As our view of UB expands, so does our view of what is possible for each of us. Together we can help each other along the way to our brightest and most fulfilling futures, full of new experiences and perhaps some surprises.
Sincerely,
Kurt L. Schmoke