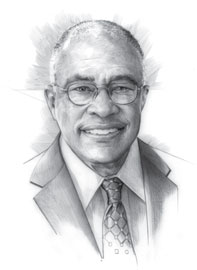 It's good to be together again. After three semesters of virtual learning, some of our students and staff have returned to The University of Baltimore campus with protocols such as indoor masking in place to keep us all safe and healthy. (As always, we're continuing to have a robust online presence to provide the flexible learning options our students want and need. 
Even as we transition to more in-person activities, many of us are reflecting on the changes we're seeing in our society. Issues around social justice, health policy and education reform, among others, have opened us to new perspectives and new ideas. In some ways that's allowed us to appreciate and value each other more. In others we can seem to be far apart.
This fall we convened a panel discussion of UBalt-affiliated thought leaders to address how we can better communicate in a time when many topics can be triggering. I was the moderator for their conversation, in which the panelists shared what they are experiencing in their classrooms, in community organizations and in the workplace. In this issue we share excerpts from their inspiring and insight-filled discussion. We're also featuring a video of the entire event online at ubalt.edu/ubmag.
In addition, we are showcasing the work of three wonderful— and very different—photographers with connections to our institution. And in another feature, we talk about how our alumni are navigating career changes and job searches, and the resources that have helped them.
Our world will continue to evolve, and we will continue to adapt and look out for each other. Being a part of our UBalt community is always a reminder that together, we can change the world for the better.
Sincerely,

Kurt L. Schmoke