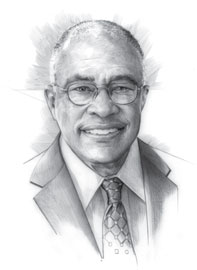 "Leaders are made, they are not born." Though renowned, these words from Vince Lombardi never resonated with me as much as another turn of phrase from the legendary coach: "Having the capacity to lead is not enough. The leader must be willing to use it."
Students have come to The University of Baltimore to build professional capacity for almost 100 years. Through innovative academic programs, experiential learning and community immersion, they acquire the knowledge and skills to navigate the demands of a modern workforce.
From boardrooms and classrooms, our faculty are practiced leaders whose experience and expertise make them uniquely equipped to ensure our students succeed. But there's more to a UBalt education than preparing students to sit for the bar, pass the CPA exam, defend their doctoral thesis, present their research to the community, or produce their own books, portfolios, ventures, and more. We cannot overlook the other qualities they are endowed with during their time here.
Communication, mentorship, organization, motivation and innovation are all considered "soft skills." They are also vital competencies for leaders. For this reason, I am reluctant to refer to leadership skills as "soft." As you will read in the following pages, these skills have all been hard-earned by our students and alumni.
If you review a UBalt course catalog, you'll find a handful of classes that include "leadership" in the title. However, if you enroll in any course at The University of Baltimore, you'll find leadership embedded in the fabric of our curriculum. We don't provide our students with a how-to guide; we believe each of our students already has the capacity to lead, and we instill in them the willingness to use it.
The stories in this issue represent a mere fraction of our capable and willing UBalt alumni. They c0me from different backgrounds, have taken different paths and have different titles, but they were all
forged in the same fire. Whether you've been a leader in your field for 50 years or haven't yet settled on a program of study, there is something to be learned from the lessons within this issue.
When we say "Leaders learn here," what we mean is that leaders are made here. And we will continue to make strong, thoughtful, resilient leaders to meet the challenges of our times.
Sincerely,

Kurt L. Schmoke