A $2.4 Million Grant from The Bob & Renee Parsons Foundation Benefits Veteran and Active Military Students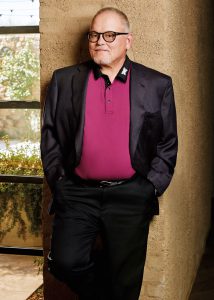 Veteran students and students who are active military members are vital—and valued—contributors to The University of Baltimore community. Now a multiyear, $2.4 million grant from The Bob & Renee Parsons Foundation will provide them with even greater opportunities and support. The grant aims to increase the impact of both The Bob Parsons Veterans Center and The Bob Parsons Veterans Advocacy Clinic at UBalt.
"The transition back into civilian life and getting a college education can be challenging," says Bob Parsons, B.S. '75, D.H.L. '08, a Baltimore native and Marine Corps Vietnam War Veteran, and founder and CEO of PXG. "Having specialized support and legal counsel when needed can go a long way in making successful transitions possible."
UBalt's Bob Parsons Veterans Center serves more than 300 veteran and military-affiliated students, offering them a place to study, socialize and participate in activities. Mentorship programs help them successfully prepare to reach their full potential in the workforce and their personal lives. The recent grant will support a new full-time staff member— allowing the Center to offer even more academic, career, service and social-based programs.
Through The Bob Parsons Veterans Advocacy Clinic, law students at the University engage with veterans and learn about the legal difficulties they often encounter after leaving the military. The students provide veteran clients with pro bono representation and learn to advocate for them and impact legislative policy changes that are transforming the way veterans are treated by the legal system.
In 2020, Bob Parsons also established The Bob Parsons Scholarship Fund, the single largest donation to a scholarship program in the history of the University. This recent grant brings Parsons's total support to UBalt to more than $9 million since 2013.
---
ABOUT THE BOB & RENEE PARSONS FOUNDATION
The Bob & Renee Parsons Foundation offers support to nonprofit organizations successfully working to empower, educate, nurture and nourish people during what is often the darkest time of their lives. Founded in 2012 by philanthropists and business leaders Bob and Renee Parsons, the Foundation provides hope and life-changing assistance to the country's most vulnerable populations. The Foundation's giving is driven by the core belief that all people—regardless of race, religion, roots, economic status, sexual orientation or gender identity—deserve access to quality healthcare, education and a safe place to call home. Visit TBRPF.org to learn more.
Paula Novash is managing editor of the magazine.