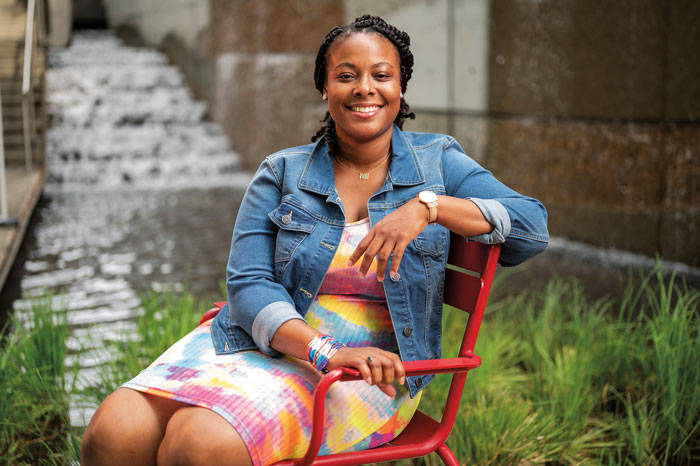 BIO

B.S. '11, The University of Baltimore
Co-Director and Co-Producer, Anatomy of Wings
Editor and book designer
Community activist
Since she was a child, Nikiea Redmond, B.S. '11, has been recording people's stories. Her mother, who owned a local restaurant, and her aunt are both activists who involved Redmond in projects in her community.
"I worked on newspapers for kids and teens, interviewed people about the history of the neighborhood, helped in a local computer lab," she recalls. "I wouldn't be who I am today if I didn't feel comfortable navigating different personalities."
Redmond's ability to connect is an integral part of how she came to direct and produce her acclaimed documentary, Anatomy of Wings. Created with co-director and co-producer Kirsten D'Andrea Hollander, the film chronicles the lives of 10 young women from Baltimore's Dunbar Middle School. The group met in 2008 in a program designed to teach the girls to use video equipment, and over a decade they and their mentors became confidants and supporters of each other's journeys.
Redmond grew up in East Baltimore and attended Dundalk community college and Towson University before transferring to The University of Baltimore to complete her degree. "I felt seen at UBalt," she recalls. "It's a place that encourages people to be creative." Redmond interned in the president's office of East Baltimore Development, Inc., where one of her supervisors mentioned that a program for young women was looking for volunteers. "I thought, I could see myself doing this," Redmond recalls.
" We were all influenced by the girls' willingness to be open and true to themselves. Learning to listen to them changed my life completely."
The meetings quickly became more than film classes. "We were having these amazing discussions. We were all influenced by the girls' willingness to be open and true to themselves," she adds. "Learning to listen to them changed my life completely."
Anatomy of Wings is a montage of footage, some filmed by the girls and some of group discussions and gatherings. In later years, the young women and their families welcomed Redmond, D'Andrea Hollander and other mentors to their celebrations and events. The group conversations in the film reflect the reality of growing up in difficult circumstances—sometimes silly and fun, sometimes about hopes and dreams, and sometimes addressing tough topics such as teenage pregnancy and losing family members.
In many ways "The girls were living adult lives with a child's mind in a child's body," says Redmond. Barely out of her teens herself when the group formed, Redmond was at times mentor, sister and role model. "I wanted to be there for them, have it be about their story, not my story," she continues. "And allowing them to be themselves in the moment, and not always having a solution, really let me check in with myself. I realized I need this too."
One compelling section of the film takes place on a retreat, when the girls were close to high school graduation. Some of them clearly struggle to communicate their frustrations and fears about moving forward. Redmond says it was difficult when she couldn't help a girl achieve all of her goals. "We want the best for people we love, and I had to accept that I could not always take them where they wanted to go," she says. "That part still doesn't sit well with me."
Yet, she continues, "Everyone graduated from high school and now they are women in their twenties and thirties. When I watch them raise children, work, see how they manage conversation well, step up boldly and share their stories at film festivals, I know all of them are doing well."
With Anatomy of Wings released, Redmond is looking to future projects that include a documentary exploring her grandmother's story. She also brings book projects to life as an editor and designer. As mother to one-year-old son Ashton, Redmond says "I'm looking at the whole journey, and what my next thing should be. I'd like to be a resource for people in publishing, and also for people navigating film festivals, helping them to get their creative work out into the world."
Anatomy of Wings will be featured in this fall's American Black Film Festival and the team is working on streaming and distribution deals. There's also talk of a podcast with the young women. Says Redmond, "We're a family—the need for what we have together does not go away."
One of the lessons of Wings, she says, is the incalculable value of allowing people the space to thrive in their own ways. "If we all were heard and seen for who we are," she says, "what could we be capable of?"
Paula Novash is managing editor of the magazine.