BY ABIGAIL GREEN, M.A. '01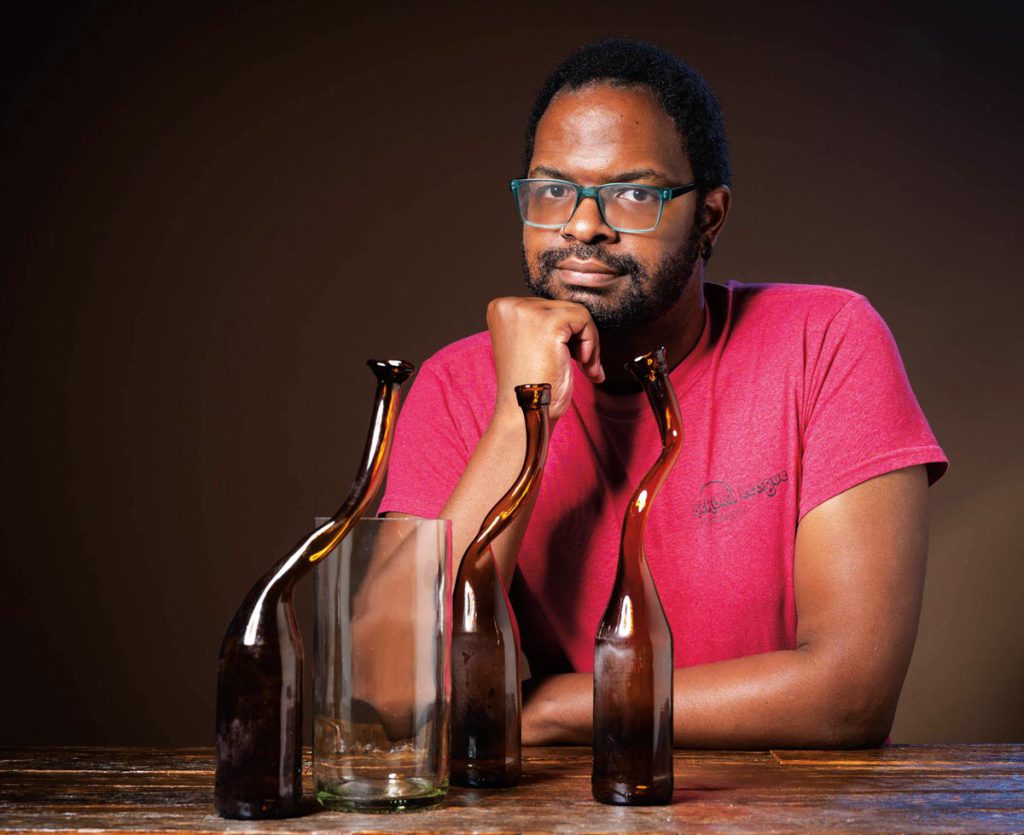 BIO

M.S. '17, The University of Baltimore
Founded Glass Recovery and Sustainable Systems (GRASS) Baltimore
Grant proposal writer
Community activist
Dante Swinton, M.S. '17, has a vision for a zero-waste future for Baltimore, and it's focused on glass bottles. This is a bold vision for a city not known for its eco-consciousness, yet he is working to make it a reality through the cooperative he's preparing to launch this fall, Glass Recovery and Sustainable Systems (GRASS) Baltimore.
According to the Environmental Protection Agency (EPA), up to 80 percent of what we throw out is recyclable, compostable or reusable. Yet our national recycling rate hovers around 34 percent, and Baltimore's rate is a dismal 15 percent. That means that most of Baltimore's refuse ends up in the city's trash incinerator—which puts out as much CO2 each year as 141,000 cars each year and makes up 38 percent of toxic air emissions from industrial polluters—in a city already burdened with a higher-than-average asthma rate. "It's been the biggest polluter in the city for nearly four decades," says Swinton.
According to the EPA, glass accounts for about 4 percent of recyclable materials that are thrown out, adding up to 18,000 tons a year in Baltimore alone. The glass—mostly broken and mixed with other materials—ends up being used in road construction or as landfill cover (e.g., to keep birds off the trash), or it's diverted to the incinerator. Glass is infinitely recyclable—meaning there's no limit to how many times it can be reused or recycled—says Swinton, "so that's 18,000 tons of waste that could be used for other things, but instead it's being burned or buried."
Swinton got the idea for GRASS at a conference he attended in 2020 while employed by Energy Justice Network, where his job was working on the closure of Baltimore city's trash incinerator. "A lot of different organizations came together with ideas about how to make money for the work that they're doing, because it can be difficult to find funding for environmental justice organizations, particularly ones that are smaller," says Swinton, an alumnus of UBalt's Nonprofit Management and Social Entrepreneurship program.
"A zero-waste future is feasible—it's cheaper and creates more jobs. If people understood the benefits, we would be in a much better position."
DANTE SWINTON
He wondered, what if empty glass bottles were collected from restaurants and repurposed into other things—like glassware and artwork—and resold? Since then, Swinton has spent the past two years securing funds and honing business plans.
Now working as a senior campaigner for the Center for International Environmental Law, Swinton was a recipient of a Baltimore Corps Elevation Award, which provides planning grants and support "to people of color who are Baltimore city residents piloting novel approaches to strengthen Baltimore communities." He was also part of the Social Innovation Lab's Accelerator program at Johns Hopkins University. "All of these different programs have gotten me closer and closer to my goal. We've reached our first fundraising goal for 2022," he says. GRASS is currently working with glass artists to put together some initial pieces for proof of concept, including items like vases, cheese boards and plant holders.
Swinton is also looking for space to house the organization, which could be rented out to artists and used for activities and other arts events, like glass blowing workshops. He plans to hire at least three employees from Westport (the Baltimore neighborhood that's also home to the incinerator), as well as a hauler that can transport the discarded bottles to the future site in Pigtown.
"Our goal is to start with two or three restaurants. In an ideal world they'd be in the same neighborhood that we're in," says Swinton. "But as long as we've got restaurants willing to supply us, we'll manage to go get it."
Swinton's done the math and says it would be cheaper for Baltimore to build a glass recycling facility, a compost facility, and provide collection bins and education to residents than it would be to expand the city's landfill. Other cities such as San Francisco and Memphis have done it and succeeded. "A zero-waste future is feasible—it's cheaper and creates more jobs," says Swinton. "If people understood the benefits, we would be in a much better position."
Editor's Note: As of October 2022, GRASS has secured a new home in the 1100 Wicomico building in Pigtown.
Baltimore-based writer Abigail Green is a regular contributor to the magazine.