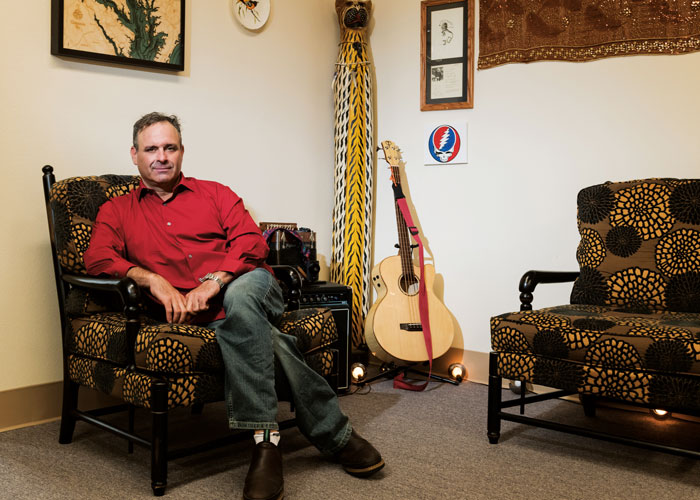 BIO

J.D. '97, The University of Baltimore
Started tech hub Founders Dojo
Owner of investing group Giant Leaf LLC
Proponent of blockchain
David Grossblatt, J.D. '97, is an entrepreneur, an attorney, an angel investor, an early adopter and enthusiastic supporter of the digital economy, and someone who brings people together, among other things. And what connects Grossblatt's many endeavors is his openness and sense of fun.
"I believe in an abundant environment, more people contributing more ideas," Grossblatt says. "Finding ways to enrich everyone around you creates so much positive karma."
During his career, Grossblatt has founded and nurtured hundreds of successful startups. His investing group, Giant Leaf LLC, supports projects and companies in areas that include technology, art and real estate.
A Baltimore native, he attended Pikesville High School and the University of Maryland before obtaining his law degree at UBalt's School of Law. "My first experience of the internet was in the computer lab across the street from the law school," he recalls.
After graduation, Grossblatt headed West and practiced law in the Bay Area for two years. "I loved law school and didn't much like being a lawyer," he says. He decided to start a company that provided online services. Soon after, he rented a warehouse-like space in San Francisco and invited fellow entrepreneurs to share it rent-free.
"This was before the coffee shop as gathering spot. There were so many people starting out and no one had anywhere to work," Grossblatt recalls of what became the tech hub Founders Dojo. "There were not a lot of rules, and we all learned from each other." Since 2007, hundreds of global companies in software development, advertising and the digital economy have been incubated in the Dojo, and the ideas keep coming.
One—big—idea that captivated Grossblatt almost a decade ago is a decentralized infrastructure for the internet via blockchain technology. "I knew this thing was going to be good," he says. "The current structure of the internet is like a train—you get on and ride where it takes you. Blockchain is more like a car—you control where you want to go."
Blockchain stores data in contained, virtually hack-proof "blocks" that are linked. One of its uses is creating digital ledgers for financial transactions using cryptocurrency, of which perhaps the best known is bitcoin. "From my law studies, I see this technology from a policy and legal perspective. It provides better security, privacy and transparency," Grossblatt says. "It's a much-improved user experience with such potential. A lot of people don't understand it yet, but we're getting there."
He continues, "Here's a related thing I'm in love with." Grossblatt is nurturing the inaugural football program at Oakland, California's 100-year-old Lincoln University. "I've never worked with athletes before, and it's so much fun. I think of them as entrepreneurs," he explains. "I wanted to do something good to help these kids—most of them come from tough situations. We're helping them set up social networks and teaching them about cryptocurrency and ways to become financially successful after college."
Grossblatt and his wife, Lesley (until recently the chief product officer of San Francisco public media organization KQED), recently moved from California to Carson City, Nevada. Lesley is unschooling (a less structured form of homeschooling dictated by the student's interests) their children, 11 and 13, in a city with a smaller-town feel. "My children are phenomenal people, and my wife is amazing," he says. "We are so supportive and respectful of each other. You can imagine how goofy I can be, too, and she's my best audience."
The future, says Grossblatt, includes global ventures, international family travel and endless possibilities. Recently he and some of his Dojo partners gathered in Las Vegas to discuss a sports and marketing program. "Being with people I love who love me, all the ideas, it lit up the town for us," Grossblatt says. "I want to bring that to other cities around the world."
He continues, "I'm constantly trying to find more clarity, be more purposeful, live the best life for the best reasons. When I look back, I don't think I could have dreamed all this."