Unique Visions of Three Baltimore Photographers
"He saw things the rest of us don't see," says JENNIFER BODINE, J.D. '75, of her father, celebrated photographer A. Aubrey Bodine (1906-70). For more than four decades, Bodine documented the stories of people in Baltimore and beyond for The Baltimore Sun. And as a celebrated pictorialist, a photographer who composed his works almost like paintings, "he devoted his life to elevating photography to an art form," Jennifer adds.
"He visualized how he wanted viewers to experience a scene, and used his craft to create that vision," she continues. "He didn't take a picture, he made a picture."
Jennifer is an attorney, stained glass artist and designer of her steel riverside home on Maryland's Eastern Shore, among many other accomplishments. She's also the author of five books, curated collections that include Bodine's Chesapeake Bay Country, Bodine's City, Bodine's Industry and Annapolis. Her father's subjects varied widely, from oystermen to city children to cathedrals, and she says he was particularly known for the effects he achieved in a time long before digital photography or Photoshop.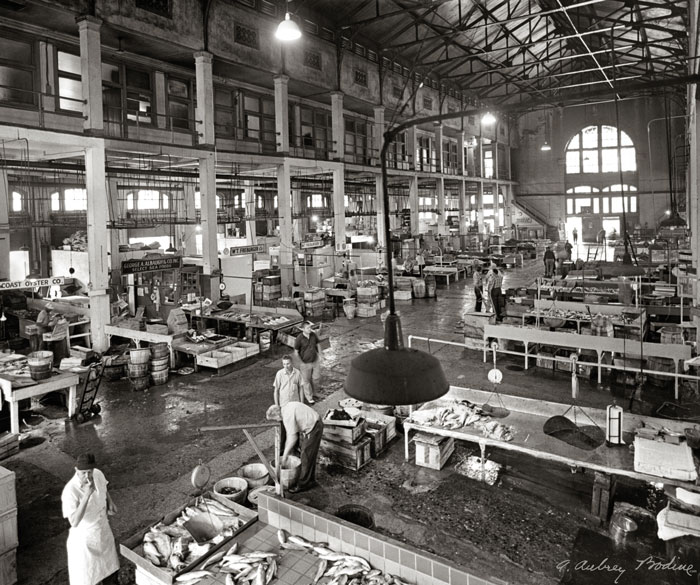 "No one has been able to replicate his skill in the darkroom—it was his happy place," Jennifer explains. "He could add elements like clouds to a scene using double photographic plates, and might make scratches or pencil marks on a negative or use dyes or tints to change the appearance of a print."
Bodine was fearless in pursuit of an image, she continues: "Nothing got between him and a photo. He could not swim but was constantly on boats with watermen. He'd climb vertical rails and steel bars and ladders, perch on the tops of buildings to capture a cityscape."
And, she recalls, "The man never met bad weather he didn't love. When he was asked, 'what advice would you give a budding photographer?' he replied, 'Go out in the worst weather imaginable.'"
This "learning by doing" philosophy is consistent with Bodine's own experience. He went to work at age 14, yet "he was lucky," Jennifer explains. "He went to the Sun as a messenger and sat next to the commercial art department. He learned from the photographers, and they quickly recognized his talent."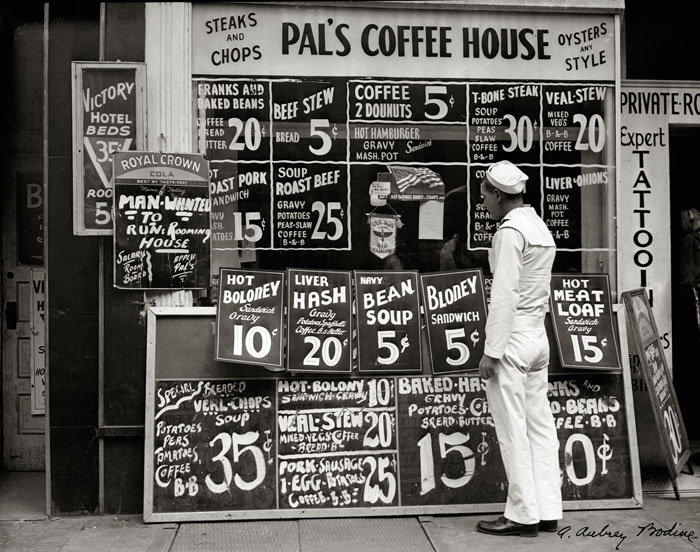 Jennifer and her husband of forty-plus years, Richard Orban, have digitized more than 10,000 of her father's photos, available as licenses and reprints at aaubreybodine.com. She has designated the Baltimore Museum of Industry as the eventual recipient of the comprehensive Bodine archive.
For Jennifer, it is fitting that her father's photos reside in the city that shaped him, and that he loved. "Bodine traveled extensively for his work, yet his Baltimore photos are special," she says. "I want people to have access and enjoy the works, so they can appreciate his legacy as an artist and also the way he viewed the world."
Slideshow of selections from Jennifer Bodine's book Bodine's City. 
"It's beautiful, what gets left behind," says SUE TATTERSON, B.S. '06, M.F.A. '08, of her photos of abandoned spaces. For almost two decades Tatterson has been exploring empty and decaying buildings and capturing their essence. 
"I try and show how busy the places often were. For example, there's a former silk mill in Western Maryland where the employees went on strike and walked away, leaving everything in process," she explains. "And sometimes the spaces are just empty except for small items, like a toothbrush in a prison cell. You can always feel the energy of the people who were there."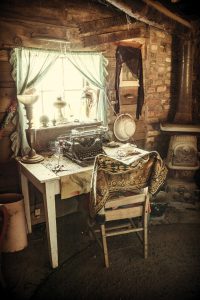 A professor at Central Arizona College and author of several books of her photography, Tatterson says that as a child in her native Australia, she enjoyed exploring. "I always liked to do what I wasn't supposed to be doing," she says with a laugh. Her first camera was a Kodak Instamatic, "the one with the cube flash on top," she recalls.
Tatterson studied photography "in the old school days of the darkroom," she says. "When I saw the first image emerge in that tray of chemicals, I was hooked." She worked as a commercial photographer, but realized it wasn't her passion. At age 34, Tatterson took the opportunity to relocate to America, and says the move reignited her love for her art: "Everything seemed new again."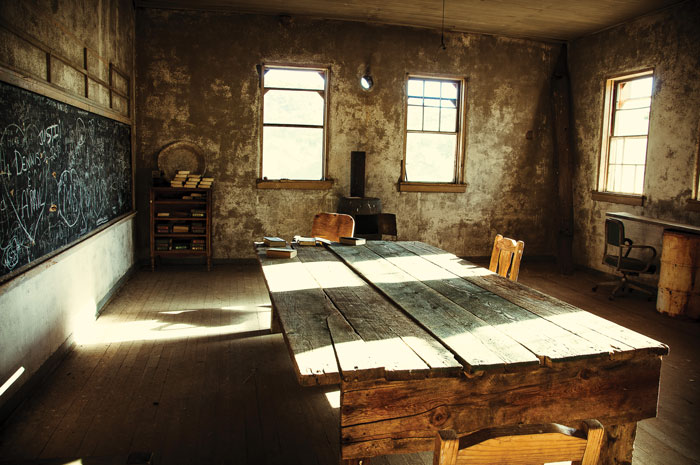 During her time at UBalt, Tatterson became the graphic designer and photographer for the Schaefer Center for Public Policy and the Merrick School of Business. She also started teaching, as an adjunct professor in UBalt's Klein Family School of Communications Design. Her "Spirits of the Abandoned" series began as her M.F.A. thesis project, and since 2008 has grown to include images from more than 80 locations in many states.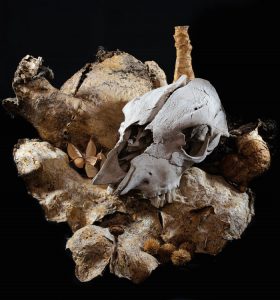 Usually Tatterson takes someone with her when she goes into abandoned spaces, though oftentimes she's alone. "It can be a bit creepy—I've heard sounds that were terrifying and turned out to be a bunch of turkey vultures or some other critter who has made the abandoned space home," she says. "You can feel very vulnerable being alone in these places and I try to convey that in a way that makes the images powerful."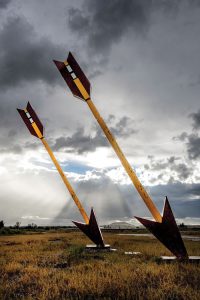 Since Tatterson's move to Arizona in 2013, the spaces she highlights include ghost towns, "which are delightful to photograph," she says. "The sheer size of the West is so different—everything is vast and open." She's recently begun a new series portraying skeletons of saguaro cacti and remains of animals she finds on her desert hikes. "I had this whole collection of bits and pieces I'd collected, and so I decided to see how they would come together as a still life series," she says.
"The abandoned places I photograph often feel otherworldly. It's hard to describe the feeling they evoke," Tatterson continues. "Some buildings I have photographed have been demolished, and no longer exist except in my photos. Capturing a moment in time in that way is precious."
Tatterson's photography is available at suetattersonphoto.com.
KIMBERLEE JENKINS, B.A. '20, was inspired to create her Rose Garden series, which features members of an African-American dance company, in response to a political advertisement.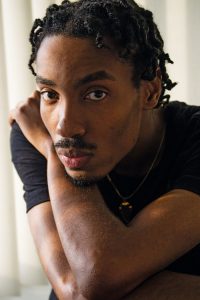 "During the 2020 election, a woman created campaign ads that made me very angry," she recalls. The ads used derelict street scenes that were not located in the areas they were meant to portray. "To me, this was slander and misrepresentation," Jenkins says. "I grew up in Baltimore, it's my city and it is important to me."
Jenkins' response was to create a more positive, nuanced version of her hometown. "I wanted to show people who represent what the city really looks like," she explains. The resulting images were featured on a billboard at Baltimore's Penn Station.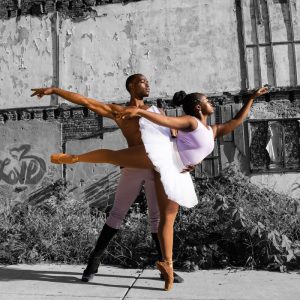 "I loved showing not only the beauty of the dancers, but also their athleticism," Jenkins says. "People who walked by were encouraging them as we worked. It was a great experience."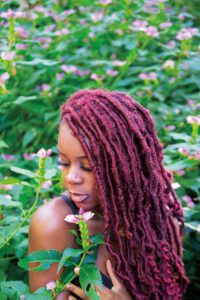 Jenkins' path as an artist includes a few detours. "In high school I tried photography but I doubted myself," she recalls. She went into the military after graduation, and while stationed in Arizona, she bought a new camera and taught herself to use it.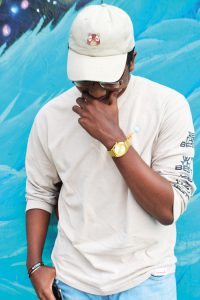 "Taking photos again made me so happy that after I was honorably discharged, I decided to reconsider what I wanted to do," she says. A career evaluation suggested she consider a field like art direction, with different facets. "I have always been attracted to a big umbrella, but I didn't know that was a thing!" she says. UBalt's B.A. in Digital Communication was the perfect fit.
"One of my first classes was about the business of being an artist, and it just made sense," she says. "Of course, I need these skills to help my art flourish." Jenkins was a social media ambassador for the University as well, covering events and contributing photos.
Jenkins says she especially enjoys portrait photography. "I like to create a spark in someone with fun poses and their favorite music," she explains. "I love it when someone says, 'I can't believe I look like this!' I want to help people feel confident."
As Jenkins moves forward, she's exploring featuring her images on shirts and other items. She says, "I want to show young creatives coming after me that you can try different paths. You don't have to be just one thing."
See more of Jenkins' images at
kimberleej8.wixsite.com/jinxphotography.
Paula Novash is managing editor of the magazine.