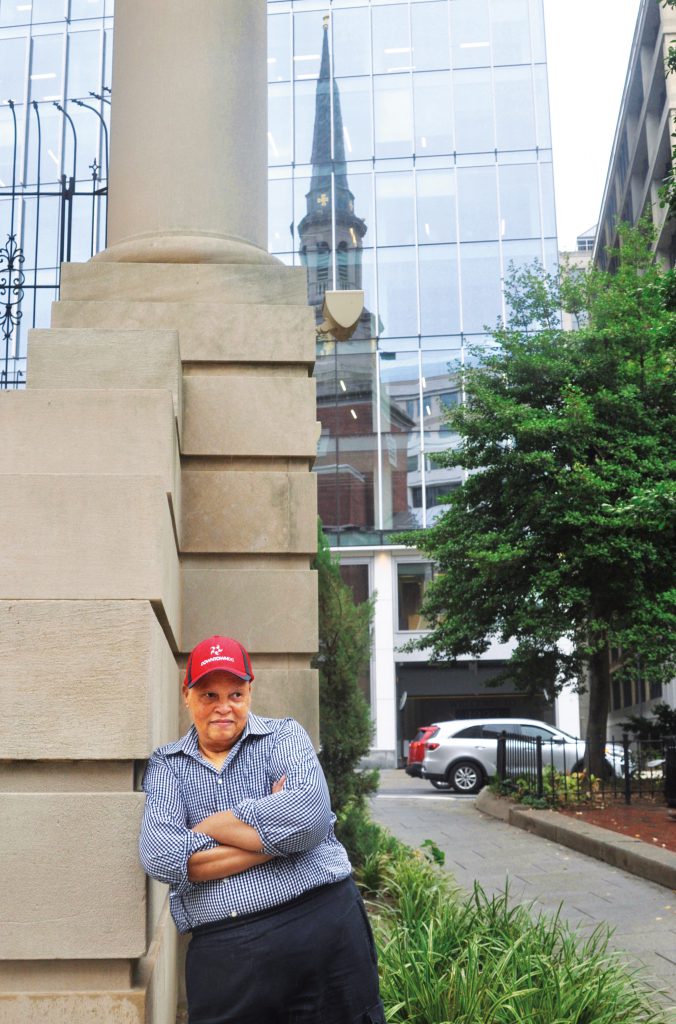 BIO

B.A., M.S., University of Baltimore

Leads center for adults experiencing homelessness

Activist and visionary
Tokyo Direkston, B.A. '13, M.S. '16, is the homeless services site and program manager for the Downtown Day Services Center in the District of Columbia, an organization that supports adults who are experiencing homelessness. "It's right where I'm supposed to be," she says.
The Center is a bright, upbeat space, housed in the New York Avenue Presbyterian Church in the business district. "I want our guests to feel welcome and have a sense of normalcy," Direkston continues. "I know what they are going through to survive."
Direkston can appreciate her guests' struggles because she's been there: for a decade she was homeless and addicted to crack cocaine. She recently acknowledged 20 years of sobriety. "Every day I remember something I thought about when I was homeless, something that was especially hard for me. It helps me serve our guests better," she explains.
Daily, an average of 150 people access Center resources that include meals, laundry services, computers, case managers, peer specialists and harm reduction specialists. Direkston is concerned with every little detail, making sure everyone hears "We're so glad you're here," when they enter, and that each receives fresh towels and hygiene kits, as well as privacy, for showers. "We treat people with dignity and respect," she says.
Direkston grew up in the Philadelphia area and was living in New York when she was recruited by a DC-area program to teach carpentry skills to former inmates. "I didn't want to move away from friends and family," she recalls. "But I had the qualifications in construction, and they wanted more women, especially women of color, in nontraditional roles, so they persuaded me."
Direkston liked the work, but she was lonely. One weekend, she says, "I made some bad decisions and tried crack cocaine. That's where my life took a different path. It took me five years to admit I had a problem, and another five to decide to do something about it."
Her own experience with hitting rock bottom gives her a greater understanding of others' struggles. "You have to stop for you. If you do it for me, then I'm the problem and I'm the reason you begin using again," she explains. After going through a recovery program, Direkston settled in Maryland and went back to school, eventually transitioning from construction management to human services.
She credits her then-partner, who has since passed away, with helping her believe she could be successful in higher education. "I was told for years that I wasn't smart enough, and that's hard to overcome. I'd come home from class and cry, 'I can't do this.' And then I'd wind up getting an A. After a while she would just look at me and say, 'You got this.'"
Direkston says she loved her experience attending UB. "I call it my big girl school," she says. "My professors expected a lot, but they supported me, too." One of her goals is to teach, but, she says, "I don't just want to teach, I want to teach at UB."
In Direkston's vision of the future, she's developing a Baltimore nonprofit to tackle homelessness. "I just want a city block of abandoned homes," she says, where she would renovate a few houses at a time with the hands-on help of those who would eventually live there. She'd also build a commercial kitchen to provide food service training. With her combined background in construction, human services and developing programs, she's more than ready to begin. For now, though, Direkston spends her commutes strategizing about how to better provide for the Center's guests.
Direkston shares that 20 years ago, she attended a 12-step meeting in a historic sanctuary known for its social justice mission—the New York Avenue Presbyterian Church, where the Center is located today. "How is that for a clear message from a higher power?" Direkston says with a laugh. "Now I have a job here I love. There are more things I need to do—but I know my starting point for that next step is here."
Paula Novash is managing editor of the magazine.