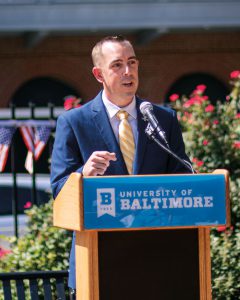 Members of The University of Baltimore community gathered to mark the 20th anniversary of the events of September 11, 2001. Speakers including Josiah Guthland, director of the Bob Parsons Veterans Center; Roger Hartley, dean of the College of Public Affairs; and Hugh McLean, director of the Bob Parsons Veterans Advocacy Clinic, shared personal stories and highlighted the significance of the day.
UBalt lost three notable alumni during the attacks in New York City. Nicole Marano, associate vice president for Student Success and Support Services, honored Joseph V. Maggitti, B.S. '75, Seamus Oneal, M.S. '97 and Karen L. Seymour, B.S. '81 by sharing reminisces from their families about their legacies and the many lives they touched. These alumni are also honored in a plaque in Gordon Plaza, dedicated by the University in 2002. This recognition is located in a garden space beautified by members of UBalt's chapter of the national leadership honor society Omicron Delta Kappa, who were represented by the group's president Chloe France.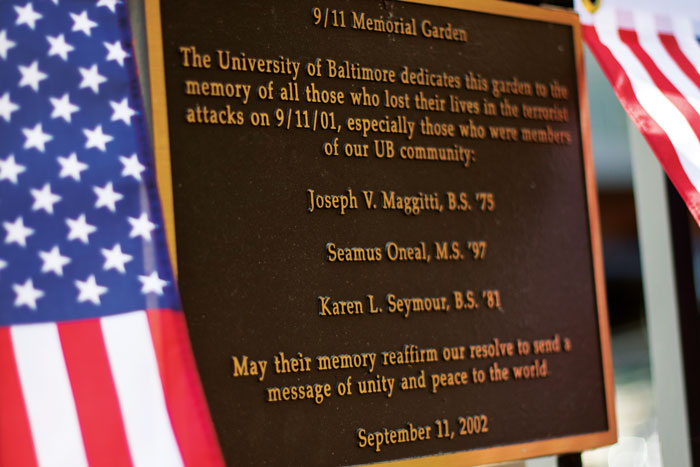 Activist and community artist Ron Kipling Williams, B.A. '13, M.F.A. '16, performed his poem "One Morning." Williams is an adjunct professor and faculty fellow at UBalt's Hoffberger Center for Professional Ethics.
In his closing remarks, Guthland reflected on the enduring impact of September 11 for our nation. "As professionals and leaders of The University of Baltimore, it is our privilege and also our duty to educate the next generation so that they too, like us, will never forget," he said.
The UBalt Student Government Association placed 147 flags in the Plaza to represent Maryland lives lost on September 11, and also in the military conflicts in Iraq and Afghanistan. "When the sun rises, it will shine on the flags of our fallen," Guthland continued, "and remind us that even as time stops for no one, we will stop and remember them."
MORE RESOURCES ABOUT SEPTEMBER 11
A new area of UBalt's website features videos and other educational resources that consider the role of higher education in understanding the events of September 11 and its legacy.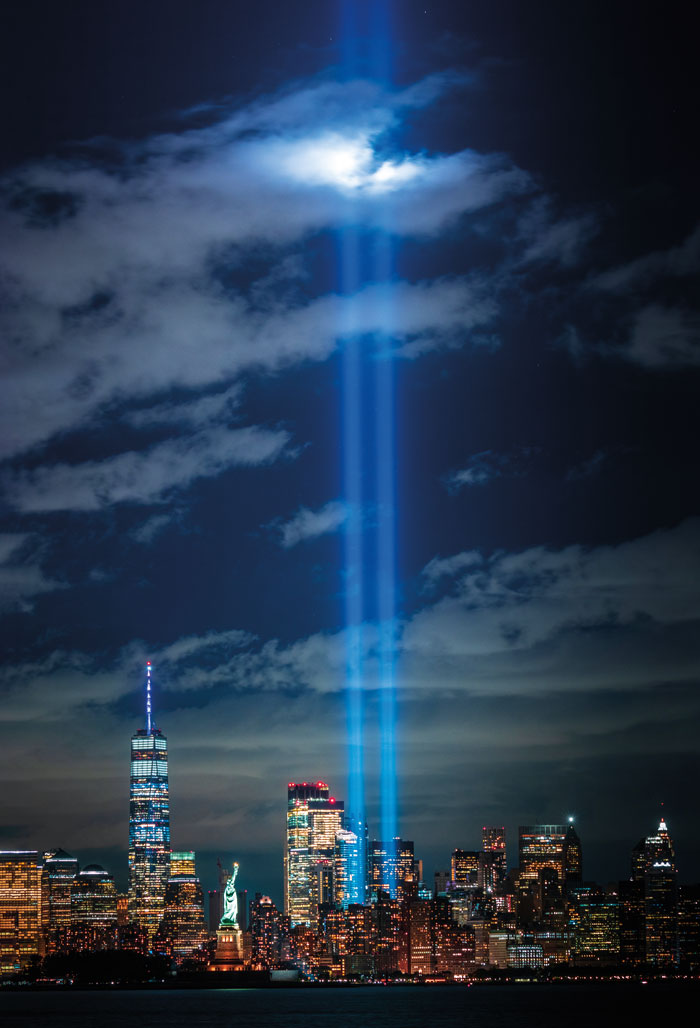 ONE MORNING
One morning
two planes
crashed into our
humanity
One morning
the cries of 3,000
reverberated throughout
the planet
One morning
the stillness of peace
erupted into flames
One morning
the soul of a people
was irrevocably changed
It takes centuries
for a tree to grow
yet minutes
to fall
It takes
decades for a human life
to mature
yet in seconds
it can expire
It takes months
to erect a tower
yet one morning
to collapse
We spend 
generations
cultivating a society
for all of us to live and thrive
to love and evolve
Sometimes
we take this for granted
that things take
years to build
and moments to ruin
Sometimes
we forget to protect
and honor and cherish
what is sacred to us
believing
it will always be there
Sometimes
we forget
as we scurry around
in our daily fury
to stop
and remember
who we are
and whose we are
And then
one morning
it becomes
too late
Like the trees
towers do fall
but what we did before
and how we stand
in that moment
and what we do next
marks who we are
On the day
of the anniversary
of one morning
we pause
and reflect
and proclaim to our selves
and to each other
with the haunting echo
of the ancestors
from the soil of
ground zero
never forget
May we
on that same day
and every day
never forget
what we have created
what we hold sacred
to what we are dedicated
never forget
for one more morning
who we are
and whose we are
to honor
to protect
to cherish
to love
Ron Kipling Williams
9/11/13