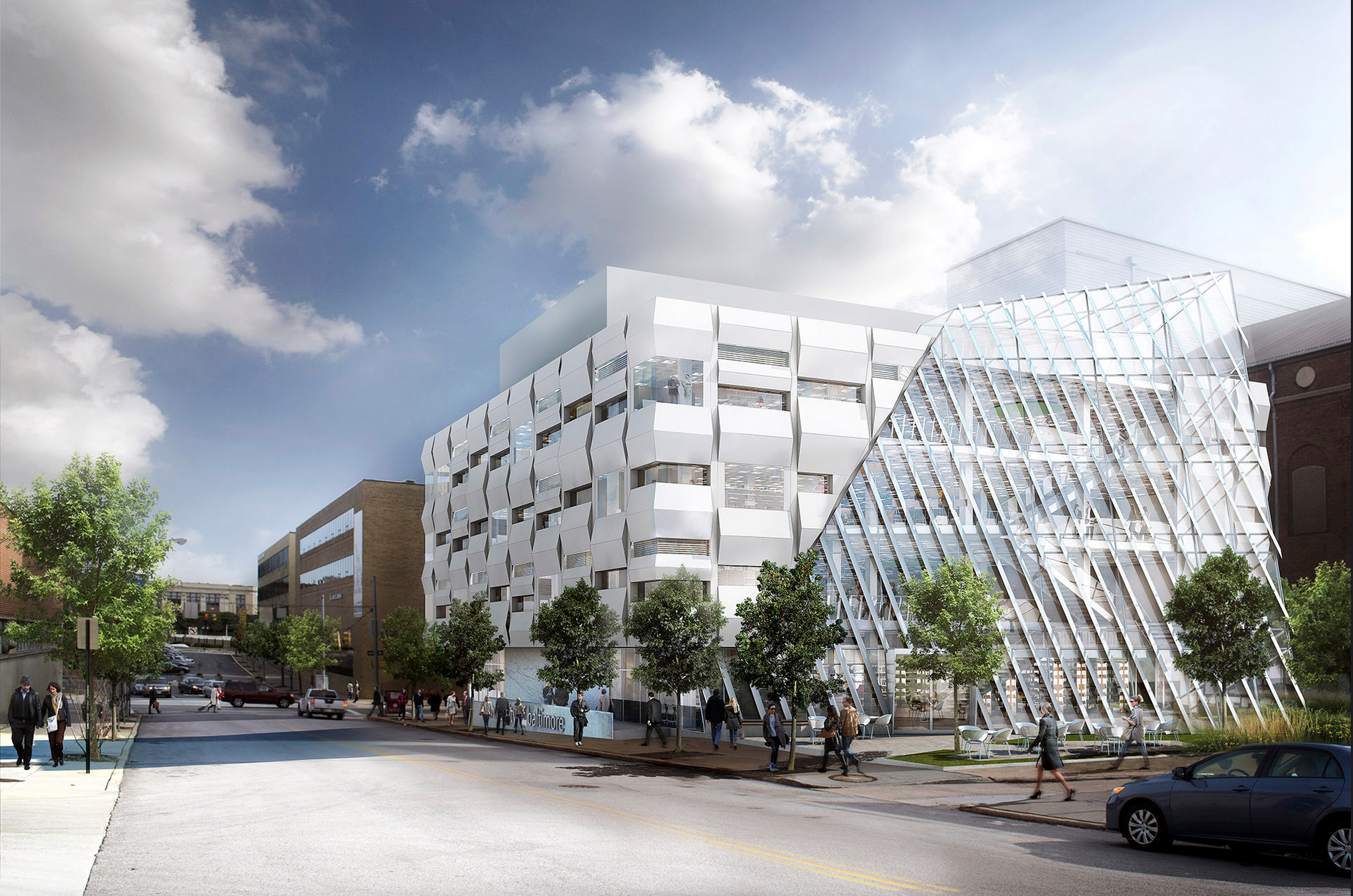 The big decisions in life rarely happen overnight. Dreaming, planning, visioning, trying and failing and trying again—these things matter because of all that is learned. Even when there is a sudden breakthrough, it's usually the result of hours, weeks, months, sometimes years of contemplation.
So it is with the creation of a new library for the University of Baltimore. Or, as we like to call it, UB's Library 2.0. Read on—about the long, sometimes challenging but eventually successful process to determine what that library could be, and would be: how it would improve the student experience; in what ways it would differ from its predecessor; and even how it would look, both inside and out. No, there was little or nothing "overnight" about it. In UB's case, as the saying goes, a lot of prep put some spring in our step….
Seeking Funds to Renovate UB's "Blast Shelter"
"No, there is no money. Try again next year."
For the University of Baltimore officials charged with seeking funds for a replacement for the institution's aging library, the message of "no, try again" became as routine as walking in and out of a room: You go to the state, you request funding that you sincerely believe could enhance the facility to the benefit of students, and then you return to campus to plan some more. By the standards of public support of higher education, it took some time.
"The request has been out there for 20-plus years," says Neb Sertsu, the University's vice president for facilities management and capital planning. "That is often how these processes go. So when the funding came through, as we knew it would eventually, it was a long time coming."
Lucy Holman, dean of the library, said the appeals had been made each year as long as she'd been at the University—since 1999.
"We always knew we needed it. We were patient," she says.
That need is easily described. The building on the corner of Oliver Street and Maryland Avenue, known as Langsdale Library, was:
built in 1965;
outfitted with furnishings from the 1960s, with some desks, chairs and shelving going back to the 1950s;
over-capacity for electrical usage;
insufficient in providing seating for 20 percent of the student body, which is the national standard;
inflexible in terms of meeting the needs of a generation of laptop and notebook users, who work here, work there, and need their workspace to reflect this light footprint;
energy inefficient;
not accessible per the standards of the Americans with Disabilities Act;
overcrowded with books, making it difficult to do research, write, and confer.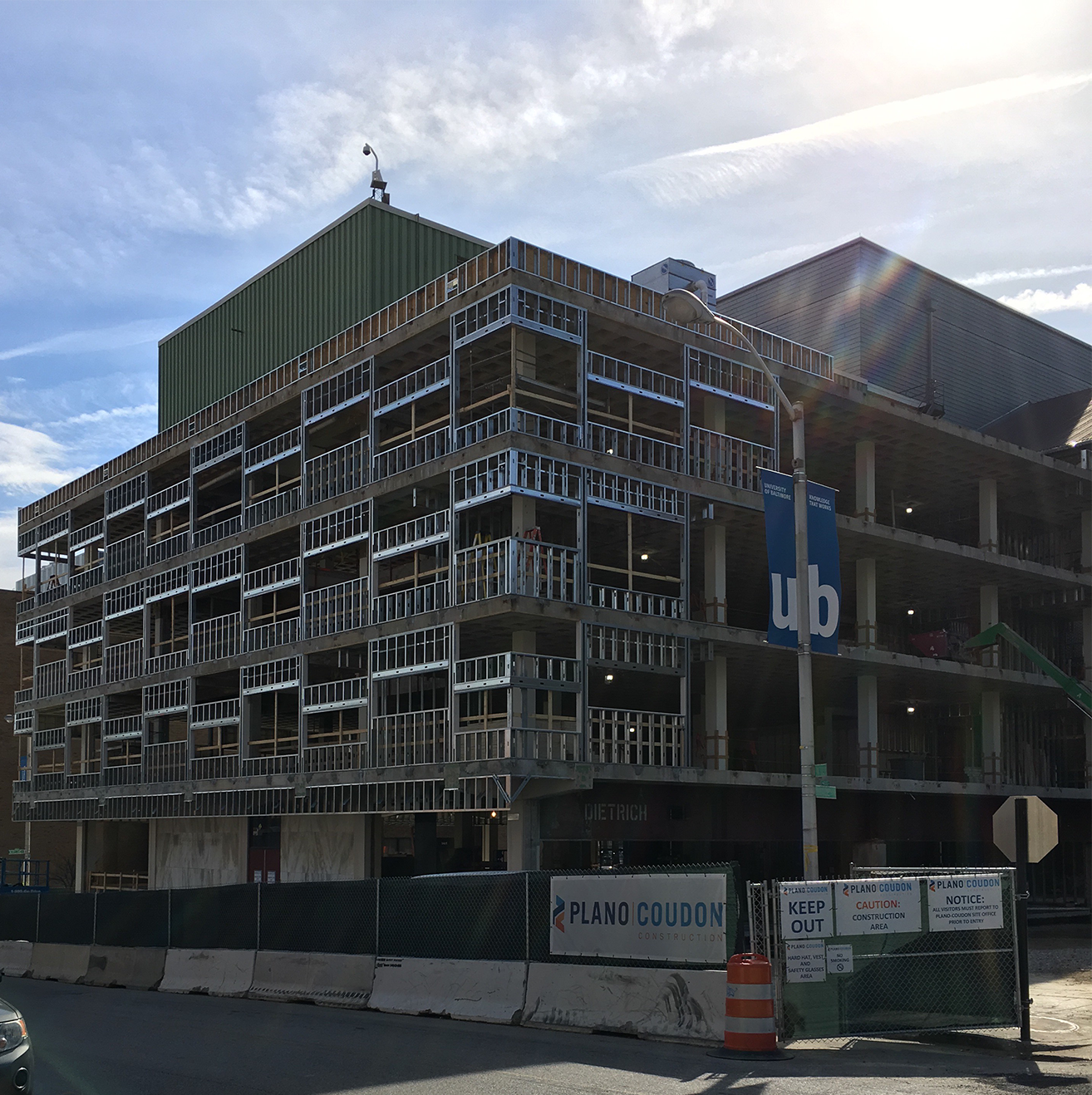 The original building, then, had gone beyond the limits of its natural lifespan. It was a rock-solid structure, still, but it was a concrete block in an era of carbon fiber. What to do with it? How to replace it?
Some funds were devoted to a minor refreshing of the main floor of the facility in the mid 2000s. Student usage of the building went up after that, Holman recalls. It was noticeable how many more people were in the building, simply because some spaces were reconfigured. It also was clearer that replacing the library made sense purely from a user perspective. The closing argument, then, might have to do with figuring out economies of scale.
Sertsu says that studies of the existing structure showed that it was, in essence, overbuilt. High-capacity materials were used, giving the building more strength than it needed. Whatever the reasoning was back in those days—maybe the architects were concerned about the sheer weight of the books?—this built-in strength began to look like, well, an actual strength. Maybe this "blast shelter" of a building could become the basis for a modern, more efficacious library.
The University of Baltimore appealed again to the state in 2013 for funding for a new library. This time, the idea of a renovation was central, with the understanding that a rehab vs. new construction could include significant savings. This time, the state agreed: Save structural elements of the building, renovate it to suit the University's needs, and you'll have a new library. And also: raise funds to help offset costs.
Not to put too fine a point on it, but done—a good chunk of that work is done. A design competition was held in late 2013, and Behnisch Architekten, designer of several landmark buildings around the globe, including UB's John and Frances Angelos Law Center, home of the UB School of Law, was selected for its close match of the institution's vision.
Filling Library 2.0 with Light, Energy, Color, and Warmth
Now what?
"That is the question," Holman says. "It was the question long before we chose the architect. What can a library be? How can it serve the needs of our students? Of faculty? How can it be flexible, so that collaborative learning can happen, any time, but also individuals can study, write and do research on their own? How can it be the hub for our whole campus?"
Tough questions. But Holman, Sertsu and others knew that with the right questions, the answers were within reach. They'd looked at other university and community libraries. They'd talked to students, professors, alumni and others who know UB. They'd considered the limitations of the old library as a foundation for the new. As their creative brief evolved, it became clear that a core truth was coming through loud and clear: The library of the 21st century is about more than books. In fact, it's not the books—it's the people.
The answer was right there all the time: Make the new library a home for anybody who craves the intellectual, social and creative experience that UB already is known for, make that come to life in the new library. Build a place where, in fact, "the life of the mind" is better described as simply "life." And be sure that this little corner of the world is filled with light, energy, color and warmth.
Holman has the goals of the facility squeezed into a bulleted list, which she shares with virtually everyone she meets:
two floors with totally open floor plans for both current students to configure spaces and areas to meet their individual and collective needs, and for future staff to reconceive spaces as learning needs evolve
staff and faculty located throughout the building for instruction, consultation and student support
research, writing, study skills, and tutoring services located in the building
collaborative learning spaces, accommodating anywhere from two to 12 individuals and equipped with state-of-the art technology to create a wide variety of multimedia products
innovative spaces for game design, graphic design and the testing of new technologies as they come on the market
an interior garden where students can relax, study or read in the open air
Will UB's "Library 2.0" achieve all of those aims? Will it become the centerpiece for a campus that is growing, both in achievement and influence? That's to be determined. But right now, as major pieces of the old Langsdale are removed for recycling, and the shell of the building is prepared for a completely new exterior and interior, one thing is clear: This is not your grandparents' library.
"So much has changed since we started the planning for the new library," Holman says. "But we have built in flexibility so that things can change to meet changing needs and changing demographics. The old building just did not have that."
So—overnight success? No. It's arguable that there is no such thing—real success takes real time. But the beginnings of a successful new library for the University of Baltimore are there, and it's clear that more is just ahead.
"It really isn't your grandmother's library, not even your mother's library," Holman says. "It's the next great thing for learning."
–Chris Hart