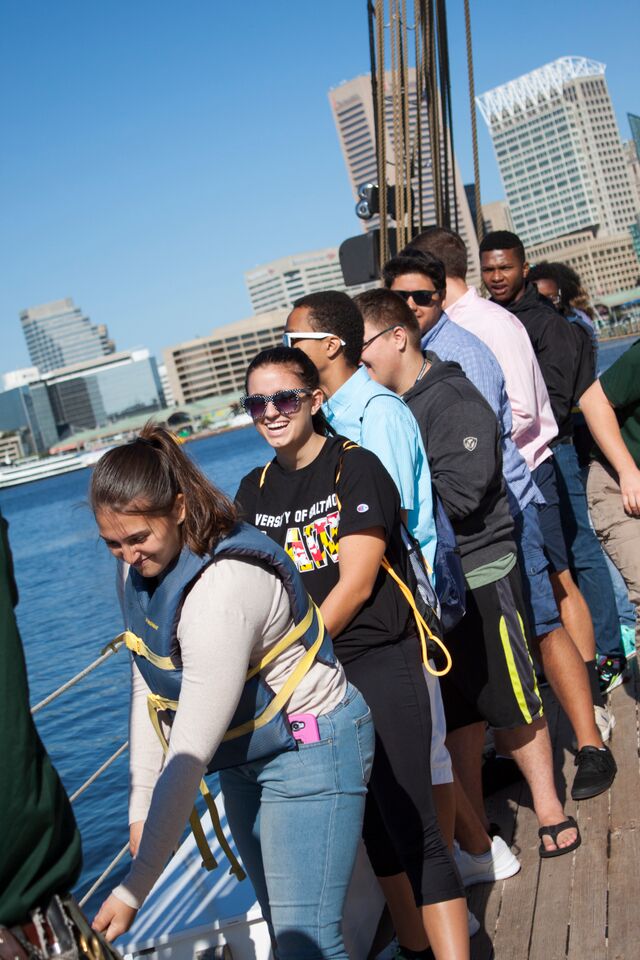 In the past few decades Baltimoreans have viewed their harbor as a playground — a backdrop for urban festival spaces, seafood restaurants and multi-million dollar penthouses. But for most of Baltimore's history, the harbor was primarily a vital working port, the economic engine of the entire region.
This semester freshmen in the Learning Community "Know Your Bay" are tracing the history of Baltimore as a port city and its role in the Chesapeake region. On the first day of class they made the trip down Charles Street to the Inner Harbor to survey the harbor from the top of the World Trade Center. In September, thanks to a generous grant from UB alumna Marie van Deusen, the class spent the day on the water aboard the Lady Maryland, a replica of a pungy schooner.  The crew showed us the work that would have been done on this type of cargo boat during the 19th century.
Students in the learning community continue their hands-on experiences in internships throughout the city. Some are working with Blue Water Baltimore on environmental projects; others are training to become eco-tour guides in the Inner Harbor. By the end of the semester they will produce public service campaigns to highlight a solution to an urban problem they have encountered in their studies.