UB History faculty heard that Miguel Martinez (History, 2013) made it through the "gold bar" stage of training to attain the rank of Second Lieutenant in the U.S. Army.  Miguel says that he left for his Basic Officer Leadership Course at Fort Lee (VA) just two weeks after graduating with his history degree and that "it's been a whirlwind since."  After he graduated from BOLC he headed to Fort Benning (GA) to take his first platoon.  Miguel has also been to the National Training Center at Fort Irwin (CA) as an attachment to another brigade in his division, and is now running a motor pool for the Cavalry squadron.
Miguel was a great History student at UB, and we know he is putting his global knowledge and skills to use as an officer in the Army.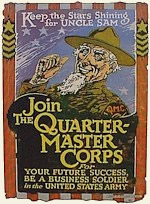 Fort Lee in Virginia is the site of the U.S. Army Quartermaster Museum.  Recruitment poster in the museum's collection.