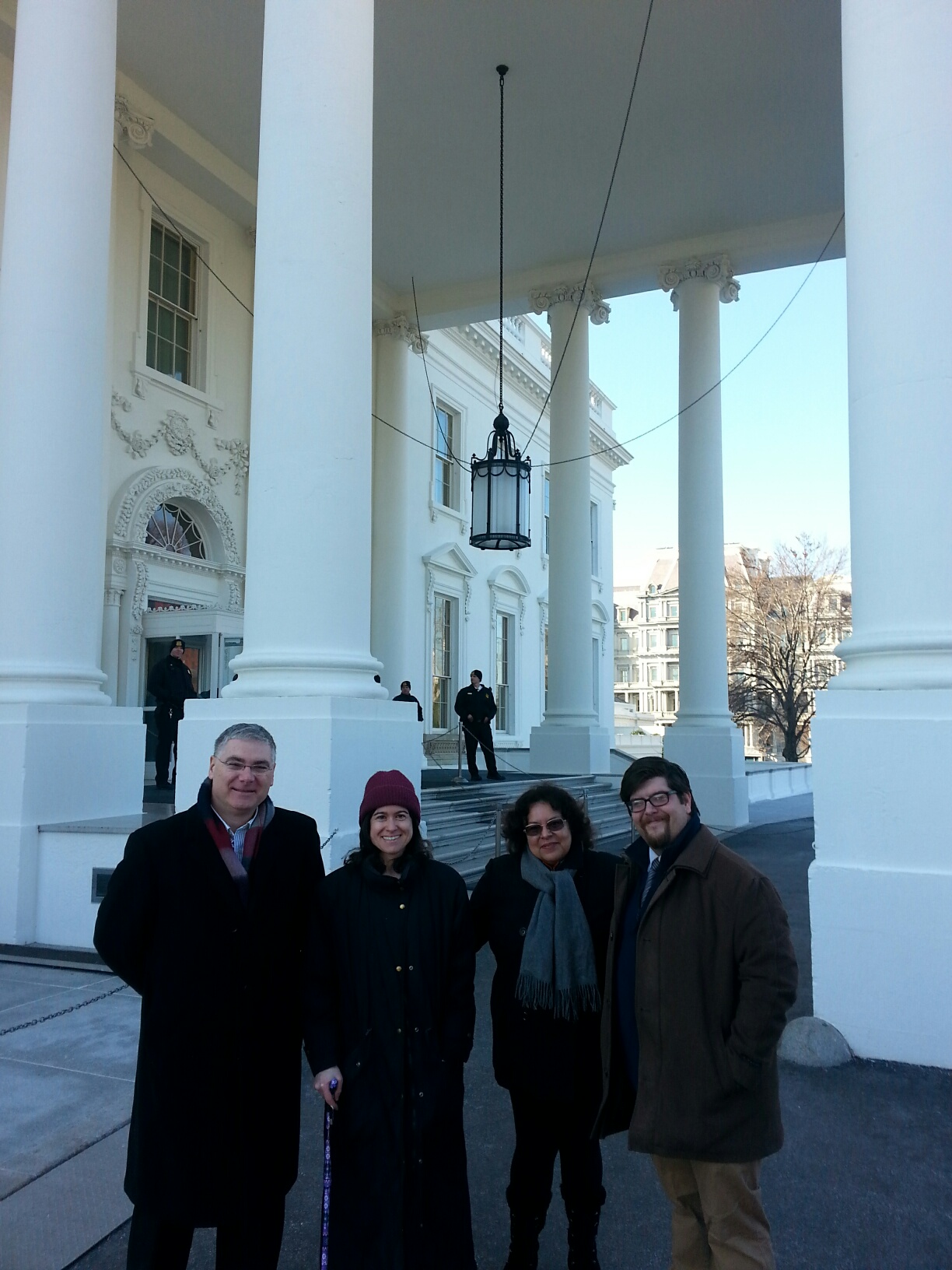 With a little help from the "inside" (UB alum Jake Rotter, a White House intern), three UB History students and Professor Hudgins got on the list of visitors to tour the East Wing on Saturday, January 17.  We all had to get security clearance beforehand and meet the Secret Service officers promptly at our 9:30am time slot on what was thankfully a sunny Saturday morning!  The officers also act as stationed tour guides, answering visitors' questions about the Vermeil Room, the Blue Room, Red Room, Green Room, East Room, and more.
Every room is filled with presidential and first lady portraits, beautiful period desks, and antique clocks, books, or figurines.  Did you know that the First Lady need not be the president's wife?  A couple of our presidents were not married at the time of their administration, and chose a woman to be in charge of the White House social calendar!  Professor Hudgins was also impressed with the array of beautiful chandeliers adorning the rooms.
After a latte break nearby, our group headed to the White House Visitors Center, which is well-worth a visit.  Formerly our national Patent Library, this lovely hall is now full of interesting White House, presidential, and first lady facts and artifacts (don't miss the video, broadcast at the far end of the hall).  Did you know that Caroline Harrison used her influence to raise funds to establish the Johns Hopkins Medical School, on the condition that the school admit women?
Some of us went on afterwards to Ben's Chili Bowl on U Street (est. 1958), which was packed full of people lined up for Ben's famous chili dogs and milkshakes.  We agreed that this was the perfect cap to a fascinating day in D.C.