Take a Peek Inside CFCC's Truancy Court Program
---
CFCC's Truancy Court Program Tackles School Attendance and Much More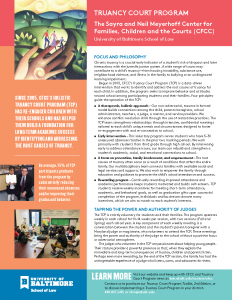 The University of Baltimore School of Law Sayra and Neil Meyerhoff Center for Families, Children and the Courts (CFCC) Truancy Court Program (TCP), a voluntary, non-punitive, data driven program to identify and address the root causes of each child's truancy, is celebrating its 15th Anniversary in 2020-2021.
The TCP began in Spring 2005 with seed funding from The Charles Crane Family Foundation, used to plan and design the TCP.  The TCP Team at that time consisted of a TCP Coordinator, a TCP Mentor, and a volunteer TCP Judge.  Over the years, the problems faced by TCP students and their families became increasingly traumatic and overwhelming. To address these escalating needs, the TCP adjusted its operational model to add a TCP Attorney and a TCP Social Worker.
The Difficult Lives of Baltimore City Students
As an example of the need for these intensive resources, let's look at the experience of one 4th grader, Amelia*.  Amelia had nine absences in the two quarters preceding her participation in the TCP.  This child's home environment was very challenging:
Amelia's mother was in prison, and her father was the custodial parent of record.
Amelia lived with her maternal great grandmother during the week to make getting to school easier.
She stayed with her father, who was unemployed and living with his brother, over the weekends.  Their home was in South Baltimore, and Amelia's school was in East Baltimore.
Amelia's father reported feeling depressed and hopeless about his financial and housing situations.  He was on the waiting list for Baltimore City Public Housing and Section 8 vouchers, but not hopeful.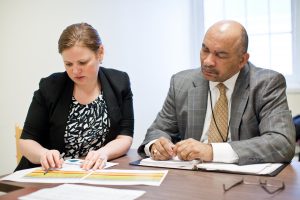 TCP Team members had the skills to help with these difficult problems.  The TCP Social Worker gave the father referrals for outpatient therapy, which he was willing to consider.  She also discussed the need for therapy for Amelia, due to the complicated feelings around her mother's release from prison.  With her father's consent, the TCP Social Worker arranged for the school social worker to see Amelia regularly.
When Amelia's father reported that his brother was being evicted, the TCP Social Worker provided him with referrals for three homeless programs.  The TCP Attorney contacted the school to ask that Amelia's father be listed as homeless for educational purposes to ensure that Amelia received benefits under the McKinney-Vento Homeless Assistance Act, which includes transportation to school.
Despite all of the family's challenges, Amelia was doing well academically and graduated from the TCP, improving her attendance by over 65%.  Sadly, many Baltimore City children face similarly difficult circumstances, and many do not fare as well.
Showing Up for Baltimore City Children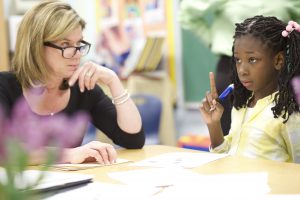 The TCP has served over 2,600 public school students and their families in four counties, in 51 schools, 41 of which are in Baltimore City.  Over 25 Maryland judges and magistrates have volunteered their time to serve as TCP Judges in participating schools.  The program seeks to improve behavior and attitudes toward school among TCP students and families.
Four principles guide the TCP's operation:
A therapeutic, holistic approach – a non-adversarial, trauma-informed model
Early–

intervention

– a voluntary program serving students with 5-30 unexcused absences / tardies in the prior two marking periods
A focus on prevention, family involvement, and empowerment – a multi-disciplinary team connecting families with available social and legal services and supports

Rewarding progress

– incentives for TCP students meeting short-term attendance, academic, and behavioral goals, as well as graduation gifts upon successful completion of the program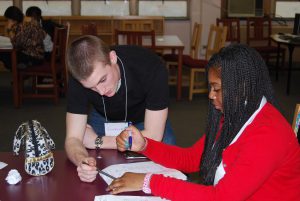 All TCP students receive one-on-one weekly conversations with a judge, mentoring, parent outreach, case management services, and resource referrals, as needed.  The TCP Attorney reaches out to families to provide much needed legal advice, resources, and referrals to address problems such as homelessness, eviction, special education needs, public assistance benefits, and energy assistance.  Similarly, the TCP Social Worker provides counseling to students, as well as resources and referrals to help families obtain food stamps, mental health services, and substance use services, among others. The TCP Team also regularly invites speakers to the high schools to talk about pathways to college, finding employment, financial literacy, and planning for the future.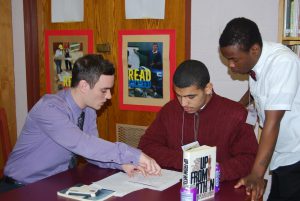 The TCP Team conducts two 10 to 14-week sessions each academic year (fall and spring), with approximately 80 students in each session.  The TCP generally operates in five schools; however, the number of schools varies due to the grant-funded nature of the program.  Each year, approximately 75% of TCP participants "graduate" from the program.  Students graduate when they demonstrate a 65% improvement in absences and/or tardies, or at the discretion of the TCP Judge.
Changing the Trajectory
Researchers who have studied the causes and correlates of delinquency have identified truancy as a key step in the school-to-prison pipeline. The TCP effectively diverts youth from the juvenile justice system and reduces recidivism. For the past three years, the TCP has tracked juvenile arrest data for approximately 439 students. Many of these students have had multiple arrests prior to participating in the TCP.  From these data, CFCC has observed the following:
Forty-seven TCP students had some Department of Juvenile Services involvement, totaling 108 arrests.
Only three students out of 439 were arrested while participating in the TCP.
Thirty-four students were arrested before participating in the TCP, with a total of 72 arrests. Only seven of the 34 students were re-arrested after participating in the TCP, and one was re-arrested while participating in the TCP.

Less than 5% of the 439 students tracked were arrested or re-arrested after participating in the TCP.
Over the years, the TCP Team began to see higher rates of trauma among the students, including gun violence, addiction, homelessness, bullying, and incarcerated parents.  In 2016, the Baltimore City Board of School Commissioners and the Chief Executive Officer of Baltimore City Schools pledged to make Baltimore City Schools a restorative practices district as one response to trauma.  As a result, the TCP Team began implementing restorative practices at all of the TCP schools.  The TCP Mentor teaches restorative practices principles and facilitates weekly restorative circles with TCP students. The group discusses various ways to de-escalate conflict, and, in so doing, the circle exercises provide students much needed skills to address situations that arise at home or in the community.
Over the past 15 years, CFCC has refined the TCP to respond to the complicated needs of Baltimore City's children. CFCC is proud of that work and is deeply grateful to those who have helped make the TCP successful. The TCP Team plans to keep showing up for Baltimore's children.
*Names have been changed for privacy.
---
Listen to a TCP Student and Family
What matters most to us is what TCP Students and Families think of the TCP program. They say the TCP Team helps them "get back to class" and "get on track and stay on track." Listen below.
---

Law School's Truancy Court Program Named a 'Bright Idea' by Harvard's Kennedy School of Government
The Truancy Court Program developed by the University of Baltimore School of Law's Sayra and Neil Meyerhoff Center for Families, Children and the Courts (CFCC) was recognized in 2012 by the Ash Center for Democratic Governance at the John F. Kennedy School of Government, Harvard University, as a Bright Idea.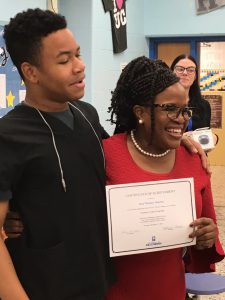 Bright Ideas recognizes and shares innovative government programs and partnerships. The designation is bestowed upon programs that provide creative and effective solutions to widespread problems, such as truancy, especially those that can be considered and adopted by other communities. CFCC's Truancy Court Program is one of 111 programs selected from across the country by a team of policy experts from academic and public sectors.
The Truancy Court Program was selected as a Bright Idea for its leadership and innovation in transforming the way schools and courts approach truant students and their families. When CFCC began the program in 2005, truancy had reached epidemic proportions in Maryland. Schools often used a punitive or coercive approach to truancy, filing criminal charges against parents of truant students.
Convinced that a comprehensive, collaborative and community-based approach would be more effective, CFCC convened school and court stakeholders to develop a program model based on a non-adversarial and holistic approach to identify and address the reasons underlying a child's truant behavior. Since 2005, CFCC's Truancy Court Program has served more than 2,600 students and their families in 51 schools in Baltimore City and other Maryland jurisdictions. More than 25 Maryland judges and masters have volunteered in the program.
"The CFCC Truancy Court Program advances two important goals for the University of Baltimore School of Law," Dean Ronald Weich said. "It gives us a chance to serve our community, and it helps prepare our students to be more effective lawyers when they graduate. Law students who work with CFCC get hands-on experience as they learn about the challenges many young people face."
Learn more about CFCC's Truancy Court Program.