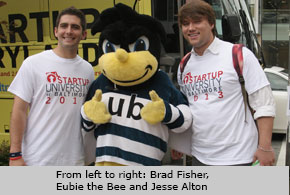 I've had the opportunity to follow our Entrepreneurship Fellows this semester. I have gone to their classes and a site visit to a local organization. These six talented entrepreneurs came to UB for a different kind of business education, but this post isn't about them (that will have to wait).
This post is about why I work at UB — and the Entrepreneurship Fellows validated it again this week — it is the students.
They are fascinating. They are working hard in their own little niche to do great things, just like all of our students.  It is our students' no-nonsense, focused-approached that I love the most. But it is one comment that one of the Fellows said to me that has stuck out in my mind. He said, "I love when you come to our class."
You know what — I love coming to that class too. It is great to see the next generation of business leaders and innovators walk the hallways of the Merrick School. I certainly hope I can make it to more of the b-school's classes more frequently. I want to learn about what makes our students so unique, because at the end of the day I love working at UB because of them.
D

anielle Giles is the Director of Communications for the Merrick School of Business (dgiles@ubalt.edu)