So, You Have an Online Appointment with the Writing Center
So, You Have an Online Appointment With the Writing Center…
Hey there!
Look, I know that things are hard right now. Your days are probably being spent staying inside as much as possible, you might be feeling nervous about your health, and all your classes will be online for the foreseeable future.
The first thing I want to say is that it is okay to feel frustrated, upset, or even angry. No one likes being surprised by this kind of huge change, and you are not alone. The second thing I want to say is that the Writing Center is still here for you – we might not be able to see you in our usual space on the second floor of the RLB library, but that doesn't mean we can't help you!
I'd like to share what an online appointment with one of our Writing Consultants might look like, as well as the different ways you can get feedback from us online.
Online Option 1: Zoom Appointment


Currently, UB is hosting online Writing Center appointments via Zoom.
Just like scheduling a regular in-person appointment, your first step is to visit the appointment tool (the little light bulb icon on your MyUB Portal).
Select the available date, time, and consultant you'd like to work with. After double-clicking, a "Create New Appointment" window will pop up and ask you to fill in the following – what course you're seeking feedback for, the instructor's information, how your online class class meets (synchronous, asynchronous, or hybrid), and what stage of the writing process you're currently in (planning, early draft, or final draft).
It's helpful to share any goals you'd like to accomplish by the end of your consultation. You might need a second pair of eyes on your citations, or maybe you'd like to assess your assignment's overall organization and flow. You might even be in the beginning stages of your writing process and could use a hand in brainstorming or outlining your ideas. Whatever your needs are, the Writing Center can help!
There are also additional spaces to add in the genre of your assignment, and attach a draft and assignment instructions as separate files. If you need to update any information you've filled in, re-upload attachments, or cancel your appointment altogether, simply return to the scheduling tool and choose "edit appointment" or "cancel appointment".
On the date and time of your consultation, simply return to the scheduling tool, open up your appointment window, and select "Enter Online Consultation". Your Zoom appointment should begin shortly!

Online Option 2: Online Writing Lab (OWL)
Don't forget about the OWL! You can access this through the OWL icon in your MyUB Portal. 
Submitting to the OWL is pretty similar to making an online consultation at the Writing Center. You'll choose what class (if any) your assignment is for, and fill in information about the genre of the assignment, any challenges you're experiencing, and what kind of feedback you'd like to prioritize. You should also attach your assignment instructions, any grading rubrics, and a draft of your work itself!
When you submit your paper through the OWL, it will be reviewed by a consultant and sent back to you with actionable feedback and any relevant resources, usually within two business days. You can let us know if you have a specific deadline we can try to keep in mind, but be sure to allow plenty of time (at least several days) between submitting your draft for review and the assignment due date! Rewriting and revision take time, and you want to ensure you have enough time to incorporate any feedback you receive through the OWL.
What Online Option Should I Choose?
Ultimately, students should choose the online method that works best for them.
Many students find the OWL to be a useful option. Even though UB is operating in an online capacity only, that doesn't mean students aren't busy with classwork, family, jobs, and just trying to keep it all together during this time! Using the OWL means you can still get the feedback you need, without having to do much more than answer a few questions about yourself and your assignment. It can also be a more accessible method of resolving your writing issues if you can't devote the time to a virtual appointment, or don't have a quiet environment during the time you'd meet with a consultant.
Students who choose a Zoom appointment via the Writing Center have the benefit of working with a writing consultant in real time, where any questions can be asked and answered immediately, versus waiting two business days for an OWL submission to be returned. Virtual appointments also allow for screen sharing – consultants can model resources and revision methods step-by-step, much like an in-person appointment.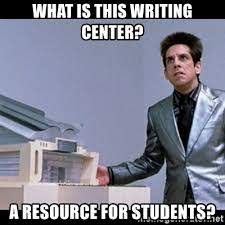 The Bottom Line
If you're having trouble with any part of the writing process, you still have support. We are here for you, we want to help, and no pandemic is going to stop the UB Writing Center from making sure our students have the support they need.
Email us anytime at writing@ubalt.edu!