CFCC's Beginnings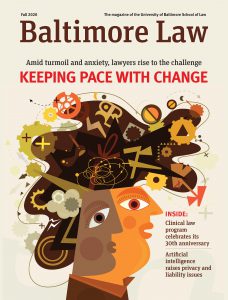 The driving force behind the Sayra and Neil Meyerhoff Center for Families, Children and the Courts (CFCC) has been the leadership of CFCC's founder and director, Professor Barbara A. Babb. Her early recognition of the importance of approaching family law issues through a holistic lens led her to embrace the concept of unified family courts in the 1990s. She was co-chair of the American Bar Association (ABA) Family Law Section's Committee on Unified Family Courts and a key consultant for a two-year ABA project establishing unified family court pilot programs in six jurisdictions including Baltimore. The success of the Baltimore project served as a model for the creation of Maryland's Family Divisions in 1998 and led to the launch of CFCC in August 2000. Around this time, Professor Babb also became interested in the concept of therapeutic jurisprudence and attended the first meeting of the International Society for Therapeutic Jurisprudence.
The decade following was a heady time for family justice reform. The American Bar Association Section (ABA) of Family Law's Committee on Unified Family Courts was advocating vigorously for the creation of unified family courts nationwide, and there was keen interest among jurisdictions across the country. CFCC established itself as a leader in this movement and continues to advance the concept today.
In addition, CFCC's work over the years expanded to include:
the Truancy Court Program
significant contributions to the field of substance use disorders education for family courts
court reform technical assistance projects
innovative family law education for law students through the creation of the CFCC Student Fellows Program class
Creation of the Post-J.D. Certificate in Family Law, and
Influential conferences, symposia and publications.
CFCC's website at the University of Baltimore School of Law contains a wealth of information about our projects. Access the website here.