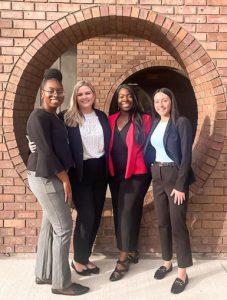 The National Trial Team placed second Oct. 16 in the Buffalo Niagara Trial Competition, earning them an invitation to the National Trial Competition, which takes place in Spring 2023. The law school's team of four — Audreina Blanding, Leah Dotter, Brice Litus and Amanda Sirleaf —dominated the competition field, which started with 28 teams (including highly ranked Fordham, Pace and Hofstra), and out-performed competitors by earning perfect, and near-perfect, scores on their opening and closing statements, as well as their direct and cross-examinations. 
Special recognition went to Sirleaf, who was named Best Overall Advocate. The team was coached by alumni Ashley Bond, J.D. '16, and Annemarie Duerr, J.D. '22, and supported by the Board of Advocates executive board.  
Moot Court and Trial Team competitions provide students with the opportunity to get hands-on experience with oral arguments, appellate brief writing, cross-examination, witness examination, opening and closing arguments, and more. With the support of practicing attorneys, professors and former participants, Moot Court and Trial Team members commit approximately 200 hours to preparing and presenting their cases at regional and national competitions. 
Although these competitions are academic in nature, their intensity and commitment mirror that of athletic competitions. Alexandria Hodge, UBalt Law Board of Advocates president, points out that due to the time, energy and effort that go into these competitions, "Many of our advocates feel like they've won a major championship game by the end of their competition!"  
All UBalt Law students are encouraged to compete in competitions during their law school career, starting with annual Byron Warnken Moot Court Competition. That is the internal moot court competition that takes place over the summer. Exceptional competitors are invited to join one of the prestigious competition teams, and a devoted few will continue their commitment by becoming a member of the student-led Board of Advocates. 
Alumni and faculty are always welcome to support competition teams as coaches and mentors. For more information on ways to support Moot Court and Trial Teams, or to follow their progress, follow the Board of Advocates page on Facebook. 
Share this story with your network: