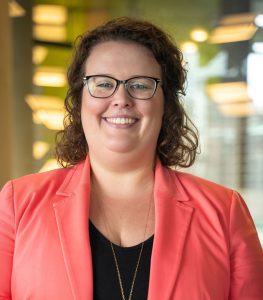 Ashlyn Anderson-Keelin is a clinical teaching fellow in The Bob Parsons Veterans Advocacy Clinic. She comes to UBalt Law from the University of Georgia's Veterans Legal Clinic. There, she helped veterans and their families obtain valuable benefits and services from the Department of Veterans Affairs, as well as discharge upgrades from the various military service branches.  
While at UGA, she also played a leading role in organizing a yearlong project of statewide virtual outreach to veterans in Georgia during the pandemic, a project that served over 100 veterans in 96 Georgia counties. 
Originally from Kentucky, Anderson-Keelin earned her J.D. from Notre Dame Law School and her B.A. in English literature and political science from Georgetown College in Kentucky.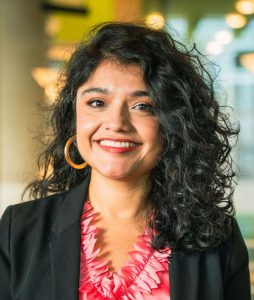 Valeria Gomez joined the law faculty as assistant professor in 2022. She directs the Immigrant Rights Clinic and the Immigrant Justice Clinic. In the clinics, student-attorneys, under attorney supervision, represent low-income community members in immigration-related matters, including representation in removal proceedings and in applications for immigration relief for people seeking protection from persecution abroad; survivors of human trafficking, intimate partner violence, or other crimes; and noncitizen children who have been abused, abandoned or neglected. Gomez regularly speaks on issues related to asylum and immigration law. 
Before joining UBalt Law, Gomez taught in the Asylum and Human Rights Clinic at the University of Connecticut School of Law and at the Immigration Clinic at the University of Tennessee College of Law. She earned her B.B.A., magna cum laude, from Belmont University and her J.D., cum laude, from the University of Tennessee.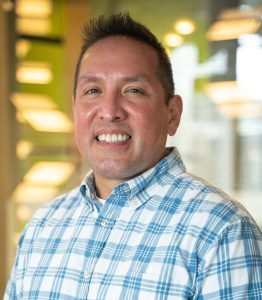 Jay Knight joined the School of Law as a clinical teaching fellow in the Mediation Clinic for Families in 2022. Prior to joining UBalt Law, he was the director of the Alternative Dispute Resolution (ADR) Division at the Maryland Court of Special Appeals. Knight and his team managed the operations of the division while also conducting over 300 appellate mediations, including contract, tort, estate, guardianship, foreclosure, real property, and domestic disputes and conflicts. 
Prior to being promoted to director, Knight was a staff attorney-mediator at the ADR division. He came to the court from private practice, where he specialized in family law mediations for English- and Spanish-speaking clients and counseled clients on securities regulatory matters. 
Since 1998 while a practicing attorney, Knight has been a mediator in over 400 cases for various circuit courts, specializing in child access and domestic/financial property cases. Knight received his B.A. in English from the State University of New York College at Fredonia in 1992. He earned a J.D. from the University of Maryland Francis King Carey School of Law in 1996.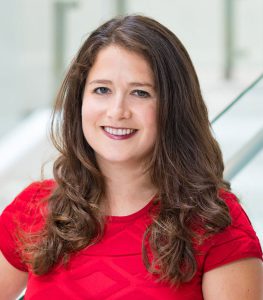 Katie Kronick teaches constitutional criminal procedure and is director of the Criminal Defense and Advocacy Clinic. Students in the clinic, which will launch in spring 2023, will represent indigent individuals on misdemeanor cases in Baltimore City District Court. Kronick's scholarship derives from her experiences as a former public defender and clinician, writing in the areas of forensic science, post-conviction litigation, sentencing, and intellectual disability. 
Prior to joining the UBalt Law faculty, Kronick was a practitioner-in-residence in the Criminal Justice Clinic-Defense at American University Washington College of Law. In that role, Kronick supervised law students on misdemeanor cases in Montgomery County, Maryland and compassionate release cases in D.C. Superior Court. Before entering academia, she was an assistant deputy public defender with the New Jersey Office of the Public Defender, where she represented individuals charged with felony offenses, from drug distribution to homicide.  
She earned her B.A. at Claremont McKenna College and her J.D. and LL.M. at Georgetown University Law Center.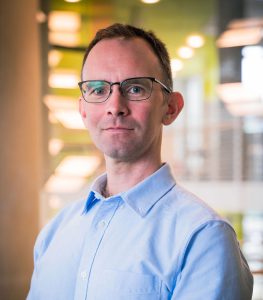 Peter Norman is a clinical teaching fellow at the Community Development Clinic. He joins UBalt Law from a varied private-sector career that included work in community development, project finance and renewable energy. 
Before beginning his legal career, Norman worked with residents of low- and moderate-income communities to build the capacity of community organizations and secure public and private funding for childcare, job training and continuing education programs. As a lawyer, he was based for several years in East and Southeast Asia, focusing on renewable energy project development and finance. He received his B.A. in Philosophy from Yale University and his J.D., cum laude, from New York University School of Law.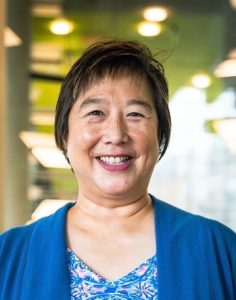 Janice Shih joined the faculty in 2022 as a visiting professor and director of the Low-Income Taxpayer Clinic. Prior to this, she was the director of the Low-Income Taxpayer Clinic at Maryland Volunteer Lawyers Service, the largest pro bono provider of civil legal services in the state of Maryland. While there, she elevated the visibility of the program, expanded the volunteer program to include Certified Public Accountants and Enrolled Agents, and engaged with community and government stakeholders to improve services for low income Marylanders.  
A graduate of Johns Hopkins University, Shih also holds an M.D. from the George Washington University, where she completed a residency in obstetrics and gynecology. After several years in private practice, Shih left medicine, obtaining a Certificate in Pastry from L'Academie de Cuisine. She then opened a pastry shop, Tenzo Artisan, which employed individuals returning from incarceration. Through this experience, Shih saw firsthand the inequities of the system, and was inspired to return to law school at the University of Baltimore. 
Share this story with your network: