Beta Alpha Psi Interest Meeting
Recruiting Top-performing Students for Beta Alpha Psi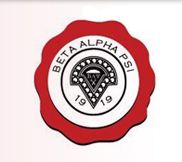 The most active business-focused student club on campus is Beta Alpha Psi, the honor society for accounting, finance and information systems. The activities of this student group range from networking with employers, field trips, community service and strong ties with our faculty. AND they want you to be a part of the fun for the 2018-2019 academic year.
Join the students of  Beta Alpha Psi for an upcoming student interest meeting. They are recruiting top-performing students looking to take their business education and their careers to the next level in areas of accounting, finance and information systems.
Note: Eligible students must have an overall GPA and major GPA of 3.0 or higher.
WHEN: Sept., 11 and 13 from 4:30-5:30 p.m.
LOCATION: BC 143 (pizza and beverages will be provided)
CONTACTS: Thomas Putman, president (thomas.putman@ubalt.edu) or Michaela Reid, vice president, (michaela.reid@ubalt.edu)
by